Water Heaters
The best idea ever
In my opinion, water heaters are the best invention ever! They are the one thing that provides us modern humans with a standard of luxury and comfort that our ancestors could only dream of. Imagine our cave dweller friends dreaming of a hot bath or shower. And we have this luxury available to us at any time! How cool is that? We, of course, take them for granted.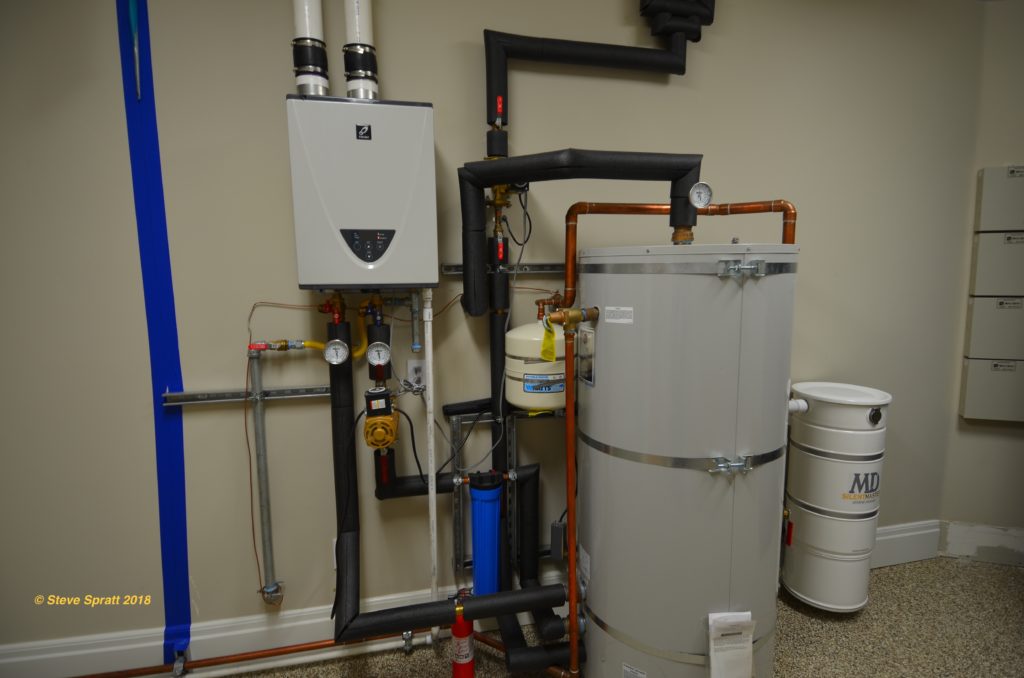 There are two primary types of water heaters. Traditional storage tank type water heaters and the newer style tank-free or on-demand water heaters. Both of these can be had in various sizes and will run on several energy sources (gas, electric, propane) depending on the needs of the homeowner. Each type requires regular service to extract their full life and proper functionality.
Water circulators can keep hot water at the fixtures instantly. This can help homeowners save water. Water heaters fitted with circulators should also have filters to keep abrasive sediment out of the circulating hot water.
Tank-type water heaters
These sleek-looking appliances but are basically just large upright, cylindrical steel tanks, filled with water suspended over a heat source at the bottom. The heat source warms the water at the bottom of the cylinder and as it does so the hot water rises to the top of the tank. When needed, hot water is drawn out of the top of the tank and cold water is replaced at the bottom near the heat source.
Since steel tanks will eventually rust away, manufacturers treat the steel with a coating of molten glass that produces a coating intended to protect, or at least slow, the steel from rusting. Stainless steel is sometimes used but it is more expensive and can also corrode under certain conditions. The coating of glass is fragile and tends to fail especially around the fittings.
Anode rods
To counteract that, the manufacturers also install a sacrificial anode rod. Through a mysterious, scientific process, the anode rod rusts away instead of the steel. Anode rods last about about 5 years. If you can replace the anode rod before it dissolves away, you can prevent the tank from rusting even longer.
Sediment issues
Another problem with tank-type water heaters has to do with sediment in the tank. All water carries some sediment with it. Sediment in water comes out of suspension when heated and collects on the bottom of the tank. This layer of sediment coats the bottom of the tank and can build up over time enough to act as an insulation layer. This makes it harder for the heat source to warm up the water and wastes energy.
The sediment layer also interferes with the function of the anode rod which allows the bottom of the tank to rust. To remove sediment, manufacturers recommend regularly flushing the tank. Unfortunately, it is difficult to remove this layer of sediment completely because 1) it tends to stick to itself and 2) opening up the drain valve only creates enough flushing action to remove the sediment nearest the drain. The rest of the sediment will remain. I recommend flushing the water heaters at least 2-4 times a year starting immediately when the tank is new. Although some tank heaters last longer, you can expect a lifespan of only about 8-10 years from most of these units.
Demand water heaters
Demand water heaters are different from tank water heaters. They do not have a tank in which to store hot water, and only produce hot water when there is a demand for it. Instead of heating a tank full of water, demand water heaters circulate cold water in tubes through a heat exchanger subjected to a heat source. Cold water is quickly heated to the correct temperature as it passes through.
Water can flow through your plumbing pipes fast so in order to heat the water quickly, demand water heaters usually have a very robust heat source that requires a larger than normal supply of natural gas or electricity. Pair a demand water heater with an insulated storage tank to deliver large volumes of hot water when needed. Storage-only tanks are not as subject to the deterioration problems associated with tank-type water heaters.
Demand water heaters require maintenance
On demand water heaters also require maintenance in the form of a more specialized annual flushing of the hot water system. Since demand water heaters only operate when needed, they tend to be more energy efficient. Mount demand water heaters on the wall to free up space.
Here is a great video on how a demand water heater works:
Summary
Both demand and tank-type water heaters are now offered in high-efficiency models. These models extract more heat from the exhaust gasses and during that process, produce condensate water similarly to air conditioners and high efficiency furnaces. This condensate water must be properly plumbed in order to prevent damage to the structure.
Common Troubleshooting

If you discover that you have no hot water, check the pilot (or the breaker if it is electric), temperature setting, and water supply valve before calling for service.

To-Do

It is a good idea to read the manufacturer's literature for your specific model of water heater.
Determine if you have an ignitor or a pilot light.
Most gas water heaters are now equipped with igniters as opposed to pilot flames. This saves energy and prevents the troubles associated with dealing with a pilot light.
In the event you have a pilot light model here are some tips: Never light a gas pilot when the water heater tank is empty. Always turn off the gas supply before shutting off the cold-water supply to the tank. To understand why pilot lighted tanks are being phased out, the following excerpt from a manufacturer's instruction manual should help. "To light the water heater pilot, first remove the cover panel on the tank to expose the pilot. Then rotate the on-off pilot knob to the pilot position. When the knob is in this position, the red button can be depressed. While depressing the red button, hold a match at the pilot. Once the pilot lights, continue to hold the red button down for 30 to 60 seconds. When you release the red button, the pilot should stay lit. If it does not, wait several minutes to allow the gas to dissipate from the tank and repeat the entire process. If it stays lit, rotate the on-off pilot knob to the on position. Reinstall the cover panel and then adjust the temperature setting with the regulating knob on the front of the tank. Water heaters sometimes collect small quantities of dirty water and scale in the main gas lines, which can cause problems with the pilot light." No kidding!
While away from home for an extended period of time, set the temperature to its lowest vacation point and leave the pilot lit.
Keep the area around a gas-fired water heater clean to prevent interference with proper flame combustion.
Never use the top of a water heater as a storage shelf.
The recommended thermostat setting for normal everyday use is 120 degrees. Higher settings can result in wasted energy dollars and increase the danger of injury.
Hot water will take longer to arrive at sinks, tubs, and showers that are farther from the water heater.

Maintenance

2x per year: Drain several gallons of water from the bottom of the water heater to help remove sediment and reduce the build-up of chemical and mineral deposits thus prolonging the life of the tank and saving energy.
1x per year: Inspect the plumbing fittings and note any corrosion.
1x per year: Inspect the seismic straps and make sure they are secure.

Water heater graveyard
SaveSave