Ovens
Kitchen appliances designed for baking things are called ovens. They are a critical appliance for the making of bread. Ovens of old were made of clay or masonry and fired with wood. Today, ovens can be fueled by natural gas or electricity. They are either built into a kitchen wall, or come in the form of a range when paired with a cooktop. Ovens come in wide or narrow styles, in double or single versions and can be had in almost any imaginable color.
Electric ovens tend to be the most popular at the moment. Modern ovens have interior lighting, racks that can be adjusted to a specific need, and have a heat range from barely warm to self-cleaning. Some can even connect to your local Wi-Fi network so you can control it via your smart phone.
Warning: when in the self cleaning mode, the oven will get extremely hot. To prevent injury from accidentally opening the oven while in self-clean mode, the appliance will lock out the door for the duration of the process.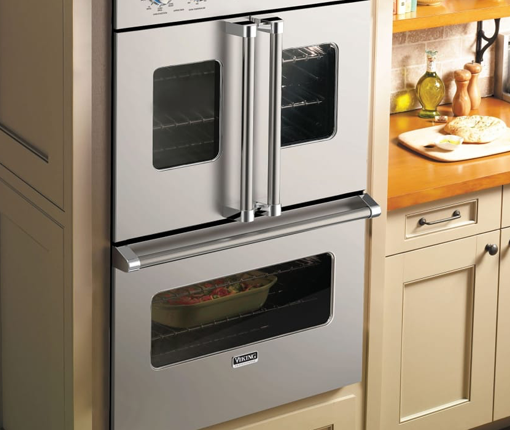 To-Do

Find your appliance's owner's manual and place it in a secure location for instructions on your specific appliance. If you have lost the manual or want a second copy, you can usually find them on line.
Never use steel wool for cleaning your appliances, especially stainless steel.
Do not use any commercial oven cleaning solutions with self-cleaning ovens.
Some newer ovens have a steam clean setting for cleaning smaller spills at lower temperatures than the self-cleaning feature.
Avoid scrubbing or abrading the oven door gaskets as they can be damaged from rough handling.
Kill power to the oven prior to replacing the interior light bulbs.
Clean oven racks whenever needed. These should be removed, scrubbed by hand, rinsed and replaced into the oven.
Stainless steel should only be cleaned with warm sudsy water or a special cleaner made specifically for stainless steel. Always wipe the surface of stainless steel in the direction of the "grain" only with a soft completely clean cloth.

Maintenance

4x every year: Do a self-clean run about every quarter and include a manual wipe down of the interior after the self-clean is through, this is especially important for a gas appliance. Remove any accessories and make sure there is plenty of ventilation in the kitchen at the time. Be sure to clean the lens around the light also.
1x per year: Place a thermometer in the oven and dial in a frequent baking temperature to check the calibration. If it's off more than 5%, either call for service or make note so that you can adjust your cooking times accordingly.
1x per year: Check the oven seal around the door and make sure that it is intact and working properly.
SaveSaveSaveSave