Fittings and Fixtures
Plumbing fittings and fixtures are functional trim elements.  They are not usually buried in the structure therefore they are much easier to access for repairs, servicing and replacement. They are also easier to change, tinker with and tweak to meet various tastes and budgets.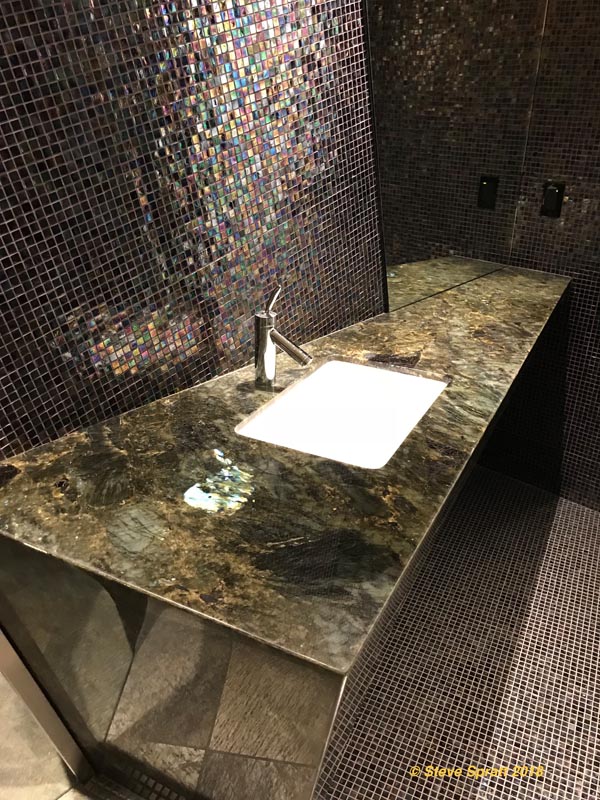 There are literally millions of different shapes, styles, colors and materials, for toilets, sinks, faucets, tubs, showers, bidets and associated trim. Almost, but not quite enough to meet the demands of every consumer.
Fixtures are the devices we modern humans have developed to hold and use the water that comes into our homes. Most plumbing fixtures are porcelain. It is easy to clean, doesn't rust and is attractive. You can damage porcelain enamel with a sharp blow from a heavy object or by scratching. A customer once dropped a make up jar into a vanity and it went completely through. Do not stand in a bathtub wearing shoes unless you have placed a protective layer of newspaper over the bottom of the tub. If you splatter paint onto the porcelain enamel surfaces during redecorating, wipe it up immediately. If a spot dries before you notice it, use a recommended solvent.
Types of fixtures include toilets, sinks, bathtubs, showers and bidets. Fixtures are intended for long, durable use exposed to water on a constant basis, so they tend to be made of materials that resist rust, erosion and water staining. Porcelain is such a material as is plastic, fiberglass, tile, marble, glass and stainless steel or copper. Fixtures have drains in the bottom for the water to evacuate and stoppers to hold the water in place if desired.
Except for toilets, most fixtures are relatively free of moving parts, so the main requirement is to keep the stoppers working and drains clear and free flowing.
Recommended maintenance is listed individually for each type below. In this section: Toilets; Sinks; Bathtubs; Bidets; Caulking; Faucets and Fittings; Exterior Faucets (hose bibs)
A general guide for the care of porcelain fixtures
To-Do

Do not drop or allow heavy items to impact onto the porcelain or tile.
Frequent good housekeeping practices should prevent most stains so you can avoid using abrasive cleaners.
Paint can be removed with gentle use of a razor blade.
Do not use abrasive cleaners on the porcelain or the metal fixtures.
Toilets
The basic design of a toilet is quite ingenious. It consists of a water holding tank mounted above the toilet bowl which has a large diameter curved drain in the bottom. The toilet itself is mounted to the floor with its drain hole positioned over the sewer drain pipe in the bathroom floor. The joint between the toilet and the sewer pipe is made water tight with a "wax ring" seal (a thick gasket device). If the toilet becomes loose this gasket can leak invisibly and cause serious damage. The mechanical genius of a toilet is how it works.
Under normal circumstances water will sit trapped in the bottom of the bowl. When water from the tank is allowed into the bowl, it pushes the contents into the curved drain pipe at the bottom. This creates a siphon which pulls all the contents out of the bowl and into the sloping sewer drain and on to the septic system. When the bowl is finally empty, air is sucked into the drain which breaks the syphon and stops the suction. The remainder of the water from the tank slowly refills the bowl ready for the next use. All this happens almost magically using nothing but gravity.
Some of the newer toilets have selectable flush, water saving features. Toilets are designed to handle human waste and toilet paper only. Anything else placed in the toilet will cause problems either with the toilet directly or worse, may clog the waste piping system somewhere downstream.
The key moving parts of a toilet are the float valve and the flapper valve. Both of these will need replacement every couple of years. When they break or wear out the toilet will "run" and waste water. A water-saving regulation went into effect in 1993, prohibiting the manufacture of toilets that use more than 1.6 gallons of water per flush. After much government research and public debate, a balance of comfort, convenience, and sensible use of natural resources, concluded that the 1.6- gallon toilet would be the size that overall consistently saves water yet still functions albeit marginally. The result of this standard is that flushing twice is occasionally necessary to completely empty the toilet bowl. Even though you flush twice on occasion, overall you are saving water and have complied with the law.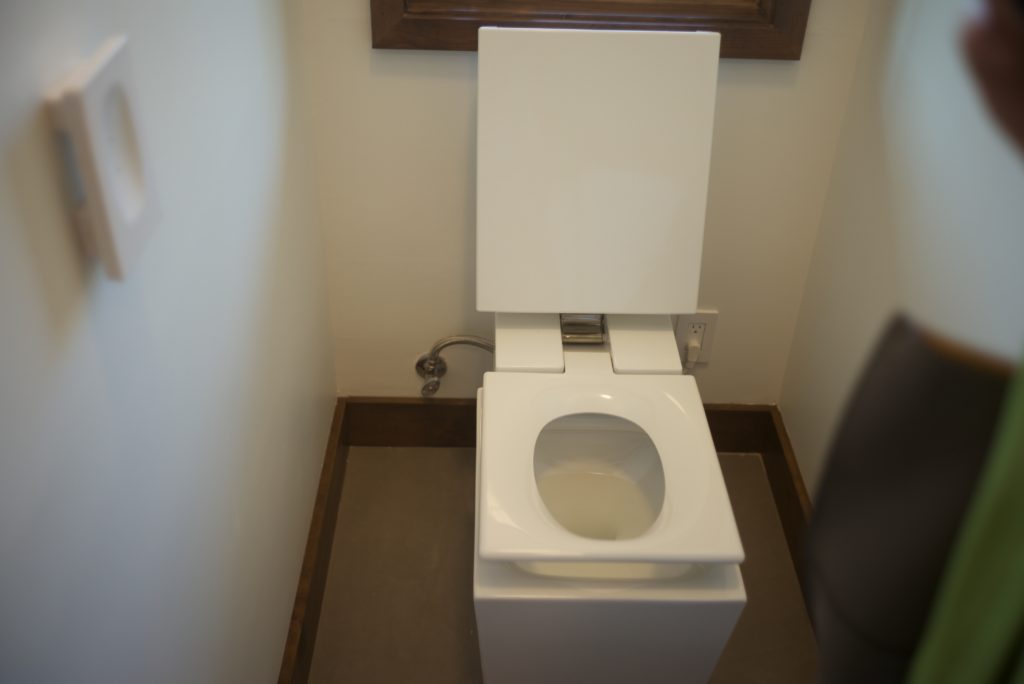 Common Troubleshooting

To stop a running toilet, check the shut-off float in the tank. You will likely find it has lifted too high in the tank, preventing the valve from shutting off completely. In this case, gently bend the float rod down until it stops the water at the correct level or simply turn the adjustment screw. The float should be free and not rub the side of the tank or any other parts.
If you hear the toilet flush on its own or if you hear the tank refill without having been used, then the tank flapper valve is leaking and should be replaced.
The main causes of toilet clogs are domestic items such as disposable diapers, excessive amounts of toilet paper, sanitary supplies, Q-tips, dental floss, and children's toys. Keep these things OUT of your toilet.

Maintenance

2x per year: operate the angle stop valve that feeds water to the toilet to keep operating freely and help prevent corrosion build-up. If you notice any leaks around this valve or the water line, a repair should be made, or the valve and water line should be replaced.
1x per year: Also check the chain on the flush handle. If it is too tight, it will prevent the rubber stopper at the bottom of the tank from sealing, resulting in running water.
1x per year: nudge the toilet to see if it is firmly secured to the floor. Toilets that "rock" or move, are not mounted securely and should be repaired immediately and the wax seal replaced./li>
Every 2 years: replace the inner flapper and float valves
Sinks
Sinks are basins used to hold water for washing or shaving or whatever. Sinks are usually made of porcelain or stainless steel but also come ceramic or even fiberglass.
Kitchen and utility sinks are equipped with larger drain holes to accommodate disposers or basket strainers that will help prevent things from being washed into the drains. Bathroom sinks have smaller drains with stoppers that will allow the sink to hold water for washing and shaving. Bath sinks with stoppers are equipped with an overflow located at the upper lip of the sink to prevent accidental flooding. The stopper mechanism is usually operated by a small lever at the back of the faucet. These can sometimes come loose or go out of adjustment making the stopper inoperable. These are repairable by accessing the lever connections under the sink.
All sinks have drains equipped with a P-trap. The P-trap is a curved piece of drain pipe directly under the sink that holds a small amount of water in it when the water is turned off. This small amount of water is enough to block the drain pipe so that foul smelling air from the drain system cannot come back up through sink and into the home.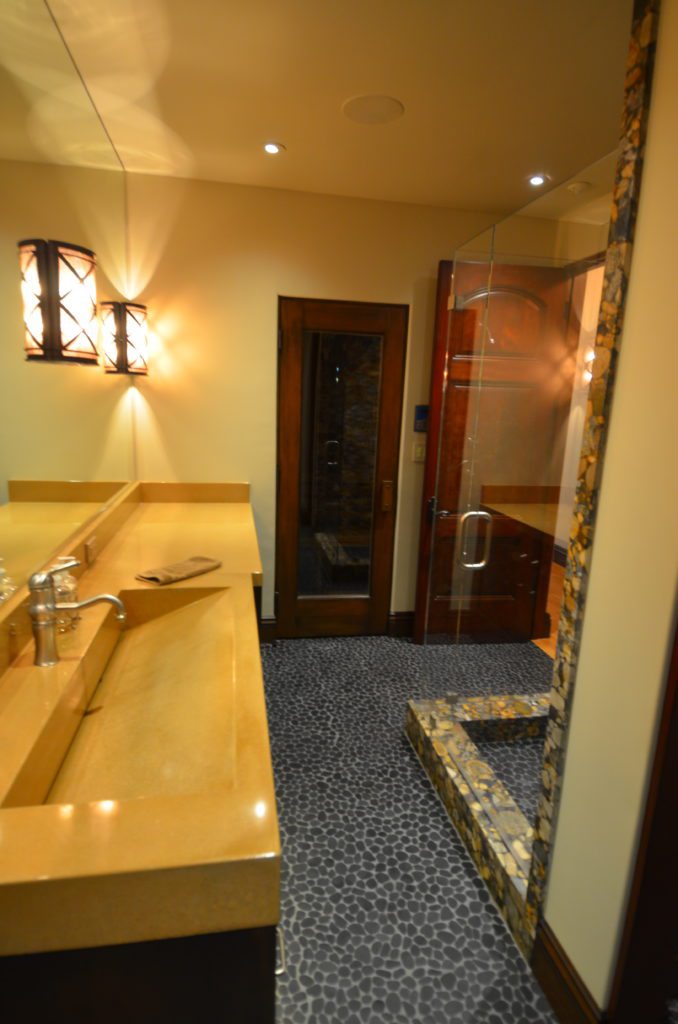 To-Do

Look under your sink and identify the P-traps and the angle stops.
Test the angle stops by operating them and note any functional difficulty or leakage for repair.

Common Troubleshooting

The P-trap can sometimes become clogged with debris and cause the sink to either drain slow or not at all. These can easily be removed and cleaned, or a plumber snake can be inserted into the drain to clear out the debris.
If not used often, P-traps can also dry out to a point that they no longer function to block out the bad smelling sewer gases. If this happens just run some water down the drains.

Maintenance

1x per year: Test P-trap connections, they should be easily loosened by hand for servicing. If not, a repair is needed.
1x per year: Clean the plunger drain stopper (usually found in bathroom sinks) by loosening the nut under the sink at the back, pulling out the rod attached to the plunger, and lifting the stopper. When clean, return the mechanism to its original position.
Every 2 years: caulk the sink edges as they should be tightly sealed to the adjacent countertop to prevent water from seeping into areas where it can cause damage.
Bathtubs
Bathtubs have been around a long time. The Romans liked them and spent so much time indulging in them that their empire fell apart. So, bathtubs were essentially the reason for the fall of the Roman empire. I can understand that. Bathtubs are so important that after long cattle drives, cowboys would actually stop drinking, line up, and pay exorbitant fees to use the only tub in whatever desperate little town was nearby to the stockyards. (Smart cowboys would always keep their pistol handy during the bath and never hang them up out of reach or especially not right by the door.)
Bathtubs have gone from being simply pools in a stream, to wooden barrels, to exotic smooth porcelain. The original soaking tub has evolved to now incorporate spa jets that provide an invigorating massage as well. The basic design of the bathtub is a bowl-like basin large enough for a human to recline in and deep enough to soak his weary bones. Each tub is equipped with a spout for the water source, valves to control the incoming water and a drain. Some have a handheld spray device. They also have an overflow drain to prevent accidentally over-filling the tub and flooding the house.
To-Do

Definitely avoid allowing any clogging material to go down the drain of your bathtub. It is much more difficult to clear a tub drain and you will likely have to call a plumber.
Get a screen and place it over the drain when you use the tub to prevent hair and things from getting down the drain.

Maintenance

4x per year: Clean any drain screen to keep it clear and free flowing.
1x per year: Check the operation of the stopper and adjust as needed
1x per year: Inspect and repair and missing or damaged caulking.
4x per year: Inspect for leakage around any enclosure and make repairs before permanent damage occurs.
Bidets
I have not confirmed this, but it is commonly agreed that the French came up with this device and gave it the name Bidet, which is pronounced b'day and in French means "butt washer" or something like that. Wikipedia describes the fixture as follows: A bidet is a plumbing fixture or type of sink intended for washing the genitalia, perineum, inner buttocks, and anus of the human body, and is typically installed in a bathroom. 
The French are certainly innovators, but as you might have predicted, they became so engrossed with Jerry Lewis movies that they have lost control of their Bidet monopoly and now the Japanese have assumed leadership in the advancement and marketing of this wonderfully useful appliance.
The company Toto has cleverly created a bidet seat and mated it to a toilet creating a single, all in one, Swiss army knife, fixture called a "washlet". This new "washlet" uses all the normal connections to the house plumbing as a regular toilet but requires an electrical outlet in order to power its warm seat, water heater, exhaust fan and air dryer. This all makes for an exciting bathroom experience and I highly recommend it.
To-Do

Get one ASAP here or here
Caulking
This is a generic term for any material that is used to fill the inevitable joints between two other materials. This can be for cosmetic purposes, but it is especially important for waterproofing a joint where water could cause a lot of damage. Caulking technology has advanced quite a bit over the years through modern chemistry and the durability and quality of the products are impressive. A wide variety of caulking materials and applicators are available at paint or hardware stores everywhere. Time and exposure can shrink and dry caulking so that it no longer provides a good seal. When installing or replacing caulk, be certain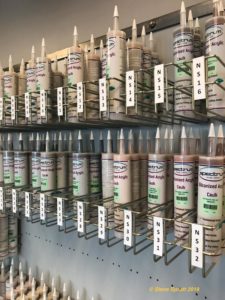 that you select an appropriate material for the intended purpose. Colored caulking is available and with any colored material, dye lots can vary. Latex caulking is used for any areas that require painting; such as where wood trim meets the wall. Silicone caulking will not accept paint; it works best at wet locations, for example, splashes showers, tubs or where a sink meets a countertop.
To-Do

Inspect the joints where your sinks, tubs and showers meet with other materials see if the caulking is beginning to fail.
Inspect joints between your windows, baseboards and door trim where it meets the walls to see if any open joints are visible and need caulking.
Identify what kinds of caulk are needed for each location.
Applying caulk can be tricky. Before doing any caulking, practice applying it to something…disposable.
Faucets and Fittings
Plumbing fittings and "trim" items are the controls for water flow, temperature adjustments and the delivery apparatus for your indoor water system. They include sink faucets, various water mixers, water valves, gas valves, tub spouts, shower heads, spray hoses, angle stops and connector lines.
The job of the faucet is to dispense water in both hot and cold temperatures. In the old days, at every sink and tub, there was both a hot, and a cold-water faucet available. Some recent designs connect the hot and cold-water lines in an unseen fashion to the base of the faucet so that only a single (joystick-type) handle is needed. Moving the single handle around deftly turns the water on or off, mixes the hot and cold temperature to the user's desire, and adjusts the flow of the water as well. Just out of view (usually hidden in the cabinets below), feeding every joystick-handled faucet, there are individual hot and cold-water lines connected to valves just under the fixture. These valves are important to maintain because they must be used to turn off the water supply to the faucet anytime it needs to be serviced or replaced. Also, because they are hidden under the sinks and are usually further blocked from view by boxes of cleaners or towels, if these valves fail, the leak tends to go unnoticed for long periods of time. Failure of these valves can be damaging. In fact, these valves are so important that plumbers have given them the special name of "angle stop" which describes their ability to control and direct the water from the water pipe in the wall to the fixture located at a 90-degree angle directly above.
Modern faucets, hot/cold valves and shower/tub mixer valves have all done away with rubber washers. They now have ceramic cartridges for shutting water flow on and off, and for precisely mixing hot and cold water to the desired temperature. These ceramic cartridge devices are precisely machined and operate with close tolerances. If you feel the faucet is not working properly please refer to manufacture s recommendations for proper repair or replacement of the cartridge. A common remedy to a dripping faucet is to remove and rinse the cartridge. Frequent use can wear them out over time and sediment in the water will also cause premature wear and damage. The cartridges in most water valves need to be replaced at least every 5-10 years to keep them functioning properly and at their full design spec.
Hard water and harsh cleaning materials can cause havoc with plumbing trim finishes. All valves should be inspected and operated on a regular basis to note subtle leakage and prevent corrosion which will in turn hinder their proper operation. Angle stops are the little valves on the walls next to the toilets and under the sinks that the water lines are connected to. These little valves are critical to maintain because they are needed to facilitate repairs or replacements of any defective faucet or fixture. Faucet spouts and hand-held wands are fitted with small, screw-in "aerators" that are used to soften the spray of water coming out. These aerators (as well as shower heads and hand-held sprayers) are easily clogged by sediment and corrosion so they should be removed and cleaned regularly.
To-Do

Locate and inspect your faucet water lines and operate the little valves "angle stops" under the sinks. Include the valves and lines for the washing machine.
Watch for water leaks or weeping as you operate the angle stops and have a plumber make any repairs. Don't delay making repairs as these leaks can do a lot of damage.
Follow manufacturer's directions for cleaning fixtures.
Avoid abrasive cleansers. They remove the shiny finish and leave behind a porous surface that is difficult to keep clean.

Maintenance

1x per week: Clean plumbing fixtures with a soft sponge and soapy water (a nonabrasive cleaner or a liquid detergent is usually recommended by manufacturers). Then polish the fixtures with a dry cloth to prevent water spots. Care for brass fixtures with a good-quality brass cleaner, available at most hardware stores.
1x per year: Clean the faucet aerators, wands and shower heads. These have screens in them that can clog with sediment over time and lower the flow of water. Soak corroded items with CLR. If corrosion is left unattended it will build up on itself and eventually make the fixture unusable.
1x per year: Check the tightness of all handles and mountings and tighten securely as needed. Many faucets are mounted directly on the surface of the tile or stone and secured by a nut from the underside. These can be difficult to work on without special tools.
Exterior Faucets (hose bibs)
Most outside faucets are designed to be freeze-proof, but in order for this feature to be effective, all garden hoses must be disconnected during cold weather. If a hose is left attached, the water that remains in the hose can freeze and expand back into the pipe, causing a break in the line. Repairing a broken line that feeds an exterior faucet can be an expensive fix as the piping usually breaks inside the wall necessitating the removal and replacement of siding and trim in order to gain access to the broken pipe.
To-Do

Prior to the first freeze of the year, disconnect all garden hoses from the outdoor faucets.
Install insulated protectors over any hose bibs not rated for outdoor use.
SaveSaveSaveSaveSaveSave
Save
Save
Save
Save
Save
Save