Paint/Coatings
Introduction to Paint
A thorough discussion of paint and coatings could take an entire book on its own. I know this because I have read several on the subject. I still know only the basics and that is actually very little since the profession is changing fast. So this is not intended to be a dissertation on coatings, just a general discussion so you get the idea.
Coatings
The term coating is used for a wide range of products like paint, stain, sealers, powder coats, even wallpapers. Most people think of coatings as paint, or stain or color, but coatings must actually perform a number of important functions: 1) it must protect the surface that it is applied to, 2) It must adhere to the surface and be durable itself, 3) It must provide the correct "sheen" or surface texture, 4) it must be the correct color, and to this list we now must add another 5) the coating must not give off toxic or environmentally damaging VOC's.
Fact: Until the early 1900's many interior finishes of our home's were poisonous.
Coatings can be opaque, transparent, semi-transparent or absorb completely and invisibly into the surface. The proper coating to use in any given situation is part art, and part science. The coating must not only look right, but it must also adhere properly to the surface that it is applied too, protect that surface, and not smell bad.
Pro's know best
Good painters who can figure all this out and also apply their wisdom (and the paint) to the home so that it looks nice are smart, valuable friends to have. If you find one, stay on good terms with them. For the purpose of this user guide, the protective surfaces on your home can be assumed to have been properly chosen but let's keep an eye on them nonetheless.
To-Do

Inspect the various painted surface of your home and write down any issues that you discover. I'll discuss dealing with various issues in following news releases.
For minor interior stain touch-ups, a furniture-polish-with stain (Old English w/scratch cover) is inexpensive, easy to use, and will blend in with the wood grain. Follow directions on the bottle.
When doing paint touch-ups, use a small brush or mini roller, applying paint only to the damaged spot. Touch- up may not match the surrounding area exactly, even if the same paint mix is used.
When it is time to repaint a room, prepare the wall surfaces first by cleaning with a mild soap and water mixture or a reliable cleaning product.
For touch ups I used to recommend keeping a sample of each color in storage. No longer. Colors on the wall fade and don't match the saved paint anyway. Instead, just take a sample of the old color to the local paint store and they will match and make exactly what you need.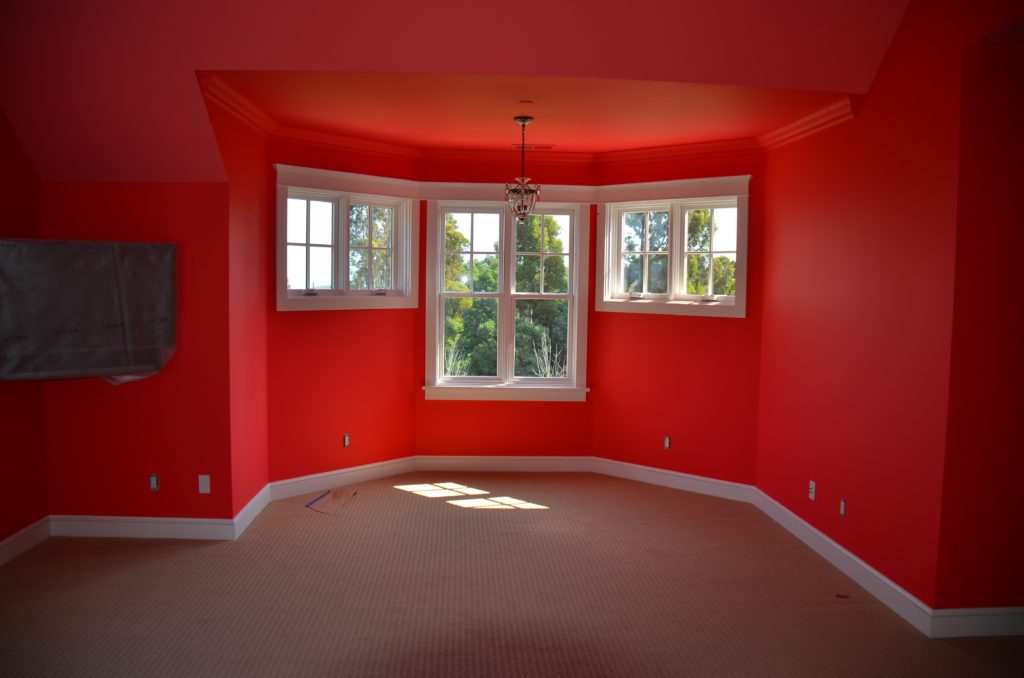 Exterior Paint and Maintenance
Most of the surfaces on homes are painted or protected by a surface coating. Proper preparation and application are key to paint durability and a little basic maintenance can add years to the life and retain the original appearance.
Painting Instructions

Start by selecting a quality paint specifically designed for exterior applications.
Paint comes with a recommended spreading rate that is designed to ensure that when the paint has dried there will be a film 25–35mm thick per coat. This is important as the final film thickness of a coating system is made up of several coats during application. Paint that has been thinned or spread over too large an area will result in a thinner film coat. Even 10% thinning can result in a reduction of almost 30% in the dry film thickness.
Natural exposure studies show that a single coat of paint can fail in less than a year. Using the recommended number of coats of the proper thickness is critical to achieving long-term performance.
Application
Early decisions made during painting influence what type of maintenance is needed and when it will be required. To get the best out of a paint system, a good deal of effort needs to be focused on preparing the surface before actually painting. As a new paint film dries it exerts forces on the surface below. Applying new paint over a powdery surface or a loose paint system can allow movement to occur and failure at the base material or old coating can result. Skimping on surface preparation can lead to a range of maintenance issues and early failure of new paint.
Preparing a surface for repainting

Is there any mildew, moss or mold present? A quick wash with water will not remove mold spores or small particles, a chemical treatment is required. Molds can regrow underneath new paint and pry it off the surface.
Is the surface chalky or dirty? Proper cleaning involves both washing and rinsing. Good cleaning solutions remove dirt and particles so that they are washed away from the surface, rather than just moved around.
Failed old paint, sealants and putty must be removed and replaced with new materials. Adhesion tests should be carried out on any previously painted areas.
Maintenance
There are four processes that continually and relentlessly barrage the exterior surfaces of your home: Sun, dust, moisture and fluctuating temperatures.
Sun
Direct and reflected sun light degrades the binder and pigments of paint, resulting in chalking, erosion and color loss. Over time, all grades of paint suffer these affects to some degree, but lower quality paints will fail much earlier. The binders used in acrylic paint tend to resist the effects of direct light better than the binders in oil-based or alkyd paints because the alkyd paints absorb the ultraviolet radiation into the binder.
Moisture
Moisture in the form of humidity, rain, snow, dew, condensation or sprinklers present a number of challenges to a painted surface. Most coating finishes allow some beneficial "breathing" through the surface. Wood members are organic and will expand and contract slightly along with moisture levels. This swelling and shrinking movement can eventually cause the paint to fail from surface cracks or separations at joints.
Dust
Dust accumulates on your home continuously. To maintain the function and appearance of coatings and paint finishes, your home must be washed regularly. Just like your car, but less often. Dust and grime are attracted to and quickly build up on the exterior surfaces of your home. This dirt layer absorbs moisture easily forming an environment for mildew. You may have already noticed this occurring on shady areas of your home.
When baked by the sun this dirt layer can eventually bond with the paint. This layer collects even more dust thus accelerating the process.
Removing any grime, bird droppings, mildew, shrub wear, rain splash, sprinkler overspray and any contaminants that can interact with surface coatings is important to the life and appearance of the home. Marine areas with salty air need particular attention. When these areas require repainting, it must be done only after thoroughly washing and properly preparing the surfaces.
Temperature fluctuations
Temperature fluctuations can cause subtle movements in the components of your home. Metal, wood, stucco and paint surfaces will all expand and contract with the changing temperatures but in different amounts. This movement stresses the coatings as described above and cause cracks and separations to the junctions of different materials. High temperatures also have an impact on wood members as it drives off moisture. To reduce the impact of temperature on a substrate material, use light colors or paints that incorporate special pigments that reduce the absorption of heat.
Summary
When it comes to painting, the more care and preparation invested at the start of the project, the better the outcome. Once installed, regular maintenance of exterior coatings will also ensure the system performs well, protects the building beneath and delivers a full life expectancy.
Annual inspections should be carried out to be timely aware of the above issues and touch-up and continuous repairs made to any areas that are damaged or under stress.
SaveSaveSaveSaveSaveSave