Roof System
Roofs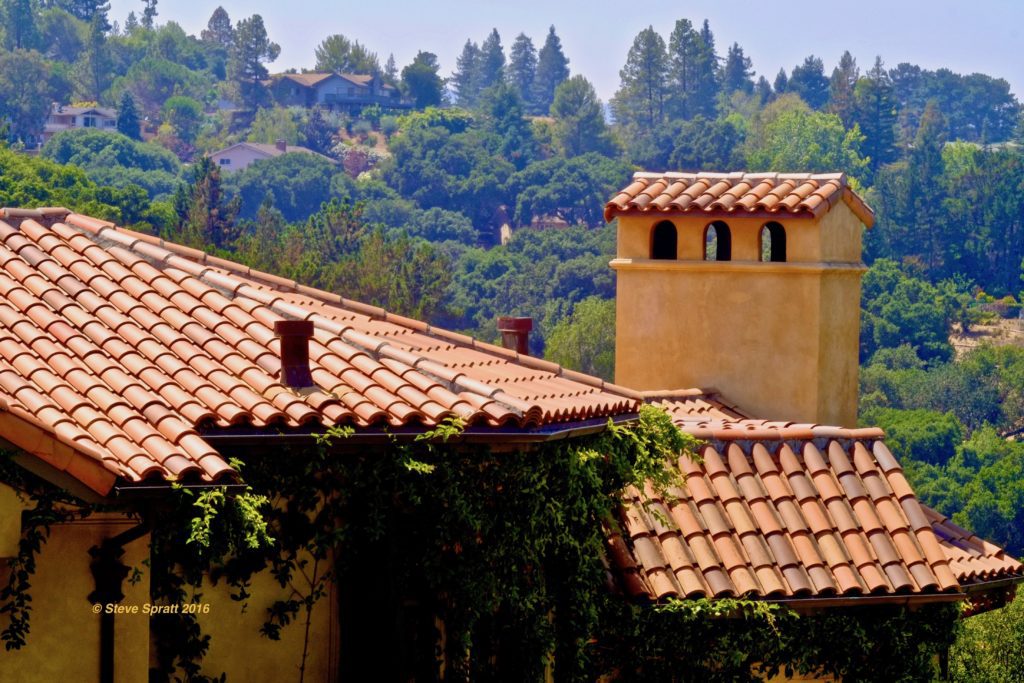 The roof system on your house is a "mission critical" component and by far the most important system for ensuring longevity of the home. When I speak "roof" what I am referring to is the entire roof system, roof material, flashing, gutters and downspouts. The purpose of the roof system is to not only shed water but to protect the rest of the home from the effects of sun, wind and rain. The system components must all work together to achieve this goal:
Roofing material is the finished, exposed water, wind and sun resistant surface material on top of the house.
Gutters collect rain water at the lower edges of the roof surfaces and are (or should be) sloped to direct this water to the downspouts.
Flashing is the underlying material directly beneath the roof that further waterproofs, especially at junctions, joints and terminations of the roofing.
Downspouts serve to drain the gutters and move the rainwater safely to the ground or to a collection system in a controlled manner. The goal is to prevent blow back onto the finishes that would deteriorate the structure of the home.
Uncontrolled rainwater running off the roof can damage eaves, rafters, attic, siding, trim, windows, doors, foundations, basements, crawlspaces and landscape. In fact, most of the damage to the exterior of American homes can be directly attributed to water running off the roof in an uncontrolled manner.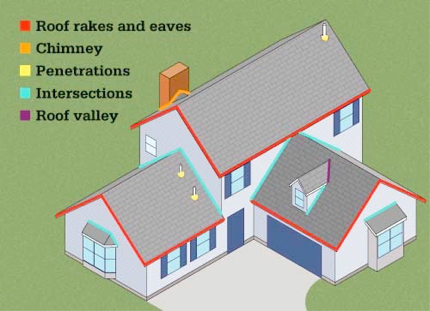 Roof types and materials
Here are the most common roofing materials used in the US listed in order of durability: Slate, Tile, Metal, Wood, Asphalt, Tar/Gravel.

Slate roofing is a natural stone that has been used for thousands of years. In fact, I think some of the first slate roofs are still around. Slate can literally last forever, but it is delicate and will break if walked upon so is not a good choice where frequent maintenance like leaf debris removal is required regularly.
Tile roofing can be either clay or ceramic and has also been around for millennia. It is delicate and easily breakable if walked on so is not a good choice where frequent maintenance like leaf debris removal is required regularly.
Metal roofing can be had in zinc, copper, steel and aluminum. Most metal roofing today is painted galvanized steel material in a standing seam configuration. It is a durable and easily maintained material that has a very long life. Steel is a very good choice for cold snowy climates. Metal roofing material has a long life so it is important that substrate, flashings, attachments and penetrations be performed in a manner equal to the life of the roofing.
Composition shingles can help the environment because recycled materials go into their manufacture. The use of post-industrial plastics, hemp fibers and used roofing materials help to reduce waste. Composite shingles, can be made in thick layers for more architecturally appealing profiles, and can have expected lives up to 50 years.
Wood Shingle and Shake roofing is made from sawn or split cedar logs. Shingles and shakes are made in various thicknesses depending on the aesthetic you are trying to achieve. Thicker material tends to last longer as sun, wind and rain slowly wear the surface away. An average shake roof will last 30-40 years or more if maintained properly. Cedar shakes are organic, renewable, recyclable and biodegradable. 
Asphalt shingles are basically layers of fiberglass coated with asphalt and a layer of gravel that provides color and protects the asphalt from UV damage. Asphalt shingles are low cost but also have short expected lives of from 5-10 years. Composite and asphalt roofing materials are similar in appearance but are manufactured differently and have different expected lives.
Flat or Low-slope: For flat roof applications, there are now high-tech, single-layer membrane materials as well as the original built up hot tar and gravel solutions.
Thatch: One of the oldest building crafts still practiced today. British archeologists have found evidence of buildings with straw roofing dating back as far as 500 BC. In the Highlands of Scotland, thatch was over the centuries the traditional roof covering for crofts and farmhouses. The use of thatch inspired the first building code, The Ordinance of 1212 which prohibited the use of thatch of any kind for the covering of roofs. Imposed in an effort to prevent the frequent and disastrous fires that frequently swept through narrow medieval streets.
To-Do

Identify details about your roof including the make, type and age of your roof and file these away for future reference.
Have the roof system inspected and all the components checked for condition, function and remaining life. Make plans to implement any repairs recommended.
Please note: We recommend that professionals with proper safety gear perform any services to the roof and gutters.

Common Troubleshooting

After severe storms, do a visual inspection of the roof for damages.
Notify your insurance company if you find pieces of shingle in the yard or shingle edges lifted on the roof.
Ice build-up or ice damming may develop on the roof or eaves during extended periods of cold and snow or freeze/thaw conditions. This condition can force water to travel up the roof which is opposite of the intended design of the roof to shed water. Your homeowner's insurance may cover this damage.

Maintenance

4x per year: Dust and debris can build up on your roof and in the gutters. It is important to remove this debris regularly as it is a fire hazard and will break down and decompose your roof system. In heavy debris conditions, this should be done at least quarterly.
1x per year: Check to see that the gutters drain fully. If water pools in the gutters, they are not sloped properly and will need to be repaired.
2x per year: Flush the downspouts and make sure they are clear and free flowing.

Gorgeous zinc roofing and gutter system
Gutters
After the roof and flashings, the gutters are the most important part of the water control system of the home. The gutters pick up rainwater that sheets off the roof, then channels it to the downspouts where it is delivered to the ground or to a drainage system.

Gutters come in a variety of material and shapes. The most common materials in the US are painted steel, plastic, aluminum or copper. Metal gutter material comes in rolls of flat material. This flat material is then roll formed into proper shape in long lengths of gutter. The typical shapes that are easy to form with a machine are "K" style (flat bottom with a decorative face), OG (old gothic), half-round and fascia (flat faced).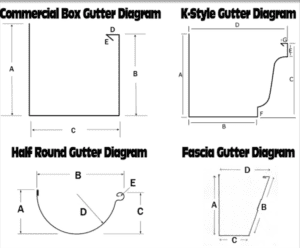 Gutters should be attached to the structure in a way that ensures all run-off water is caught and controlled. There should be no over-spilling. There should also be metal "edge flashing" placed at the lower edge of the wood roof structure where the gutter is attached. This will protect the structure from water wicking or blowing back up under the lower edge of the roofing. Downspouts should be large enough to handle the heaviest amounts of runoff from the roof above.
For gutters to work reliably, they should be fitted with a "
protection
" system that allows water to flow freely through while preventing debris from interrupting the flow. This "debris filtering" is the role of an established but fairly obscure genre of building products called gutter protection systems. In recent years, the interest in maintenance reduction has grown along with an aging population of homeowners. Many competing products have sprung up, all of which are designed to keep the gutters flowing…but with varying degrees of effectiveness and cost.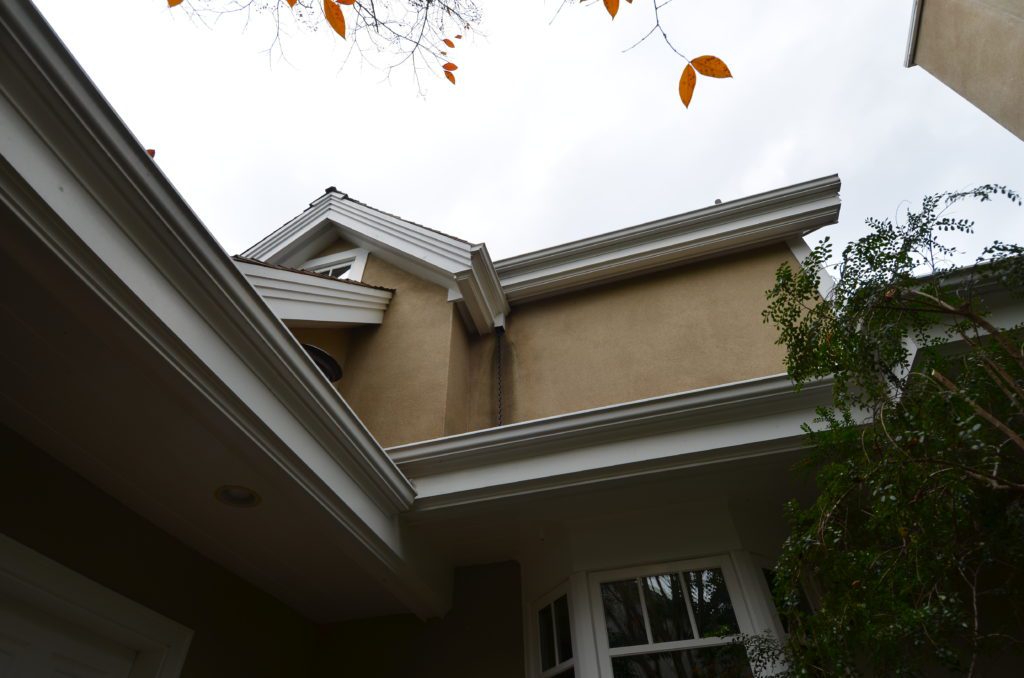 To-Do

Observe your gutters and downspouts during a heavy rain and note any overflows, leaks or other problems that need repair.
Avoid rain chains as they allow the water to blow uncontrolled back onto the structure.
Downspout extensions and splash blocks should discharge water into a drain system or at least 3 to 5 feet away from the structure and outside of any planter beds.
Do not allow water to be dammed behind any planter edging materials that might be used.
The goal with downspouts to make sure any rainwater water does not find its way against or under the foundation of the home.
When cleaning roof or gutters do not lean ladders directly against the gutter as it can dent the material and damage joints.
Clear excess snow from gutters and downspouts as soon as possible to allow the gutter to drain and to prevent damage. Severe ice or snow build-up can damage gutters and back up under the eaves and damage the interior of the home. Ice dams at the edge of the roof indicate a serious insulation problem that should be corrected.

Maintenance

4x per year: Inspect your gutters and remove leaves or other debris so that the body of the gutter is completely clean. The gutters must remain clean to ensure the free flow of water and to eliminate potential fire hazards. Use caution when leaning ladders against gutters, as this may cause damage. Remove any debris or dust that has accumulated and flush the downspouts with water so they are completely free flowing. I highly recommend that gutter protection be installed in gutters that are subject to heavy continuous debris, to prevent stray material from entering the downspout and especially the underground drain system.
2x per year: Inspect joints make a permanent repair ASAP.
Flashing
Flashing is a term used to describe any durable and non-permeable material that is installed to prevent water leaks at windows, doors, decks, wall junctions, penetrations, joints and edges of the waterproof areas of a structure. A typical home has many of these areas and all of them require well thought-out and professionally executed flashing. Typical flashing areas are for roof valleys, roof-to-wall junctions, roof-to-chimney joints, around skylights, roof edges, protective caps over exposed wood framing, around windows/doors, the junctions between decks and exterior walls, and to protect the top of parapet walls.
Flashing materials must be durable as they are permanently installed and subjected to harsh, exposed conditions. Often these materials must be specially shaped to conform to the requirements of the application.  Materials used for flashings include copper, galvanized sheet metal, zinc, aluminum, lead, tin and several types of self-adhesive membrane tapes. Lead flashing in sheet form is often used on tile or slate roofs because the material is soft and will allow itself to be easily shaped to fit the curvature of the tiles. The material selected for flashing should match or exceed the durability of the material it is embedded in or surrounded by.
Flashings are critical components of the building process and key to creating a high quality and long-lasting structure. Because of this, I recommend that during construction, special supervision take place during the installation of all flashings.
Drawing of Roof System with gutters
Save
Save
Save
Save
Save
Save
Save
Save
Save
Save
Save
Save
Save
Save