Cabinets and Countertops
Casework and Cabinets
Cabinets are the built-in storage boxes and tool cases for your kitchen, bathroom, laundry, library and other areas. Built of plywood or particle board, cabinets are mainly a wood product. They can have doors, drawers, countertops, and appliances built-in to them like ovens and dishwashers.
The quality levels for cabinets can range from extremely utilitarian and low cost, to exquisite pieces of furniture.
If you have real wood or wood veneer cabinets, expect variations in the color and grain of the wood and the way it takes stain.
Cabinet care
Lemon oil is good for keeping your wood cabinets looking great. Only use oil products once every 3 to 6 months to avoid excessive build-up. Avoid paraffin-based spray waxes or washing cabinets with water, as they will cause damage. Hinges and drawer glides need a small amount of silicone lubricant now and then to improve their performance.
Damage to cabinet surfaces and warping can result from appliances that generate large amounts of moisture or heat. So be aware that toasters, steamers, crock pots and coffee makers can do a lot of damage if placed in the wrong location. When appliances, place them in a location that is not directly under an upper cabinet.
Sanitary installation
Good cabinet interiors will have no gaps or holes exposed to the subfloor, exterior or framing. Doors, drawer fronts, and handles should be tight, level and even without warping. Correct any separations or gaps or 1/4″ or more between cabinets and the ceiling or cabinets and the walls. Doors or drawer fronts with warping in excess of 1/4 inch within 24 inches needs repair.
To-Do

Keep the fronts and edges of frequently used doors and drawers clean with good housekeeping using damp cloth and mild soap as needed.
Prevent steamers, tea kettles and crock pots from delivering steam directly onto the cabinets.
If your cabinets have glass, spray glass cleaner only on the cleaning cloth to avoid getting overspray on the face of the cabinet.

Maintenance

2x per year: Keep all screws and hardware, handles, hinges, pulls and knobs tight and level.
1x per year: Inspect, test and lubricate all hinges and drawer guides to work smoothly and quietly.
1x per year: Test and inspect the mounts of all appliances so they are securely attached to the cabinets as required.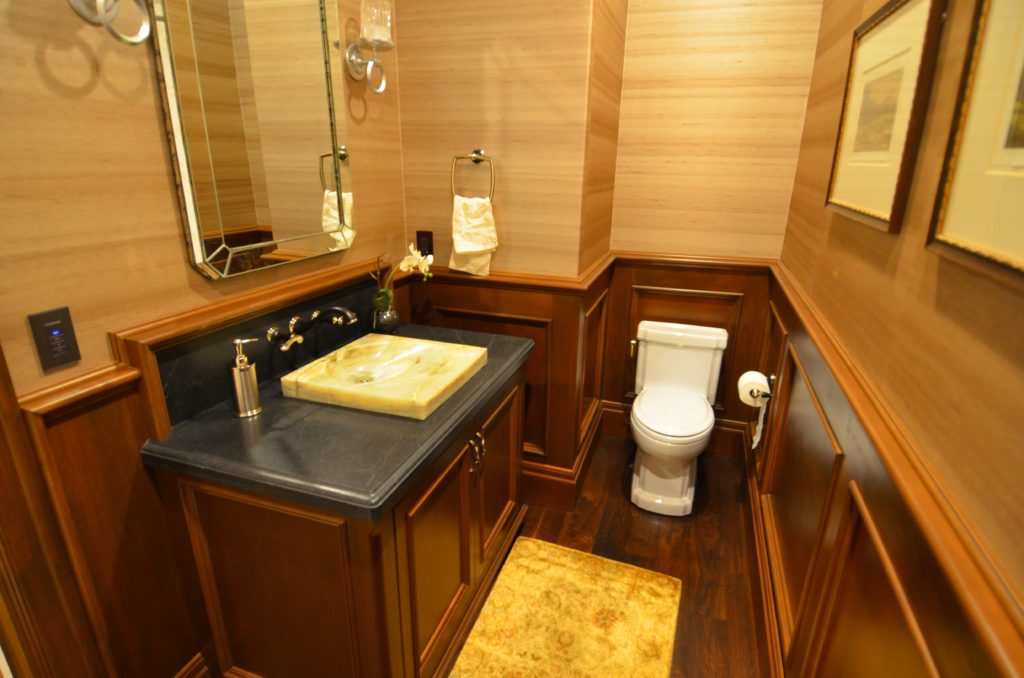 Cabinet Anatomy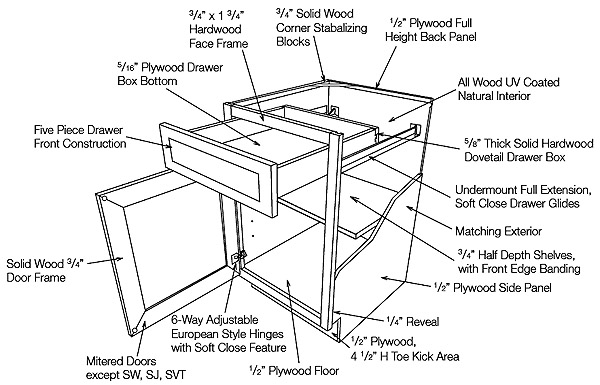 Cases:

Cases are the boxes that form the outer structure of the cabinet. The best material for cabinet cases is multi-layered furniture plywood. The cabinets are basically plywood boxes with sides, backs and a toe kick base. The cabinet front is called a face-frame. They have and 2" wide solid wood framework. This is applied around the perimeter which stiffens the box and creates solid mounting places for the doors and drawers. Particle board is a lower grade of cabinet material. European style cabinets are sleeker and have no face frames frame. Special hinges and drawer slides are neededed. Doors and drawers have no visible frame around them.

Drawers:

Many materials are suitable for drawers. The best have solid wood sides with jointed and glued corner construction and plywood bottoms. Lesser quality drawers use particle board and/or stapled drawer construction. Use heavy-duty and durable drawers for pots, pans and other hefty materials.

Door and drawer fronts:

Fronts can be had in a multitude of designs, materials and prices. These are usually ordered and purchased from a separate specialty vendor, then attached by the cabinet maker to the drawer and case boxes during installation.

Handles, hinges, drawer slides, lazy-susan hardware and pulls:

Hardware can range from simple to exotic. Some of the newer self-closing and soft-closing hinges and drawer slides are very nice improvements and can sometimes be retrofitted in existing cabinets.
Countertops
The work surfaces in your kitchens, bathrooms and laundry areas are the flat countertops. Base cabinets and countertops work nicely together as each needs the other to do their job. Countertops were once very utilitarian items but now they have become fashion statements and even works of art. The manufacture of countertops has evolved from simple wood planks, to gorgeously fabricated marble slabs.
Stone countertops are heavy. Here is a video showing installation of a large slab of quartzite at my home.
Countertop types
Common materials today are quartz, ceramic tile, wood, laminates, granite, quartzite, concrete, metals and synthetic stone. Criteria for good countertop materials include: durability, resistance to water and heat and ease of cleaning.
Take time to choose the right material for the use of the countertop. For instance, white marble makes a beautiful countertop. But it may fail in a kitchen where acidic substances like wine, citrus, tomatoes can cause damage. It is best to know these things before spending money on them.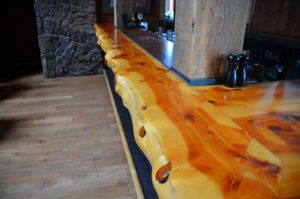 To-Do

Inspect and identify all of the various types of material used for countertops in your home. Each will have a different maintenance protocol. For more information see below.
For any countertops, it is wise to use a cutting board to protect them when you cut or chop.
Protect the counter from heat and from extremely hot pans. If you cannot put your hand on it, do not put it on the counter.
Do not use countertops as ironing boards and certainly do not set lighted cigarettes on the edge of the counter.
Builders should construct their countertops strong enough for you to sit on them, nevertheless, I do not recommend that you do that.
When cleaning, avoid abrasive cleaners that might damage the sealer or luster of the surface.

Maintenance
Caulking
Apply caulking in order to seal joints between the countertops and the wall, along the joint at the backsplash, and around the sink. Be aware that caulking can shrink over time requiring repair. Maintaining a good seal in these locations is important to keep moisture from reaching the wood structure of the cabinet or the lower laminates of the top itself.
Sealing
Clean and seal porous countertops like marble prior to use and every year thereafter (see below). Seal and monitor the seams in laminated countertops for any separation or swelling. Caulk visible gaps around countertops, vanity tops, adjacent to walls, backsplashes, etc.
Stone Slabs
If you think using natural stone in the kitchen is exotic and new, think again. The oldest material for the kitchen is natural stone. Humans have been preparing, presenting and consuming food on stone surfaces forever. Boulders with mortars and other tools are all over Yosemite. These are usually close to streams. Bowls and flat slabs are formed relatively quickly by grinding grains on them with other rocks. Stone has been a great food preparation surface in this way for thousands of years.
Because of its abundance and durability, stone has been quarried, used and worked by humans for thousands of years on every continent. Natural stone counter materials are created by quarrying large stone blocks and slicing them into 2-3cm thick slabs.
Materials
For today's lucky homeowner, readily available stone slab options now include marble, quartzite, granite, slate, onyx and engineered stone like Caesarstone or Silestone. As a result, homeowners have lots of stone to choose from. These slabs can create one-piece countertops as large as 6'x10' and even larger by joining "book-matched" slabs with precision joinery.
By precision joinery, I am referring to computer aided cutting machinery that can essentially finely cut and shape stone like butter. Hard butter that is. Once in place, a stone countertop is an installation with very long life.
Sealers
Porous natural stone countertops need a sealer. This helps prevent stains from getting deep into the pores of the material. Place a wet rag overnight on the stone to determine the need for sealers. You need a sealer if there is a dark moist spot remaining on the stone. A glass top can also be used on very porous stone like marble to help protect it from damage.
Post-sealing Tips
Do not place any placemats or similar covers over sealed surfaces for about 48 hours. The sealer is airing and still needs to completely cure. However, you may begin using the surface for light daily use immediately.
Remember, your newly sealed stone is protected but not bullet proof! The sealer helps delay penetration of liquids that could cause serious damage. If you spill wine, orange juice, etc., instead of having seconds, you now have minutes or hours to clean it up without worry.
We recommend using neutral stone cleaners for maintaining your stone. You may purchase such cleaners called Revitalizer by Stonetech -OR- Crystal Clean by Stonepro from most local stone retailers I recommend that you order them here.
Use these cleaners weekly on average, but can vary more or less depending on usage of the stone. It won't harm the stone.
To-Do

If you have stone countertops, determine what kind of stone material it is made from.

Maintenance

1x per year: Clean, hone and seal marble countertop materials and inspect and re-caulk around joints, sinks and other dissimilar materials.
Every 2 years: Re-clean and seal granite and quartzite counter top materials and inspect and re-caulk around joints, sinks and other dissimilar materials.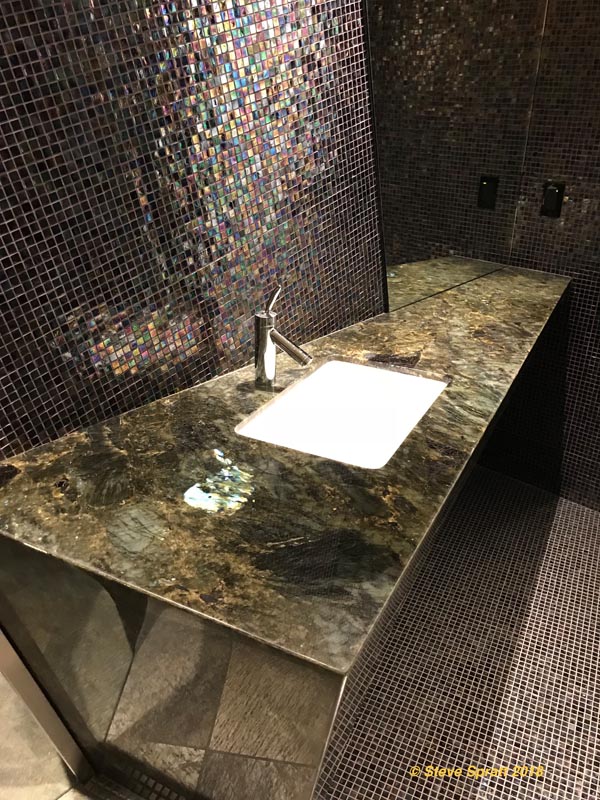 How to select your stone
Marble:

Marble is gorgeous and silky in appearance and its attractiveness makes it highly sought after for luxury living. Unfortunately, marble is also softer than other stone materials making it easy to damage. It is also porous and will absorb staining liquids. Its composition is calcium rich and etching by acidic foods like citrus fruits, tomatoes and juices is a problem. Protect marble with a sealer to prevent staining. The sealer treatments are expensive, short lived and require frequent reapplication to be effective. Because of these characteristics, marble is recommended for bathrooms, showers and tabletops that are not subject to cutting and cooking.

Granite:

Half Dome

Granite is a grainy appearing igneous rock formed by the slow crystallization of magma within the earth's crust. It is very hard and massive with few cracks. In the commercial world of countertops and stone features, granite is a rock with visible grains that is harder than marble. Gabbro, basalt, pegmatite, schist, gneiss, monzonite, anorthosite and diorite are all considered "granites". It is scratch resistant, polishes to a high gloss and is not affected by food acids. Most granites are non-porous. Still, they can benefit from a sealer to prevent stubborn stains that might occur during the cooking process. Granites come in an unending array of natural colors and patterns making every installation unique and one of a kind.

Quartzite:

Quartzite is an extremely hard, metamorphic rock that was once pure quartz sediment. Extreme heat and pressure from deep in the earth fuze these sediments into quartzite. Quartzite material has a sandy, fine grained appearance with glassy/shiny areas embedded in the structure. Many quarry's have found attractive versions of this material with striking colors and veins. This produces unique and gorgeous patterns that are ideal for architectural applications. Resistance to abrasion, low porosity and acid resistance make this material highly suitable for kitchen use. Quartzite surfaces also accept "honing" or "leathering" treatments that add a soft and unique feel to their surfaces. Treat these countertops with sealant as you would granite.

Engineered stone:

The industry has named this manufactured material for its primary ingredient, quartz. Crushed quartz and resin combine in large sheets called quartzite Quartzite material is hard, durable and has an extremely uniform appearance. It's resistance to heat and UV light varies according to the amounts of resin and quartz material used. Check with the manufacturer for warranties on heat resistance and the effects of UV light over time. Quartz tops are durable, scratch resistant and not subject to normal kitchen stains. Slabs of quartz come in a stunning variety of colors and patterns.