Recommended Reading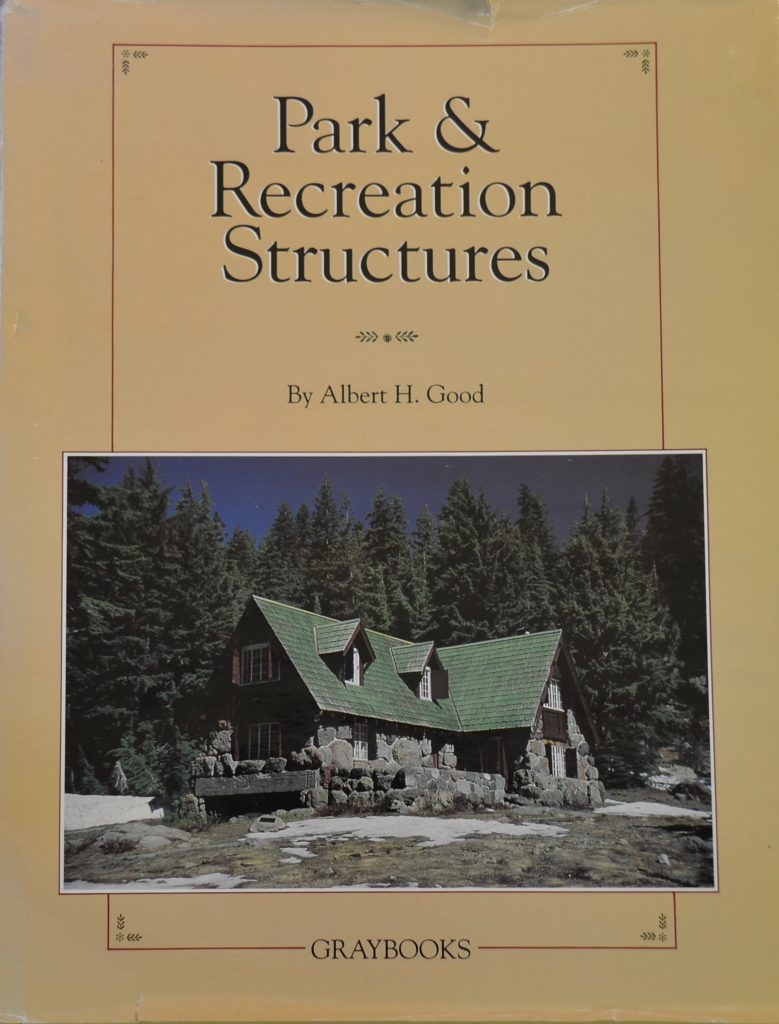 As I have wandered down the path of life, these books are some of the inspirational guides that have helped me navigate my way.  I am eternally grateful for these written gifts that seem to have always come along at just the right time. My recommended reading list includes books about homebuilding, design, motivation, organization, achievement, humor and spiritual enrichment.  What use is a great home if you do not have a good book to sit back and read while you enjoy it?
The engine of mankind's advancement has been his pleasure in his own skill. Man loves to do what he does well, and having done it well, loves to do it better. With every action of the hand there is pleasure in the action for its own sake–in the skill that one perfects and perfects by being pleased with it. This pleasure is responsible for every work of art, musical arrangement, invention and scientific discovery in the world. The resulting monuments, technology and symphonies are supposed to commemorate genius, power, kings and dogmas, but in the end, they commemorate the man who enjoyed his work.

-Adapted from the Ascent of Man by J. Brownowski
The Power of Myth – Joseph Campbell
This is a wonderful, six-part series of audio and video interviews with Joseph Campbell conducted by Bill Moyers. The sessions were recorded over the last few years of Campbell's life.  Joseph Campbell studied all the great religions and mythologies and found commonality among them all. Campbell reveals human awe of the great power and mysteries of the universe and shows us how, through the myths, man-kind has attempted to find meaning and peace amidst the chaos of life. I can never get enough of this series and come back to it always. Do not read this book unless you wish to be changed, for the better, forever. Follow your bliss!
The Ascent of Man – J. Bronowski
What is it about man that makes us so different from other forms of life on our planet? If you have ever wondered about that and what it is about mankind that drives us forward, this is the book to read. Based upon a 13 part television series broadcast by the BBC in the 1970's Jacob Bronowski takes the reader on a journey of the kry inventions and scientific discoveries made by mankind over the last 10,000 years.
How Buildings Learn – Stewart Brand
This is a book about how structures evolve over time whether it be by deterioration or to meet the changing needs of humankind. I like Stewart Brand because he talked to me and encouraged me when I was young and contemplating starting Home Preservation Services in the early 90's. Stewart was a friend of one of my first clients Doug Englebart (inventor of the computer mouse,) and was the founder of the Whole Earth Catalog. In this book, Stewart talks about the modern, wasteful, culture of disposability and favors a long-term approach to constructing and caring for structures. Stewart also  focuses sharp criticisms on modernist innovators like Buckminster Fuller for producing round buildings that are difficult to adapt and modify and Frank Gehry for making buildings that are difficult or impossible to maintain.  An all-around fun and enlightening read, this book was instrumental in giving me confidence in the feasibility of both HPS and this website.
Pillars of the Earth – Ken Follett
This is an entertaining novel with historical ties about politics, life and the building of a cathedral in the mid twelfth century England.  I have often wondered how those most majestic of structures were financed, planned and constructed and this book provides a peak behind the curtain of time into that world. Better settle in for this one as it is a substantial read at just under 1000 pages.
Park and Recreational Structures – Albert H. Good
I bought and read this book cover to cover nearly thirty years ago after a trip to Yosemite and a weekend stay at the magnificent Ahwahnee Lodge. After that stay I was hooked with the big lodges of the National Park System and swore to visit as many as I could. This book is filled with plans and old black and white images from the first edition. This hard cover three-volume book, first published in 1938 by the National Park Service, contains photographs and detailed drawings of America's park structures. It contains hundreds of illustrations on rustic picnic tables, graceful bridges, drinking fountains, stone fire pits, trail markers and, of course the lodges, and inns from the glory days of early park construction. It's amazing looking through this book from the '30's to see all the things that are back in vogue now.  Sliding barn doors, rustic live-edge furniture, stone masonry, fire pits and all.  If you are smitten as I am with this kind of durable quality and rustic lodge design sense, this book will serve as a source for many ideas.
Construction Techniques and Construction Techniques 2 – Fine Homebuilding
These are wonderful resources for the professional builder or craftsman who wants to sharpen his skillset. 
The Water Heater Workbook – Larry and Suzanne Weingarten
A detailed expose' on how one of the most mysterious and expensive pieces of equipment in every American home works, and how despite being purposely designed to be short-lived and disposable, the ordinary water heater can be made to last much longer than the makers hoped. I enjoy helping to foil greedy, wasteful plans.
Why Buildings Fall Down – Matthys Levy and Mario Salvadori
This is an interesting look at some serious engineering failures.  
A Homeowner's Guide to Paint and Painting – J.T. Adams
Paints and other coatings are important to the protection and beautification of finished materials. Understanding how they work and interact with both the underlying material and the environment makes a huge difference in durability and longevity of our home. This is an old-school, in-depth discussion of basic best practices for painters as of the mid 1970's. Since this book was written, changes have occurred, especially in regard to formulation and application of paints in a move toward water-based materials with lowered VOC's. Even so, after reading this book you will gain a new appreciation of the complexity and science of the craft and learn the importance of "preparation", the definition of "vehicle," and that "pigment" is not just a skin color. 
Greene & Greene, Architecture as a Fine Art and Greene & Greene, Furniture and Related Designs – Randell L. Makinson
These are two books on the famed Greene and Greene brothers who took Arts and Crafts design and construction to the highest levels.  These guys were living, breathing examples of J. Bronowski's theory on the ascent of man. Beautiful photographs and detail drawings of their work.
Make It Last – Earl Proulx
I despise the wastefulness of the disposable world we have created. This is one reason I try so hard to get folks to take better care of their home. This folksy how-to book takes us back to a time when values were very different and provides explanations on how to make good stuff last a long time.
The Adobe Book – John F. O'Connor
This relatively short book is a succinct discussion on the art of Adobe homebuilding.  Adobe is one of the world's oldest building materials and produces a solid, well-insulated, easy-to-maintain home that can last for hundreds of years.  One of my first homes was a beautiful adobe rancher in Redwood City, CA. It was truly a comfortable joy to live in. This book has many illustrations to help you learn about the material used to build the California missions and most of the oldest buildings in the southwest regions of America. There is also a chapter providing a lively discussion on the benefits of flat vs pitched roofing. A position you do not hear often.
The Workshop – Jim Kingshot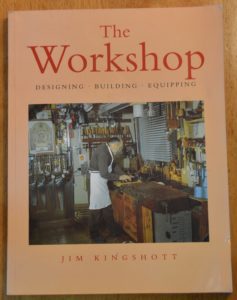 At one time I entertained a fantasy of having and using my very own woodworking shop. When I moved to Oregon in 1999 the property had an outbuilding that seemed perfectly suited for the purpose.  With the help of this informative book, I set out to assemble my dream shop and a bit less than a year later it was complete. It was a marvelous shop! It had good lighting and plenty of room. It had central dust control, storage for many hand tools and, according to Mr. Kingshot, all the power tools a first rate, functional shop could need.  Unfortunately, the only thing my work shop did not have was me.  Sadly, I never had the time to use it, but I did have a blast building it and this book was indispensable in the process. It is filled with great details and photos of many glorious tools.
Building Construction Before Mechanization – John Fitchen
My bucket list includes a trip to Peru to marvel at the stone construction work on display at Sacsayhuama'n, Cuzco and Machu Pichu. Talk about building to last, these and other ancient stone masons from all over the world really knew what they were doing. To get a sense of how they might have done these things, I highly recommend picking up and reading a copy of this book by John Fitchen a registered architect, and Professor of Fine Arts, Emeritus, at Colgate University.
A Practical Course in Roof Framing – Van Gaasbeek 1944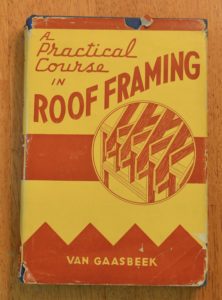 A totally old school text for the builders of the world that still hand frame their roof structures instead of relying on prefabricated trusses. If you have any preconception about the skills and abilities of carpenters, read this complex book and you will know that any one of them could have easily become a doctor or a physicist. Mr. Gaasbeek was the department head of Woodworking at the School of Science and Technology, Pratt Institute, NY.
To-do, Doing, Done – G. Lynne Snead and Joyce Wycoff 1997
The techniques for project management in this book are so helpful and important that I bought 10 copies when it first came out and gave them to all my managers to read.  Even if you have computer apps available to you, I highly recommend this book if you are performing multiple projects at once or managing many people to do so. 
The E Myth – Michael Gerber
I mostly owe the philosophy and tools of E Myth for the survival of Home Preservation through the early difficult years. The E Myth explodes the romantic dream many people have of owning their own business. It exposes you to the reality of what it takes to go from a good idea to a great business. If the E Myth doesn't scare you away from owning your own business, then you may have what it takes to actually make it succeed. This book tells it like it is and lets you in on what you need to do.  Then you have to do it.
Anything by Bill Bryson
Mr. Bryson's books always make me think, then smile. He has a style and sense of humor that I enjoy and interesting subject matter that appeals to me too. I listen to some of his recorded writings over and over, especially on planes with headphones. I've been caught more than once laughing out loud at some hilarious passage. He seems also to have an appreciation for the values of quality and durability. In one writing he remarks about the Uffington White Horse geoglyph that is carved onto a hillside in England and how it would not be there unless people took the time to maintain it. Apparently local folks, with no formal organization or assistance, have been doing so for 3,000 years. I find that kind of thing uplifting and marvelous.
Three Men in a Boat – Jerome K. Jerome
Written in 1889 this book is one of the funniest things I have ever read. What's crazy is that it was apparently originally intended as a serious guide book for folks looking to travel around England. The humor does not seem dated at all and I cannot keep from laughing out loud at the wit of the writer. Totally fun to read after a hard week at the grindstone.
Citizens of London – Lynne Olson
An interesting and eye-opening historic account of the personal interactions between President Roosevelt, US Ambassador to the UK John Winant, Lend/Lease director William Harriman and UK Prime Minister Winston Churchill just prior to the US entry and during WWII.

Inside the Tornado – Geoffrey Moore
Geoffrey and wife Marie are clients and have been great supporters from the very beginning. Geoff's books helped me a lot to cope during HPS's early inception and growth stages.  I guess HPS has been a help to Geoff also and he refers to us as the "Husband Preservation Service!" Thank you Geoff and Marie!!

Crossing the Chasm – Geoffrey Moore
In this book, Moore states that the fundamental issue new companies and products face when trying to cross the chasm is the fact that while early adopters are okay with incomplete features and early stage technologies in general, they will only really accept the product once it solves a current problem they face. To them the product must represent a real and practical improvement to what is available – not merely promises.

Save
Save
Save
Save
Save
Save