Hardscape
Fences and Gates
These "landscape walls" used to separate and protect outside spaces from neighboring properties, or to divide the existing lot into distinct areas. Materials of almost any type can serve as fencing. The most common is to use redwood or cedar planks with preservative treated posts to create a solid board wall.
Gates are lockable passageways through a fence.
There are many kinds of fences including solid fences, picket fences, chain link fences, and wrought iron fences.
Wood posts have a life of about 10-12 years. Replacing rotted posts when they occur can greatly extend fence life.
Maintenance

1x per year: Inspect for broken or loose fence posts and fence boards, and make repairs as needed.
1x per year: Check gates for operation and make repairs as needed.
---
Walls – Retaining and Other
Walls are more durable, solid and permanent than fences. Stacked stone, block, brick or stucco make great landscape walls.
To hold back soil or create terraces on the site you can utilize retaining walls. Retaining walls over 36″ require an engineers design.
Make unique walls with concrete, masonry, stone, steel or combinations.
---
Walks
Flat exterior walkways or paths connect and provide access to key areas of the home and landscape. Design walks with their intended purpose in mind. For instance, entry walks should be durable to hold up to heavy use and clean and flat to prevent trip hazards and tracking dirt into the home. Make landscape walks with almost any tough flat materials. These should be nice looking, prevent erosion and provide a clear, safe walkway avoiding mud and obstacles. See: concrete
Materials
Pavers, stone or concrete walks, are vulnerable to stains. Fertilizers containing iron for instance will stain the surface.
Construct garden walks so that  water cannot flood or erode them. Use only mud resistant surface materials. Some materials will allow plantings to grow through the surface of the walk. The function of the walkway is to connect the house with the landscape or garden. The flow of the walk should allow you to experience the best things about the garden for your personal enjoyment. An informal walk can simply be a path worn in the ground
Dimensions
The minimum width of a walkway is determined by available space and common sense. The average human shoulder width is 18 inches. Allowing an extra six inches, the walk should be a minimum of 24 inches wide for one person and 5' wide for two people walking side by side.
Stone walkways should  be made with larger dimension materials. Walks with small flagstone for instance can be used too but if not well constructed can be a trip hazard. Other good walk materials are decomposed granite, brick, cobblestone, gravel, sand, or pavers. Walkways should be free of overhanging shrubbery making it safe and easy to move along without getting whacked.
A great walk should provide an area for rest and bench for sitting and contemplating the universe.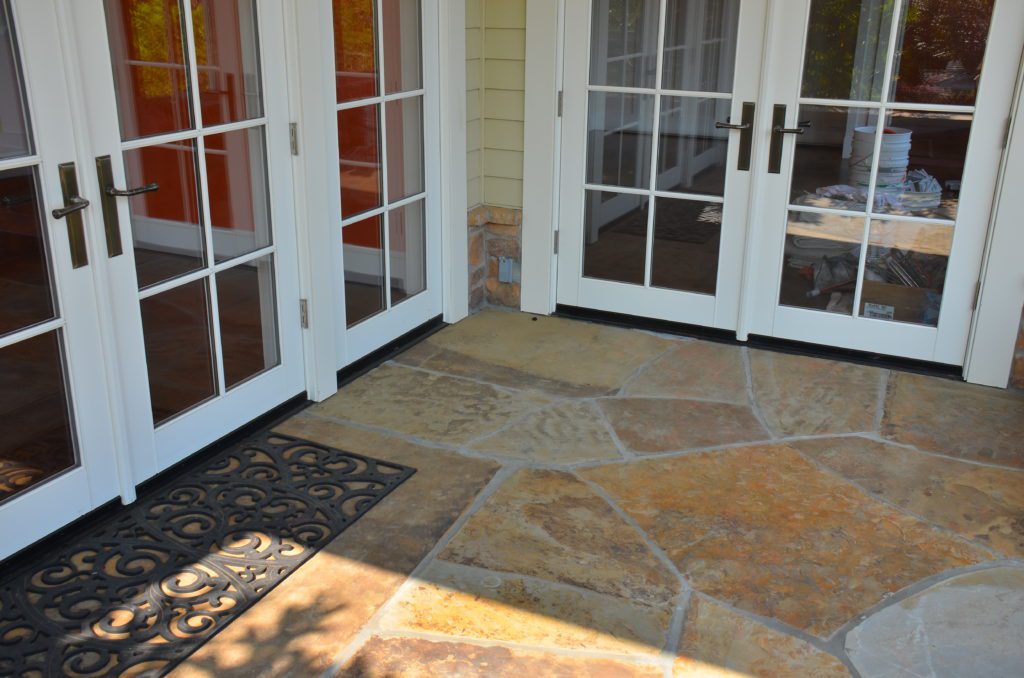 ---
Patios
These are larger flat entertaining areas that are made out of concrete or various types of stone or pavers. Patios tend to be built on the ground level.  Decks on the other hand, are usually elevated off the ground or are extensions to upper rooms. , Like walks, patio material should be selected to endure the intended use. See: concrete
Patio entertaining areas can become integral extensions of your homes square footage. By throwing open large sliding doors to patio areas off bedrooms, kitchens or living rooms, those rooms can effectively swell in size. This helps bring in the outdoors when the weather is fine.
Handrails
Architects have lately been designing stainless steel into some of the more contemporary architecture. Stainless steel, especially when used for outdoors applications needs to be of a grade capable of withstanding the elements. These can vary depending on the local environment so selecting the grade is important. Outdoor applications in a humid or marine environment should be passivated or "pickled" .
Outdoor kitchens
Patios can be equipped with eating areas, built-in kitchens, including sinks, BBQ, refers and cooktops. Fireplaces or fire pits and entertainment centers including special weatherproof televisions can also be installed. See: "Outdoor Kitchen Mistakes to Avoid"
Shade
If the sun is too intense, trellises with retractable shade elements or giant folding umbrellas are available to help your patio stay cool. If the evening is chilly, patio heaters are available to take the edge off. At night landscape and accent lighting can intensify the beauty of the area and bring in a romantic atmosphere. Water features, fountains, ponds, pools and spas can also add to the experience and essentially turn the entire lot into part of the equation.
Herb gardens
Kitchen-side patios with herb garden planters are my favorite. Even the SF Giants have installed one of these organic garden areas to the outfield patio of one of the stadium restaurants.
Trellis
These are wood, or metal exterior structures used to create support for vines or shade over walks and patios.  If you have nice wooden trellises you should expect them to last for a reasonable length of time. Adding simple metal flashing to the tops of trellis members to protect them, will more than double the expected life.
Maintenance

Every 2 years: Trellises require regular maintenance. Apply a protective coating to the structure or tough up the existing coatings at least every other year to help shed water and protect the wood.
2x per year: Also trim any vegetation or climbing vines so that tendrils cannot find their way into joints and destroy the structure.
1x per 2 years: Metal versions also require repainting when needed to prevent rust.