Ranges
An oven with a cooktop
A kitchen range is a free-standing, appliance consisting of a cooktop with an attached oven beneath it. Ranges for the home were initially designed as economical, compact, space-saving combination appliances. Ranges could be had at a great cost point for the average homeowner from the likes of Sears and others like here.
Restaurant workhorses
Heavy duty industrial-type cooking ranges were first used as commercial workhorses of the restaurant business. During the 90's, some restauranteurs and professional chefs (deciding they had to bring their work home with them) started to install commercial ranges in their home kitchens.
The early commercial cooking ranges were designed for use in restaurants only. Installing them in the home was not easy. To bring them into the typical kitchen required expensive modifications to the structure. Modifications included bigger gas lines, fireproofing around the range and structural bracing to support the weight. Over a few years the novelty gathered followers, especially since gourmet cooking at home was becoming increasingly popular (think Martha Steward, Alice Watters, Emeril etc.). Very soon every aspiring home chef was lusting after a Thor or Wolf range for their kitchen.
To-Do

Find your specific appliance's owner's manual and place it in a secure location future use. If you have lost the manual or want a second copy, you can usually find them on line.
Be sure to keep all surfaces, grates, burners clean. Use great care when cleaning gas cooktop burners as it is easy to break or misalign the ceramic igniters. A piece of small wire can be used to clear a clogged gas jet. For iron grates, apply a thin coat of cooking oil to prevent rust, just as you would a cast iron frying pan.
Never use steel wool for cleaning your appliances, especially stainless steel.
Stainless steel should only be cleaned with warm sudsy water or a cleaning product made specifically for stainless steel. Always wipe the surface of stainless steel in the direction of the "grain" using only a soft, completely clean cloth.

Maintenance

1x per use: After every use, remove the grates and the burners and thoroughly wipe them clean.
1x per month: Clean around the control knobs. Most can be removed for cleaning. Check the manufacturers owner manual for instructions.
4x per year: Remove and clean the grates and burners. Gas cooktops tend to get spills onto the burners that can affect the flame adjustment levels and make it difficult to ignite.
Commercial comes into the home
As demand grew, manufacturers eventually began to create commercial-style ranges for the home environment. It worked. Now nearly every brand has an enormous commercial-looking range in their line-up. Every one is safe and made for heavy use in your home kitchen. At a recent dream home exhibit in Portland OR, all six of the model homes had HUGE commercial-type gas ranges as centerpieces of the kitchen.
Not for everyone
As cool as big commercial kitchen ranges may be, some picky chefs (like my wife) prefer to work on a cooktop without the oven lurking down around their legs. For those folks, a stand alone cooktop and a separate wall oven are preferred. To each his own…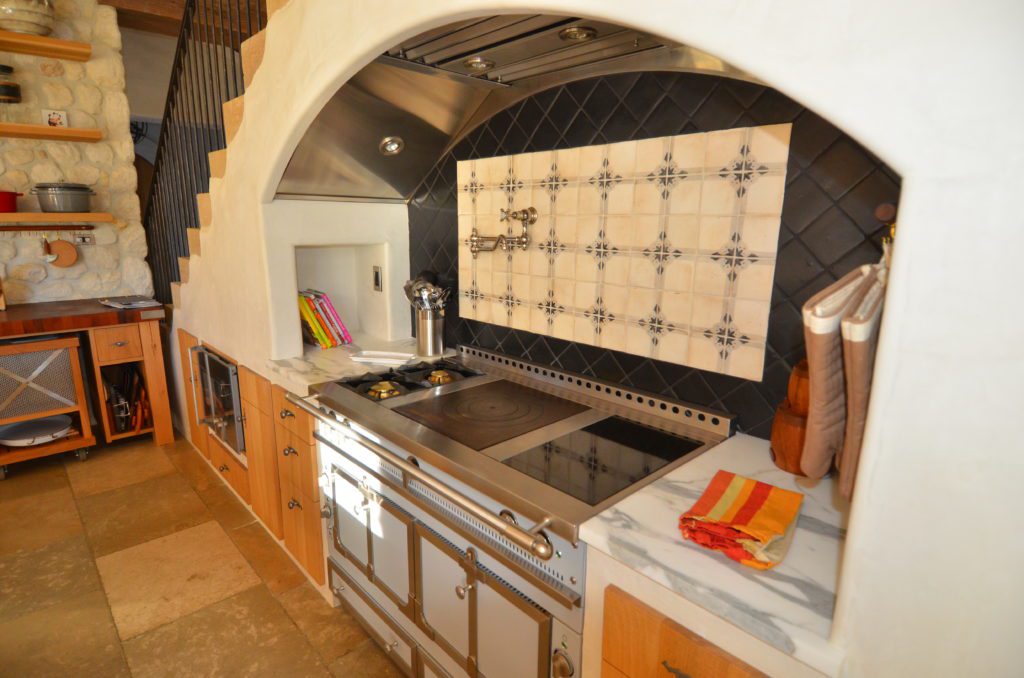 ---
Help me to help you
Thank you for taking time to use this free website. I hope you find the junk-free information here fun and useful? Please send me your comments and feedback.
Writing and maintaining the information in this manual is a lot of hard work. By sharing these pages with your friends, you help me to continue the effort. You can easily share these pages to all your favorite social media sites via the shortcut buttons on the sidebar. You can also simply email the page link to your friends. Please share often.
The very best way to help me happens when you use the embedded links to buy things. Using a link is easy and free, yet it provides a great source of support for this site. The vendors I've chosen to link to have proven to be trustworthy and are the very best resources available. That is why I recommend them personally.
HomePreservationManual.com is the place to visit if you want information on
maintaining your home
how to improve air quality
ways to improve the real value of your home
what are the best housekeeping services
the problems with handymen services
how to plan and execute home renovation and home improvement projects
tips for spring cleaning; tidying up a messy house
and generally how to be a better homeowner.
Make sure you download your monthly maintenance checklist for this month.
Linking to this site
Do you want to link to anything on this site? Please do! Go right ahead. Always feel free to link to anything you find helpful. Of course, please never copy anything (everything is copyrighted and registered), but link away and thanks!
Thank you!
Copyright and permission to use information.
If you have questions or just want to say hi, please send me a note. If you are looking for help performing the work described and you are in the San Francisco area, go to HPS Palo Alto Inc.and request a free evaluation.
As a reminder, it is unlawful to make copies including cut and paste or especially in the form of making printouts for reuse. If you wish to make a print for personal use, I will happily grant you one-time permission if you will kindly send me a request in writing.
Thanks again!