Exterior Finishes
Exterior finishes are the outwardly visible design elements of the home. These finishes are the face and the skin of your home and they provide character and street appeal. The exterior of your home likely is composed of several materials. Common siding finishes include stucco, brick, Hardiplank, wood shingles, masonry, metal, aluminum and plywood. Exterior finishes need to be durable and easy to maintain since they take a beating from the sun, wind, rain, heat and cold.
Maintenance

1x per year: Perform inspections for gaps in caulking, cracking stucco, failing paint/coatings and soil contact at the base of the siding.
2x per year: Keep vegetation trimmed away from the exterior surfaces at least 12-18" to prevent rub damage and to allow for inspections and service to the exterior walls.
1x per year: Time and weather will shrink and dry caulking so that it no longer provides a good seal. Caulking compounds and dispenser guns are available at hardware stores. Read instructions carefully to be certain that you select an appropriate caulk for the intended purpose. Colored caulking is available where larger selections are provided. As with any colored material, dye lots can vary. Latex caulking is appropriate for an area that requires painting; such as where wood trim meets the wall. Caulking that contains silicone will not accept paint; it works best where water is present, for example, where tub meets tile, or a sink meets a countertop.
Stucco
A sand and cement mixture used as exterior siding is called Stucco. A base coat of material is applied to a waterproofing and wire mesh system, then built up to a thickness of .75"-1.0" with three to five successive coats. Stucco can be finished smooth or with an artistic texture and can be painted or have a final integrated color coat applied.
Maintenance

1x per year: Inspect the surface annually for excessive cracking. Repair any loose material.
Every 2 years: Go over the exterior with a light pressure wash to clean the surface and remove dust and cobwebs. Do not apply pressurized water at areas where there is substantial cracking in the stucco surface./li>
Masonry
Stone, tile and brick can be applied to the exterior framing as a veneer over a waterproofed mortar base. These siding materials are attractive and extremely durable. They require little maintenance other than an occasional washing to remove dust. Masonry is one of the most durable and lowest maintenance finishes for a home's exterior. A white, powdery substance that sometimes accumulates on masonry or concrete surfaces is called efflorescence. This is a natural phenomenon where moisture draws minerals up and out of the concrete or mortar as it evaporates. In most cases, once the evaporation is completed, the powder can be professionally removed by scrubbing with a stiff brush and muriatic or other acids, but the condition may return. After several years, brick mortar may require repairs to the mortar between the bricks. You may notice small holes or wick tubes in the mortar along the lower row of stone or bricks. These holes allow moisture that has accumulated behind the brick to escape. Do not fill or block these weep holes, or allow landscaping materials to cover them.
To-Do

Keep an eye out for masonry cracks that exceed 1⁄4 inch in width and make repairs by repointing the mortar if found.

Utilizing several types of exterior finishes
Wood Siding and Trim
Cedar shingles, horizontal lap siding, logs and textured plywood are all types of wood siding. Wood siding material is durable but requires painting or staining on a regular basis to protect it from weather damage. Minor imperfections in wood materials may be visible and will require little or no action. Due to extreme temperature variances and expansion and contraction of exterior siding it may be necessary to correct any cracks or joints that allow water to enter the framing of the home. In general, if exterior materials are split wider than 1/8 of an inch plan to repair using caulk and paint. Exterior bows or twists that exceed 3/8 inch in 8 feet should be refastened or replaced. Exterior trim board cupping exceeding 3/16 inch in 5 1/2 inches should also be repaired or replaced.
To-Do

Note any obvious cracks, joint separations. Warps or twists in the wood siding and trim and plan to make repairs.

Exterior wood lap siding
Cement Board
This product has a surface appearance and texture that looks a lot like wood siding but is made of a cement composite. It can emulate horizontal wood siding, board and batt panels, and can be used for eaves and roof rafter overhangs. The material is hard, a bit brittle but is exceptionally durable and fire resistant. This material can be purchased prefinished or can be painted.
Maintenance

1x per year: Perform an annual inspection for breakage, cracks, joint separations or finish damage./li>
Metal Siding
Recently we have seen architects incorporating some beautiful and creative designs using metal for exterior siding applications. So far these have been most successful in contemporary/rustic applications, but I am certain there will be more use of metal on both the exterior and interior in years to come. Metal siding comes in all kinds of materials and styles and each type requires a different coating and maintenance process. I will add discussions on these specifically in the future.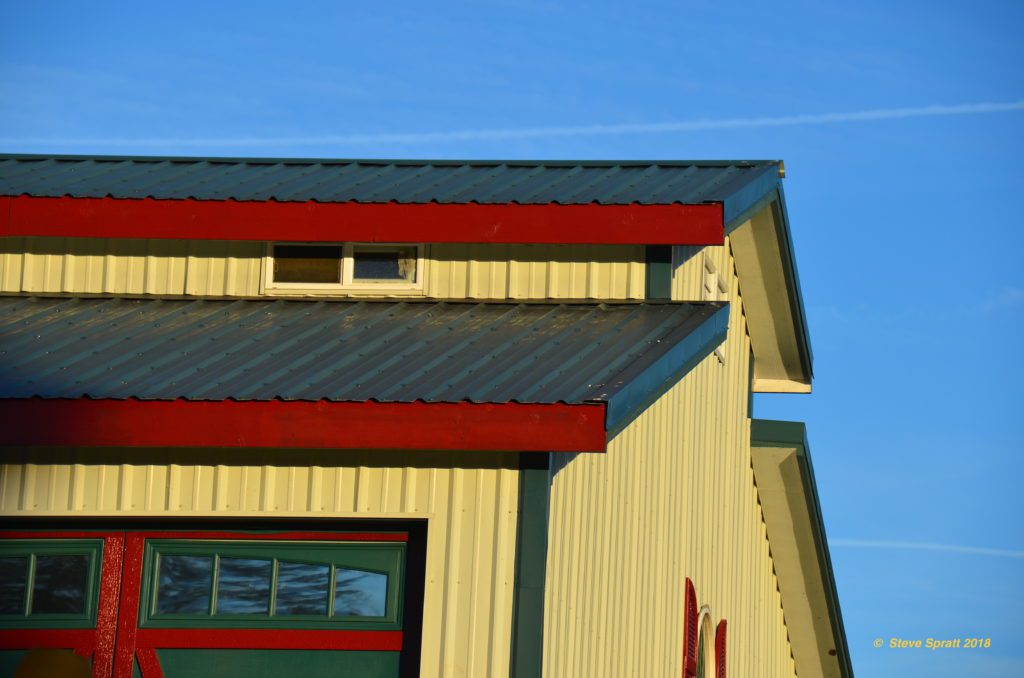 Cor-Ten Steel
Cor-ten is a type of steel used for exterior applications where a weathered and rusty appearance is desired. This material has rustic, industrial-contemporary good-looks, but is not for every application. 
Generically known as "weathering steel" this product is a family of steel alloys developed specifically to form a stable, rust-like surface appearance to eliminate the need for painting. Cor-ten is US Steel's trademark name for its weathering steel formula.
The alloys in weathering steel allow rust or surface oxidation to occur naturally over the course of about six months under normal exterior conditions. Use of chemical treatments can help produce the patina appearance in as little as two hours. As the steel surface "rusts" it creates a regenerating corrosion-retarding layer that protects the main structure of the steel.
Cor-ten steel has become wildly popular for outdoor sculptures and architectural facades. The look is so attractive that architects have designed entire buildings using the material and it has a legion of residential fans, including me, around the world. This material appears unfinished and rustic at first glance, and that is what makes it so attractive.
Attractive as it is, weathering steel is not perfect for all applications. Its use should be thought through before construction. Cor-ten can be challenging and even damaging to surrounding areas if used improperly. Rust bleeding or runoff from the steel surface can stain surrounding paint, stucco, stone or concrete. Avoid using this material where staining can be a problem. Also, this material is sensitive to humid climates and it is possible that in these areas the protective patina may not form properly, thus allowing the steel to continue to corrode. Attempts to paint weathering steel have been unsuccessful because paint retards the protective patina from forming properly. When this happens, deep corrosion can occur at localized areas of oxidation like under small paint cracks or chips.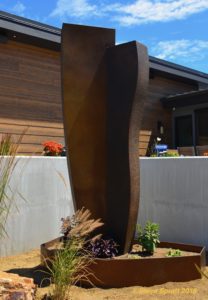 World class artist Archie Held likes the look so much that he developed his own formula to patina stainless steel in order to duplicate the appearance for his sculptural water features. As shown by example, if designed well and properly executed, Cor-ten steel can add an exciting and unique appearance to your projects!
Exterior Paint
For an in depth discussion on paint and coatings please see 
Interior Finishes
To-Do

Avoid having sprinklers spray water on the exterior walls of your home. This will cause blistering, peeling, splintering, and other damage to the home.
Expect fading of exterior paint or stain over time due to the effects of sun and weather.
When it is time to repaint the exterior of your home, begin by resetting popped nails and removing any blistered or peeling portions of paint with a wire brush or putty knife. Repair any missing or dried out caulking with latex material. Sand, spot with primer, and then paint the entire area. Use a quality exterior paint formulated for local climate conditions.
Hail and wind can cause a great deal of damage in a severe storm, so inspect the house after such weather. Promptly report damage caused by severe weather to your insurance company