The Attic
Most homes with pitched roofs have a space between the roof and the living area of the home. This space is called the attic. Homes with high, steep-pitched roofs, will have attic spaces that can be quite large, and with enough headroom to walk around comfortably. Building codes only require the attic space to be passively ventilated to the outside, so the area can get very hot. I have measured temperatures in excess of 170 degrees.
Maintenance

1x per year: Have a qualified inspector perform a visual review of the attic space annually. For safety reasons we do not recommend homeowners enter the attic. Stepping in the wrong place can result in falling through the ceiling with the prospect of injury or death. Inspections should look for water stains on the underside of the roof and around plumbing penetrations, vents etc., signs of rodents, broken ducts, missing insulation, chewed wires.
The space between roof and ceiling
The roof framing is usually exposed and uninsulated. This condition allows visual inspection of the underside of the roof for leaks and moisture. Unfortunately, it also allows radiant heat from the sun to overheat the space. For more information on this, be sure to read my article on attic exhaust fans. Learn how to use a combination of radiant heat barriers, ventilation and insulation to limit the heat gain in the attic and help keep the home cooler in summer and warmer in winter.
Attics have a number of screened air vents to allow air circulation. These vents are located around the perimeter eaves, at gable vents, on the roof plane in "eyebrow" vents, and along the ridge of the roof. The number and size of these vent openings are determined by the international building code which requires 1 square foot of clear vent opening for every 150 square foot of attic space. To create smooth circulation or convection of air, the vents should be equally split between the lowest and highest areas of the attic.
Air from the outside flows freely through the space and along with it comes heat, pollen, smoke and dust. In addition, any animals or insects that can squeeze through the vent screens find a happy and protected home here. Heat, dust and insects make the attic a rather unpleasant place to hang out.
Equipment in the attic
Designers and builders often notice that the attic contains a lot of unused space. As a result, many use it to locate large equipment that won't fit inside the home. Furnaces, hot water heaters and other equipment often end up in the attic when there is no where else to put them. This seems like a good idea until you realize that the lack of access makes it a truly horrible place to service equipment. As a result almost nothing in an attic is serviced as properly or often as it should.
Ducts for the heating system, plumbing, vent pipes and fans are also often located there. Air conditioner systems mounted in this space must be fitted with back-up condensate drains and overflow catch pans. These are needed to prevent leak damage that can result is mold and dry rot. Electrical wiring, the mounting cans for recessed light fixtures and thick layers of insulation are also located in the attic space.
Attic space access
Attic spaces are usually entered through hatches in the ceilings of the home or the garage. Hatches equipped with retractable, pull-down ladders can make access much easier. Even so, attic spaces are not intended for storage. Access to the area is provided for the inspection of the structure and maintenance of mechanical equipment only. If you wish to store things in the attic, a design to modify the space should be developed to do so properly.
Use extra caution when working in the attic to avoid stepping off structural members and onto the ceiling drywall. Ceiling drywall, when covered by insulation, is hard to see. Drywall also is thin and and cannot support a person's weight. This can result in a fall of about 8-12 feet and can easily result in injury or death. It can also cause quite a bit of damage to the area below.
The conditioned space attic
So far we have been talking about spaces that are uninsulated and essentially open to the outdoors with screened vents. What if we treated this space more like just another room in the house? Then you would have a conditioned space attic.
If you want a truly cool attic, converting it to conditioned space is the way to go. I have used this option personally several times and highly recommend it. It requires some work and has a cost, but I feel it is worth it. Because a conditioned-space attic will keep the entire home cooler in summer, warmer in winter. As a bonus it will prolong the life of any equipment mounted up there, and improve the air quality in the home.
Creating a conditioned space attic means sealing up all eave ventilation openings, removing the insulation between the ceiling and attic space. Then apply foam insulation to the underside of the entire roof structure right down to the wall plates. This turns your roof and attic into a kind of thermos. The trapped air in the attic area now becomes (conditioned) the same temperature as the interior of the home. The idea is not new but even recently some building departments are unaware and some building codes have not been updated to allow for it.
The key to a successful conditioned-space attic is to heavily insulate the roof diaphragm and completely seal it. The interior of the system must be completely sealed in order to prevent warm moist interior air from migrating through. Any air allowed to migrate will eventually find a cold place on which to condense and cause mold/dryrot. This sounds simple enough, but the frame of a highly complex roof has many places that might allow air to pass through.
High-tech foam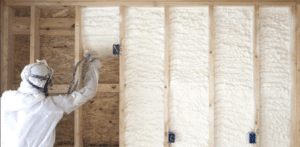 The solution that makes this option possible is spray foam insulation. Foam insulation is a chemical product created by mixing two materials, isocyanate and polyol resin. These react with each other after being sprayed into place, forming millions of tiny air bubbles and quickly expanding up to 60x. The bubbles in the foam create extremely high insulation qualities per inch and the finished solution blocks the three primary forms of heat transfer, including radiant heat. Simultaneously it fills and seals any voids in and around the framing and allows no air/moisture filtration. This is a perfect storm solution for roof applications.
On my projects, I like to use a closed-cell foam product blown on by hydrofluoroolefin (HFO) to avoid any environmental or global warming impacts. Closed cell foam provides a higher R-value per inch and is completely air and moisture tight.
With a conditioned-space attic there are no vents to the outside air. The removal of screened vent openings eliminates the infiltration of dust, smoke, pollens, insects, rodents and birds as well as heat and cold. Eliminating dirty air migration from the attic massively improves air quality in the home.