Cooktops
Kitchen cooktops are the modern equal to the open fire used by our ancestors, sans the wood smoke of course.
These cooking appliances are, as described, mounted on a
kitchen countertop
where there is plenty of preparation surface on either side to work on.
Popular cooktops are either gas or electric and have multiple
burners
in order to cook more than one dish at a time. Either version will do the job, but picky chefs like the instantly variable heat control of the gas cooktops best. Cooktops using gas or electric burners are called convection cooktops because they transfer heat from cooking surface to the cooking vessel through convection. For a discussion on types of heat transfer please visit the
insulation
page.
For the sustainably minded chefs among us, another electric technology uses induction. Induction cooktops create magnetic fluctuations in the material of the cooking vessel to create heat. Induction cooktops are said to be more efficient energy-wise than the convection units. If you have data on this I would be delighted to see it. Also the response speed of heat control is ultra fast also, similar to gas. Another benefit is a nice smooth, easy to clean cooking surface.
Cooktops, like all cooking surfaces, generate steam, smoke and cooking odors when in use. They are usually paired with an
exhaust fan and hood
in order to remove these fumes and prevent them from causing odor and moisture problems throughout the house.
Cooktops are in daily use in most American kitchens and are thus durably made, easy to clean and simple to maintain. They offer a wide
range
of cooking temperatures from low simmer to extra high wok-type heat.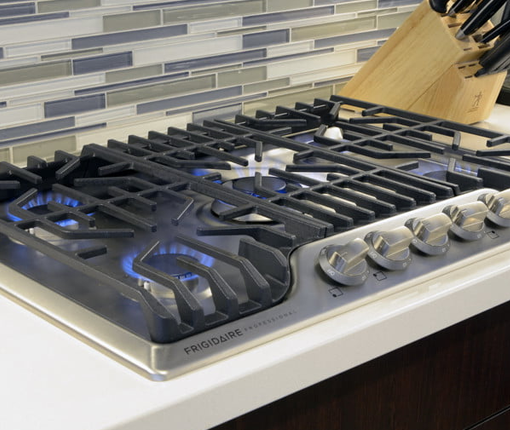 To-Do

Find your specific appliance's owner's manual and place it in a secure location for instructions on use. If you have lost the manual or want a second copy, you can usually find them on line.
Be sure the surfaces, grates, burners are kept clean. Use great care when cleaning gas cooktop burners as it is easy to break or misalign the ceramic igniters. A piece of small wire can be used to clear a clogged gas jet. For iron grates, apply a thin coat of cooking oil to prevent rust just as you would a cast iron frying pan.
Never use steel wool for cleaning your appliances, especially stainless steel.
Stainless steel should only be cleaned with warm sudsy water or a special cleaner made specifically for stainless steel. Always wipe the surface of stainless steel in the direction of the "grain" only with a soft completely clean cloth.

Maintenance

1x per use: After every use, remove the grates and the burners and thoroughly wipe them clean.
1x per month: Clean around the control knobs. Most can be removed for cleaning. Check the manufacturers owner manual for instructions.
4x per year: Remove and clean the grates and burners. Gas cooktops tend to get spills onto the burners that can affect the flame adjustment levels and make it difficult to ignite.
SaveSaveSaveSave