Dishwashers
I remember our first house with a real dishwasher was in 1967. This was quite a novelty. Our family of five worked it pretty hard and wore it out in about 5 years. This is a little less than average, but frankly I was surprised it lasted that long given the abuse we put it through.
There are two types of dishwashers. The conventional drop-front variety and drawers. Both types come with a variety of very convenient features designed to make your life easier in some way. Check out the benefits of drawer types here.
Water Use
I've been told that dishwashers can save a
lot
of water compared to washing the same dishes by hand. Data seems to support this though I have not personally tested that statement.
In addition, it is claimed that to get the absolute best efficiency from dishwashers, one should never even rinse the dirty dishes before placing them into the appliance. Well, call me a doubter, but I've never been able to trust a dishwasher to do that. Placing really dirty dishes, like with my kids dried peanut butter on them, just seems hopeless without a little pre-rinsing. If you have had better experiences, let me know?
Health
Dishwashers require hot water at around 140 degrees to clean and sanitize properly. Most units do not heat their own water but simply draw it from your
plumbing
system instead. Get a glass of hot water from the nearest tap and test with a thermometer to see if your water is hot enough to do the task. Be careful not to adjust your water heater higher than 140 degrees as this can scald human skin.
Plumbing
Dishwasher drain and fill lines are connected to the plumbing system under your kitchen sink. The dishwasher drain line connects to the sink drains through what is called an "air-gap". The
air gap
is usually mounted on the countertop or sink next to the faucet. The purpose of the air gap is to prevent accidentally overflowing a full kitchen sink into the dishwasher and thus unknowingly contaminating any clean dishes. Some newer models have air gap devices built into their drain lines thus eliminating the need for the sink or countertop mounted device.
Dishwashers have a heated-air, dish drying function. Disable this feature if you want to save some energy.
---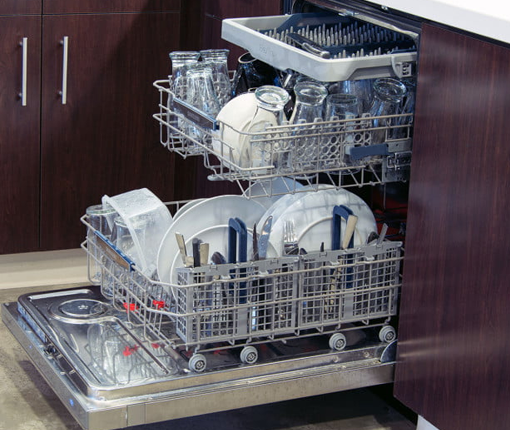 To-Do

Find your appliance's owner's manual and place it in a secure location for instructions on your specific appliance. If you have lost the manual or want a second copy, you can usually find them on line.
Test your hot water temperature. Be careful if you adjust the hot water from the water heater too high as it can be dangerous over the 140 degree level.
Never use steel wool for cleaning your appliances, especially stainless steel.
Stainless steel should only be cleaned with warm sudsy water or a special cleaner made specifically for stainless steel. Always wipe the surface of stainless steel in the direction of the "grain" only with a soft completely clean cloth.
Even if you are not using it, run your dishwasher at least once a week to prevent it from drying out. Use the rinse cycle.
You should expect 5-10 years of normal daily service from your dishwasher.

Maintenance

1x per month: Remove and clean the intake screens on the inside bottom of the dishwasher once a month. Clean the soap dispenser to be sure that it is not caked with dried soap and the trap door is working properly. Refer to the manufacturer instructions for details.
4x per year: Inspect the interior and exterior (especially underneath) of the dishwasher for failure indications such as leaks or rust appearing on the interior surfaces. Check the door seals for wear and replace right away to avoid leaks.
1x per year: Dishwashers are held in place by screws that mount the unit to the cabinets. Monitor during each use to be sure that the unit is mounted tightly.
4x per year: Inspect the plumbing lines where they connect under the sink for leaks or kinks and repair as needed.
12x per year: Pull the cap off the air gap on the sink, and clean once per month.
SaveSaveSaveSaveSaveSaveSaveSaveSaveSaveSaveSaveSaveSaveSaveSave