Garden
To say gardening is an old hobby would be a glaring understatement. Creating a garden or some protected spaces for growing select plants began about the same time man began to grow his own food. Paintings found in Egyptian tombs depict trees and plants laid out in evenly placed rows.
Today landscape is, as it has always been, an individual expression of the home owner's connection with nature, beauty and art. I am always impressed when walking up to a home where the yard and gardens are obviously a reflection of good taste and care and more than just a burdensome afterthought.

Sections include:

Soil; Plants; Irrigation; Drainage; Lighting; Lawns; Xeriscape.
Soil
I would venture to say that almost no one really understands the true chemical make-up of the soil around their home. This is sad because you really should know something about your soil before you stick plants in it and expect them to grow. Understanding your soil is especially important during the landscape design process in order to select plantings that will have the best chance of success. Also, it will tell you how to amend your soil with nutrients that it may be lacking to support the kinds of plants you desire to grow. Here's an easy to use kit to test your soil:
Soil Testing Kit
Grade
Ideally, the grade around your home should have a minimum 2 percent slope away from the home. "Ideally", of course, almost never happens. In most cases, natural drainage swales do not follow nice neat property boundaries. Maintain the slopes around your home to permit the water to drain away from the home as rapidly as possible. This is important ultimately to protect your foundation.
Any new imported soil should be of good quality mixed with sufficient organic material. Use mulch in planting areas at least 3 inches deep to hold soil moisture and to help prevent weeds and soil compaction.
Maintain the gently sloping grades surrounding your home. This is important because the native soil, (from 3' to 4' out) around your foundation was excavated to allow room to work, then backfilled. In addition, trenching occurred for the installation of utility lines. These backfilled areas are prone to settling, especially after prolonged or heavy rainfall or the melting of large amounts of snow. Settling can continue for several years.
To-Do

Get your soil tested and use the report to guide selection of plants and amendments.
Know your climate zone when selecting plants.

Maintenance

1x per year: Inspect the grounds and fill any settled areas or areas with standing or ponding water that remains for more than 24 hours with new soil to blend in with the original grade.
2x per year: Apply appropriate fertilizer, weed and pest controls as needed for optimal growth. Use organic compounds for amendments whenever possible to help protection of the environment.
Plants
A Roman named Vitruvius apparently wrote the first guidelines for garden plant selections back around Jesus' time. He asserted that durability, availability and beauty were the key elements of successful garden design. Not much has changed.
By the age of Vitruvius, establishing lush private "gardens" had already been a hobby of wealthy homeowners for maybe 10,000 years. It must have been a very demanding hobby compared to modern gardeners who have access to local nurseries with mulch, exotic species, soil test kits, and automated irrigation systems.
Gardening seems to bring out a fervency unmatched with other lesser hobbies. For instance, the collecting and selling of exotic new plants from the new world was so profitable that it made many a European explorer rich beyond dreams during the early explorations of the US. At various points in time, some plants were so rare and desireable that Wisteria, Rhododendron and Camellia held value nearly equal to gold.
How lucky are we today that we can find an enormously wide selection of gorgeous plant specimens (reasonably priced by comparison) at just about any corner nursery? Enjoy!
To-Do

Don't feel bad if you can't do the following list on your own: just hire a reputable gardener (not a mow and blow team) to perform the tasks at least once a year. You and your garden will be very happy!
Get and read a great gardening book! You don't have to know every plant by their Latin scientific name but if you know the key needs of your favorites it can make a big difference. Try this recommendation: The Ever-Blooming Flower Garden by Lee Schneller. Get one here.
Create a plant list for your garden with the locations, ages of each plant, along with the summary care guides for each.
When designing your landscape, focus on selecting appealing landscape plants with regard mainly to your local climate and soil conditions, as well as your level of energy for maintenance. Favor native over exotic species.
Evaluate the eventual size, shape, growth rates and water requirements of the species. Unless you need instant gratification, buy small and apply love. The plant will do the rest.
If lawns are in your plans, lean towards the use of sod lawn as an accent instead of the main theme. Play areas for children are an exception to this.
Do not plant anything but flowers and ground cover within 5 feet of your foundation unless you also provide and maintain positive drainage away from or around your foundation perimeter (drainage system).

Maintenance

2x per year: Tune up your plants with proper care per your guide. Irrigation adjustments, pruning, fertilizing, pest controls and thinning. If you can't do this yourself, hire a reputable gardener to perform the task at least twice a year. Most mow and blow firms are for quickly mowing lawns and cleaning up leaves and debris from the site.
1x per year: Inspect and operate your irrigation system and make sure all the heads and timers are working as they should.
Irrigation
An irrigation system makes it possible to create exotic landscapes and grow beautiful plants and grasses in areas where they may not otherwise survive. A proper irrigation system will automatically deliver the right amount of water in an efficient manner to the plants, while avoiding damage to the site or the structures.
Proper irrigation should be designed around the needs of the plants. Lawns or ground covers are usually low to the ground, spread over large surface areas and require sizeable volumes of water, so overhead sprinklers work well for that application. Individual shrubs and young trees fare better with drip systems that can deliver water in the right amount, directly to the root system of the plant.
A basic irrigation system will have the following components: 1) water source and backflow prevention device, 2) a controller/timer, 3) water piping, 4) station valves and filters, 5) spray heads or droppers.
To-Do

Spend time to review your system design to see if it is appropriate for your landscape needs. Consult a landscape designer if needed.
Monitor and track your water bills for use and to notice any abnormal consumption indicating a leak.
Dead or dying plants indicate drips or irrigation not working properly or blocked spray heads. Large wet areas or standing water is an indication of a broken head or timer overwater or malfunction.
Consult your sprinkler system manual for detailed use, care, and winterizing instructions of the system.
Direct sprinkler heads away from the home. Sprays or bubbler type irrigation heads are not recommended for use adjacent to the structure.

Maintenance

1x per week: Conduct weekly operational checks during the season to avoid leaks and ensure proper performance of the system including sprinkler heads and drips. This is especially important if you irrigate at night and might not normally be aware of a major leak.
1x per year: Annually drain and service sprinkler systems, inspect each sprinkler head and make sure the drips are in place and working. Trim any vegetation away from blocked heads, clean any clogs and replace any defective heads or drippers.
Drainage
Your home is totally exposed to one of the world's most damaging and destructive substances. Water. The universal solvent. The single most important job for ensuring a durable home is to control and protect the structure from water of all types and from all possible directions. For this section we are talking about rainwater, subsurface water and over irrigation.
The best way to protect your home from water is to plan for proper drainage from the start, when the home is being constructed. This is because the foundation is exposed at that time, and no landscape or hardscape obstructions have yet to be put in place. That is when it is easiest to install the components needed for good drainage.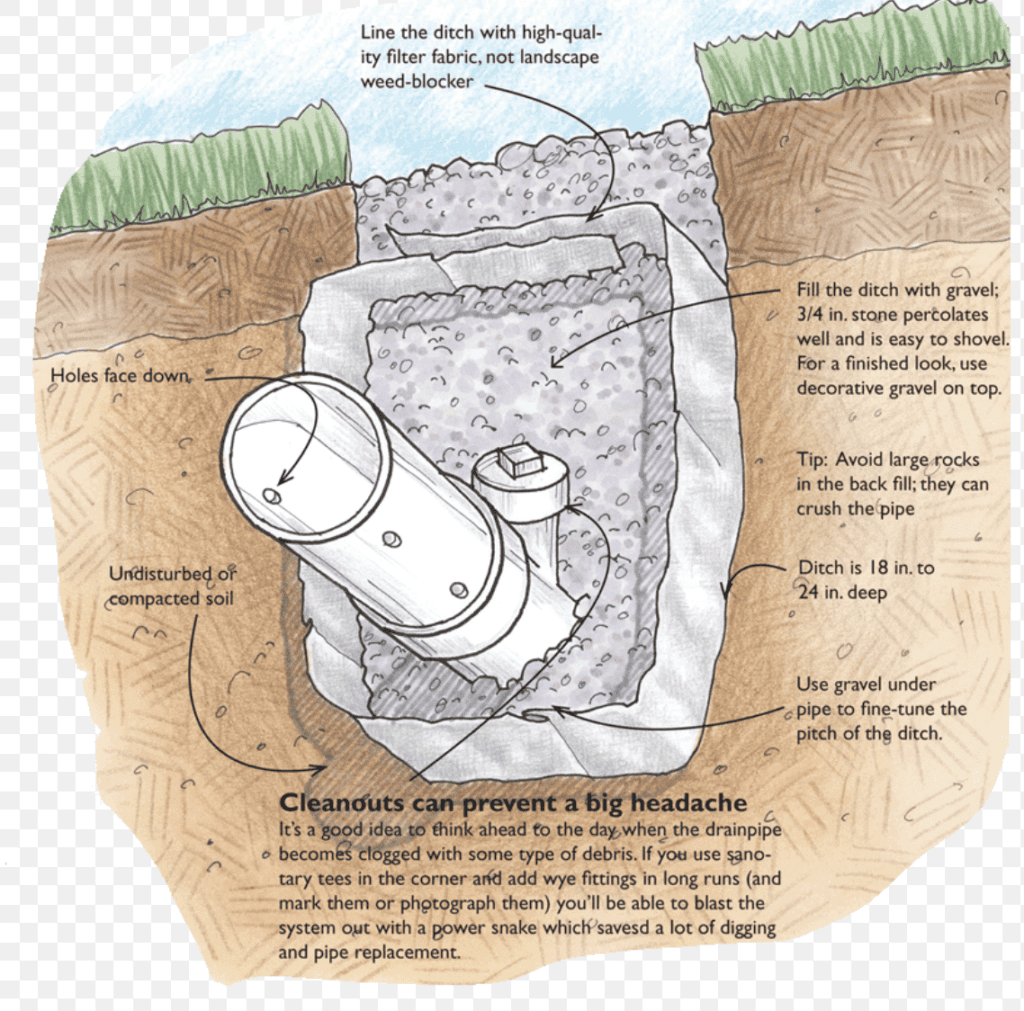 Building on high ground has always been a good rule. High and dry! This is because water will take the path of least resistance every time and if your home is on high ground, water will be running away from it.
A good drainage system includes a perimeter interceptor drain at foundation level including drain rock, perforated drain pipe, filter fabric, a catch basin and sump pump (if needed). In addition, there should be solid drain pipes to pick up the water from each downspout, along with properly sloped finish grade surrounding the foundation and sloping five feet away from it.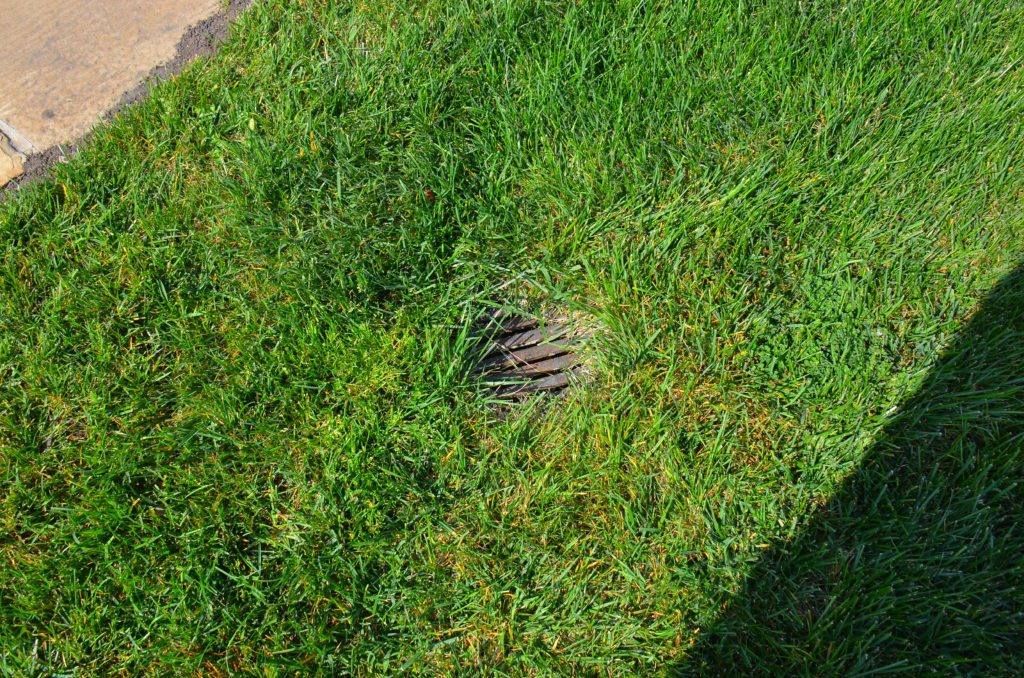 The chief purpose of the drain system is to prevent water from 1) attacking and softening the foundation footings and 2) finding its way under the house where it can elevate moisture levels and cause mold, rust, dry rot and poor air quality. It does this by functioning to collect any water before it has an opportunity to find its way to the footings and divert it a safe distance away either by gravity, or by pumping if needed.
If you have standing water around your foundation or under your house there are problems with your drainage system and corrections need to be made. Do so quickly as possible.
To-Do

Check your plans or consult with a contractor to see what your home has in the way of a drain system.
Identify the location of the parts and confirm they are working by using a hose to do a controlled test.
If you have a gravity system with no sump pump, then make sure the outfall or daylight end is clear and free draining in a safe place.

Maintenance

1x per year: Test the system once per year in the dry season with a hose.
1x per year: Clean out catch basins, drain entry points and any debris blocking the drain outfall.
1 x per year: Test the sump pump for operation and make repairs as needed.
Lighting
Landscape lighting is highly recommended for safety and it is also a really nice touch to highlight beautiful hardscape and plantings. A well-designed, professionally installed, landscape lighting system can best be described in a single word, sexy!
For as long as man has had fire, he's been lighting up the outdoors. Torches, candles and flickering gas lights were all used for outdoor and street lighting leading up to electricity around the turn of the century. For a long time after that, landscape lighting was only available in 110v (high voltage) formats making the systems both expensive and technically challenging to install and operate safely. Because of this, landscape lighting was for decades primarily a feature of commercial properties and very large estates only. The recent proliferation of low voltage equipment has changed all that so now almost any homeowner can have lighting for their yard.
A complete low-voltage landscape lighting system will include: 1) a 110v electrical source, 2) a low-voltage transformer, 3) outdoor wiring, and 4) various outdoor fixtures. Landscape lighting fixtures come in many forms including post-mounted lanterns, bollards, driveway or path illumination lights, ground-level spots for trees, ground-level floods for walls or plantings, trunk-mounted lights for tree canopies and simple corner flood lights mounted on the side of the home for turning night into day if needed for work, play or security. Once installed, the landscape lighting can be switched on and off manually or it can be programmed to automatically turn on and off with a timer, motion sensor, or a photo cell or all.
Garden and landscape lighting creates a safer and more beautiful outdoor setting.
To-Do

Do illuminate beautiful specimen trees.
If you have steps around your entry sidewalks, you definitely need landscape lighting just to keep the Halloween trick or treaters safe.
Almost all landscape lighting systems are now based on low-voltage transformers with LED bulbs, but many systems still use low-voltage incandescent MR-16 type bulbs. I have even come across a few old 110v light bulb systems still out there in use. These should be replaced with low-voltage systems.
Just a few years ago it became quite fashionable to suspend strings of bare bulbs overhead to highlight patios and backyards. Early on, these were all 110v lights which was pretty scary to think about having that overhead at some outdoor party. It was even scarier to see outdoor fashion magazines touting how gorgeous these were with nice evening photos of string lights over pools! I hope everyone has come to their senses about these string lights now and converted to low-voltage versions with LED bulbs?
Take a look at your sidewalks, patios, plantings and trees and see if they might be safer or more attractive by adding some nighttime illumination?
Make a list of the locations of your transformers and all the various fixtures on your outdoor system and assemble an inventory of the proper replacement bulbs for service when needed.

Maintenance

2x per year: Inspect all the outdoor fixtures and replace any burned-out bulbs as needed.
1x per year: Clean all the lenses, straighten and repair the aim of any damaged fixtures.
4x per year: Make sure the timer is set properly. Power outages can mess them up. If you don't have a timer on your system, get one!
Lawns
Because they require enormous amounts of water, large lawns, especially in the drought stricken west have fallen out of favor in recent years for new landscape installations. Instead, new landscapes are offering lawn as attractive accents and ground covers. Nevertheless, there are many lawns still out there and they all need proper care. Frequency and length of watering will depend on how warm and windy it is and how rapidly the lawn dries out following each watering.

Xeriscape
Is a landscape methodology that recommends the careful consideration of landscape design and selection of planting materials to minimize the demands on water supplies. Detailed information about Xeriscape is available online and from reputable nurseries. Xeriscape has the triple benefit of helping the environment, saving on water bills, and reducing the amount of moisture that can reach your foundation.

Save
Save
Save
Save
Save
Save
Save
Save
Save
Save
Save
Save
Save
Save
Save
Save
Save
Save
Save
Save
Save
Save