Climate Control Systems
A climate control system providing both heating and cooling, is used in most homes in the US. Cooling is especially popular in sunbelt climates like Arizona and the Southeast. High levels of climate control in our homes has occurred gradually over the last sixty years or so.
Historically, homes were built around a single centrally located heat source. Initially the source was a wood burning fireplace. There was no "air conditioning" because it wasn't until the early 1900's that Willis Carrier invented it. Even by 1965 only about 10% of US homes had the luxury of air cooling. Early cooling technologies were screened porches, shade and open windows to allow the breeze in.
Fireplaces provided heat for the home. The great room around it was the original "open plan" since walls would block the heat. The folks gathered, ate and socialized around the fire because it was the warmest and most comfortable place in the home.
New Fuels Changed Everything
As technology marched on, we developed new fuels for our heat sources. As we advanced, fuel sources changed from wood, to coal, to oil, and now to natural gas and electricity. We now have the ability to distribute both heating and cooling to every room in the home. In the process, our homes have tended to spread out and become larger.
Central heating and cooling systems have become more efficient now. Combined with better construction technology, window and door improvements and insulation, our homes have cleaner air and are less costly to heat than ever.
One effect of this has been home designs with more volume in the rooms (higher ceilings) and larger windows.
Newer climate control systems eliminate central heat and a/c units altogether and replace them with individual combination heat/cool (ductless) units in every room. Split, or ductless systems are controlled individually giving the home a limitless combination of climate control selections.
Air Quality And Tight Homes
The efficiency of any climate control system is to a large degree (no pun intended) dependent on the extent to which the home is airtight. Homes that are extremely airtight are easier to heat and cool but require special fresh air exchangers (HRV's). HRV's bring in fresh air from outside, filter it, expel old stale interior air and do so while minimizing effects on the interior temperature.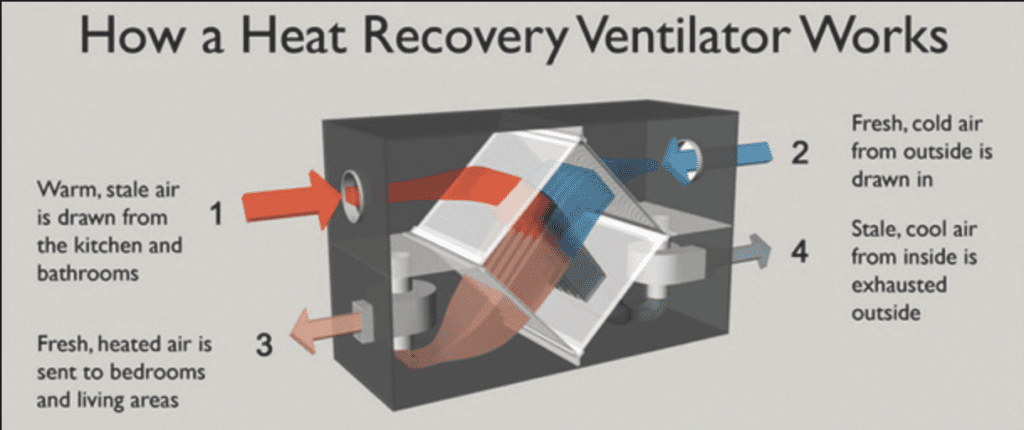 For homeowners, the key parts of the climate control system that you need to know are the thermostat, furnaces and other heat sources, air quality/filters/registers/ducts, condensate drains and exhaust fans.
---
Help me to help you
Thank you for taking time to use this free website. I hope you find the junk-free information here fun and useful? Please send me your comments and feedback.
Writing and maintaining the information in this manual is a lot of hard work. By sharing these pages with your friends, you help me to continue the effort. You can easily share these pages to all your favorite social media sites via the shortcut buttons on the sidebar. You can also simply email the page link to your friends. Please share often.
The very best way to help me happens when you use the embedded links to buy things. Using a link is easy and free, yet it provides a great source of support for this site. The vendors I've chosen to link to have proven to be trustworthy and are the very best resources available. That is why I recommend them personally.
HomePreservationManual.com is the place to visit if you want information on
maintaining your home
how to improve air quality
ways to improve the real value of your home
what are the best housekeeping services
the problems with handymen services
how to plan and execute home renovation and home improvement projects
tips for spring cleaning; tidying up a messy house
and generally how to be a better homeowner.
Make sure you download your monthly maintenance checklist for this month.
Linking to this site
Do you want to link to anything on this site? Please do! Go right ahead. I appreciate it and am honored to be considered as a resource on your website. Always feel free to link to anything you find helpful. Of course, please never copy anything (everything is copyrighted and registered), but link away and thanks!
Thank you!
Copyright and permission to use information.
If you have questions or just want to say hi, please send me a note. If you are looking for help performing the work described and you are in the San Francisco area, go to HPS Palo Alto Inc.and request a free evaluation.
As a reminder, it is unlawful to make copies including cut and paste or especially in the form of making printouts for reuse. If you wish to make a print for personal use, I will happily grant you one-time permission if you will kindly send me a request in writing.
Thanks again!