How fast does a new home deteriorate?
The answer is much faster than you think!
A brand, new home is truly a wonderful thing. It's all yours! No other human has ever lived there. Everything from the kitchen to the garage is fresh and clean and shiny. Doors and windows work smoothly, and the paint is still clean and free of marks. Even the cabinets are empty and waiting for your things to arrive.
False security: New homes need maintenance too!
Along with a fresh smell, the new house also brings to the new owners a fresh feeling of confidence and security. Like a new car. You are certain nothing can go wrong now. After all, everything around you is new. And it has a warranty. Right?
Actually no! This line of thinking is a big mistake.
Deterioration starts early
Your new home is largely an organic entity, so even before it was completed things were starting to go south. Wood was beginning to lose moisture and shrink. Some timbers were beginning to twist or crack. More than a few bugs, including termites and other organisms were already finding a home in your new structure.
How do I know that? I know these things because this is my business. I witness these goings-on all the time. But rather than lecture you with anecdotal truths, I've decided instead to document and report the deterioration of my own "new home". A kind of case study in attrition and chaos theory.
A case study
To document how even a new home needs maintenance, I'll perform regular inspections and record all the things that I find going wrong. I'll then report them to you by posting them on this website. I'll include images and even tell you the things that went right. In addition, I'll also report on why it happened, describe the various repairs needed and report the cost in both time and money.
We finished our new custom home in October 2017. Me, my wife, and our dog Bella moved in just in time to have our first Thanksgiving dinner in the home. We were ecstatic to say the least… especially after two years of planning and construction.
At this point, I think some context about the construction of my home is important. First, I built my house with durability in mind. I hired the best contractor and designer in the area. They in turn hired and supervised the best support team and subcontractors. We also used top quality materials. Not exotic materials, just top quality. Then we carefully selected where to use them to maximize durability and ease of maintenance.
Quality and durability
Everyone on our build team did their best to produce a home that would last for ages. And the completed home is a jewel. It has won a number of awards for excellence including the Peoples Choice and Best Home awards from its entry into the home builders show in 2018. It also won an award for the best driveway paving in the state of Oregon for 2018.
I think you will be as surprised as I have been at how many things have needed attention despite all the planning and effort. Some fails were quite major and expensive. Also notable is that the first twenty six items all occurred in the first 22 months that we lived in the home. I think it will be an interesting study.
Follow along
If you are already signed up with www.homepreservationmanual.comto receive our checklists or newsletters you will get automatic notifications as more items are found. Please sign in if you have not done so. Or simply check back often to see how things are going!
…and DON'T ignore your home every. Even a brand new home needs maintenance!
Chronology of issues: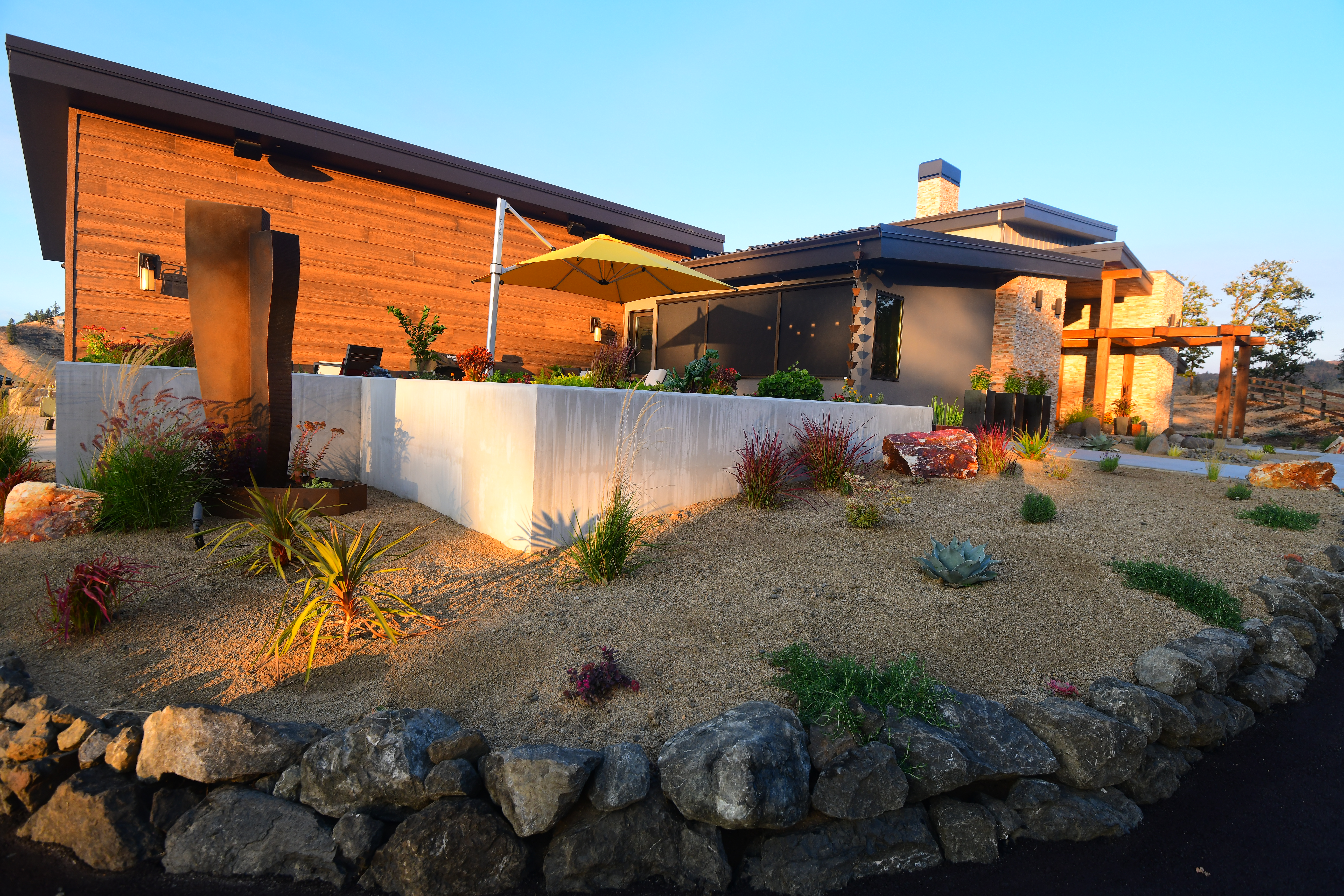 Inspection discovers a stucco crack
January 15, 2018
The first thing to fail was a large 6' long horizontal crack in the stucco on the front of the home. We reviewed construction photos and found no reason for the crack. The contractor removed the entire area of stucco and redid the work. It has been fine since. N/C
Roof protection tape
January 25, 2018
New metal roofing comes with a blue protective plastic coat to keep it from scratching during installation. By the time the material for the barn was installed it had been sitting for nearly a year. When the clean-up crew tried to remove the protection, it would not come off. Half of the barn roof was replaced N/C
Inspection discovers the main line from septic tank to leach field has failed
April 24, 2018
Line appears to have had a weak glue joint in the line. This would not have been found without an inspection that noted the excessive moisture on the ground. Original contractor makes repair at no charge.
Change air filters
April 24, 2018
Scheduled change of filters 2x/year for two furnace air-handlers. Cost: ½ man hour plus $75 for four filters.
Housekeeper reports problem with vacuum hose:
June 15, 2018
Hose will not retract into the wall as designed. Turns out this was caused by housekeeper not understanding how to work the system properly. Subcontractor trains housekeeper and makes repair at no charge.
Install power shades to prevent sun damage
June 19, 2018
Large west facing windows collect too much heat in the afternoons. Installing electrically operated shades cut the heat by 80%. Cost $3600
Window cleaning difficulty
June 20, 2018
Window cleaners report that high windows require scaffold to clean safely. We strike a deal with the window washing firm to clean/dust/inspect the entire upper ceiling area (exposed beams, large fan, window-sills, etc.) at same time that windows are cleaned in order to get full use from the scaffold cost. Upper reaches of the home would not otherwise get needed attention. The first inspection reveals peeling paint, spider nests and webs and heavy accumulations of dust. The peeling paint was touched up by original contractor at no charge. Cost added for scaffold and other cleaning: $350
Change water and air filters
October 24, 2018
Scheduled change of air filters 2x/year, and water filters 1x/year. Cost: 1.5 man hours and $251 for filters (one of our water filters is expensive)
Inspection finds batteries missing in the fireplaces
February 26, 2019
An extended power outage left the house without heat. Attempts to start the fireplaces failed and it was discovered that the back-up batteries had not been installed. Cost: ½ hour labor plus eight AA batteries $6.
Snow Damage
February 27, 2019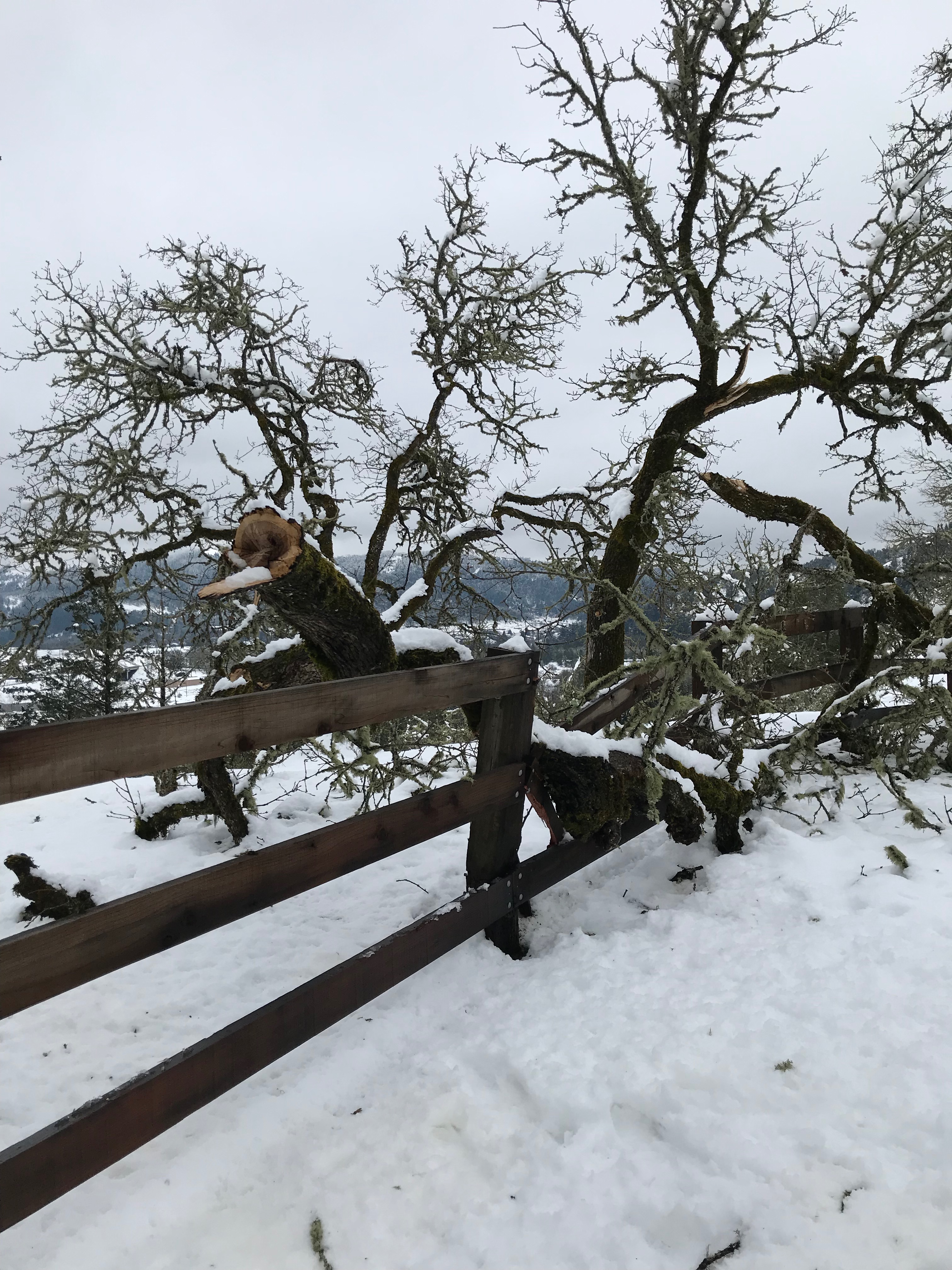 Inspection finds snow collapsed a tree onto the wood fence shattering a post and breaking four redwood fence boards. New boards were installed by homeowner. Cost: 3 man hours and $100 fence rail material
Snow bends the gutters
March 3, 2019
Unusually heavy snowfall had accumulated on the roof for a week. As it melted and slid off, parts of the perimeter roof gutters were damaged. This has not yet been repaired.
Inspection reveals that snow/cold has killed three cacti in the landscape
April 15, 2019
These will not be replaced as we will have cold weather again and feel this particular plant would not hold up well.
Inspection finds that the main barn sliding door is stuck
April 15, 2019

Homeowner adjusted the door hardware and to prevent dragging and door works fine. Cost: 2 hours labor
inspection finds that one of the window frames in the kitchen is delamination on the exterior
April 17, 2019
We reported this to our contractor who determined it to be a factory defect. The window manufacturer has agreed to repair. Unfortunately the window is a small cost as the window will need to be ordered (six weeks), the old window must be carefully removed and the new window installed with patching to blend into existing finishes. This is no easy job as the existing window abuts to marble in the interior and is surrounded by stucco on the exterior. Heavily inconvenient, we have no cost data yet.
Change air filters
April 24, 2019
Scheduled change of filters 2x/year for two furnace air-handlers. Cost: ½ man hour plus $75 for four filters.
Window cleaning firm finds spiders up high in beams on both interior and exterior
June 15, 2019
These are difficult to see or clean from below. Contractor agrees to clean and dispense a spider insecticide. Cost: $150
Inspection finds that hall closet shelves have collapsed
June 30, 2019
The pins holding an upper shelf came out of their pockets and allowed the top shelf to fall onto the shelf below starting a chain reaction. There was nothing stored in the closet yet and no damage was done. Contractor has agreed to repair at no cost.
Inspection reveals that an LED downlight had quit working in the entry beam system
June 30, 2019
This has yet to be replaced. We estimate an hour of electrician time and a new fixture approx. $250
Inspection discovers that the dead cactus reported earlier has come back to life and is sporting new growth!
June 30, 2019
Inspection discovers that the stain has failed at entry exterior wood beams structure
June 30, 2019
This area takes full sun most of the day. The beams are equipped with metal top shields to prevent rot and damage from above. Failed stain means the expensive wood material is susceptible to deteriorating sun and rain damage. The entry beams were recoated with several coats of matching stain. Cost: $3500
Dog has accident on carpet
July 13, 2019
Thankfully it was a throw rug and we were able to take it outside and wash it down!
Inspection revealed that the runs for the three horse stalls are not draining properly
July 15, 2019
An analysis of the material shows us that the wrong type sand was used. We had specified a large grain, washed, river sand. The material delivered was a crushed, softer material that breaks down quickly under horse pressure and clogs up the drain system. We do not know who caused the mistake. The sand was removed and replaced with proper material. Cost: $4200
Inspection finds that mites have killed a small tree planted a year earlier as part of the landscape project
August 16, 2019
The tree was removed immediately to prevent spread of the mites. A new tree will be found for the spot. Cost: Labor 1.5 hours plus tree budget of $250.
Inspection finds that the finish has failed on half dozen exterior sconce lights
August 16, 2019
These are out of warranty and will need to be replaced. Cost: $1200
Inspection reveals that the horses have chewed on some posts in their stall runs
August 16, 2019
Note: All posts and wood surfaces have been protected by aluminum angle iron. In these areas the clever horse has found a way to get to the back side of two unprotected areas. A long reach. The repair is minor and will leave as is in honor of the great effort expended to get to this exposed wood.
Inspection notes that caulking has failed along trim areas at the barn siding above and below the large side windows
August 16, 2019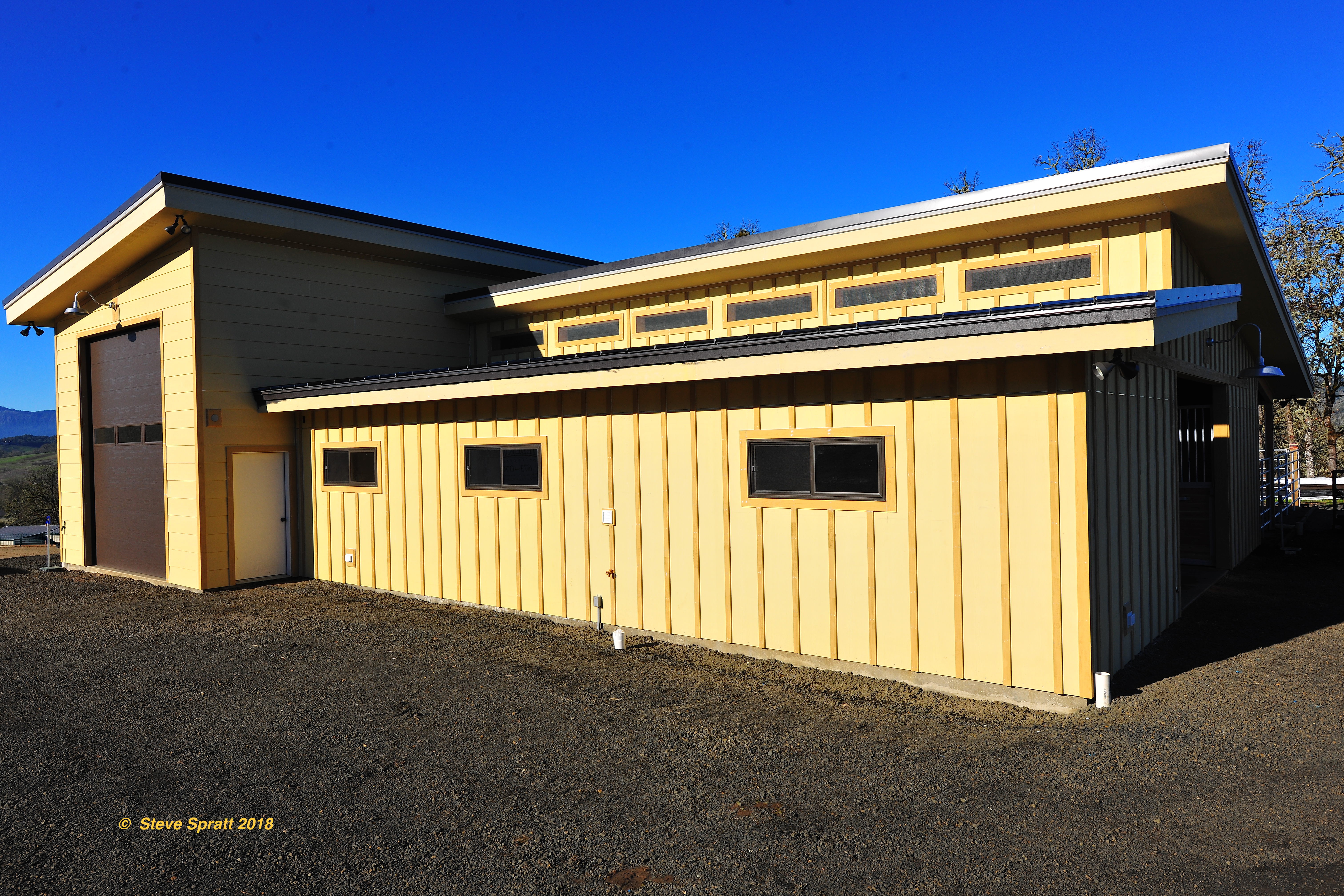 If not found early this is an area that could develop rot. Any failed caulking must be replaced immediately while the weather is hot and dry. Cost: 2 hrs labor and $45 material.
Inspection shows that the paint/stain on the big rear patio beams has failed just as it did earlier on the front beams
August 16, 2019
These are under a roof protection so they have lasted longer than the front entry stain, but will still need to be done soon.
Refinish covered patio beams
September 16, 2019
These beams are large and require scaffold to work on safely, The cost to refinish all four was about $2500. they now look like new again and the wood was much less porous this time.
Siding joints look bad
October 18, 2019
After a couple years we started to notice the caulking joints between the siding members starting to look bad. Turns out the contractor did not do a good job cleaning the joints when they were installed. Cost to repair $700
Ring Doorbell Dies
April 13, 2020
Ring doorbells are designed to work wirelessly using a rechargeable battery for power. That's great except when the battery dies you have to remove the doorbell and recharge it. To get around that problem, you can run the normal bell wires from the door button location to a transformer in order to keep the battery charged all the time. We have now learned that a normal doorbell transformer will not work because they only put out 12-18 volts. Use only a 24vAC transformer. Ring sells transformers for this but many hardware stores do not carry them.
First cracks appear in concrete walks
May 15, 2020

It took two years, but the first cracks finally arrived. It's a very small "hairline" crack and considering there is over 10,000 square feet of slab, I consider this miraculous. Bravo to our concrete contractor!
Door gaskets deteriorated
June 25, 2020

Our exterior doors have a rubberish gasket at the bottom that helps seal out the weather. The gaskets are failing now after just two and a half years. Cost to replace $600