Tips For Safer Fire Pit Fun
Outdoor fire pits have become extremely popular over the years. Wood or gas burning fire pits are the contemporary version of the old campfires. Fire pits are attractive design features of the "hip" patio or landscape. Fire pits are less costly or imposing compared a spa or swimming pool and almost anyone can afford one.
These are great features to retire to in the evenings for casual conversation with friends over a few glasses of wine. Most fire pits are self-contained, easy to start and safe. Some of the gas units are so easy to use they can be turned on with a remote control.
Some Service Required
As fun as these backyard features are, they are not (you guessed it) maintenance free! To help you, I have provided some important maintenance and use tips below and separated them into three sections: General, Wood Burning and Gas Burning.
Whether your pit is wood burning or gas, these are good tips to help make your time around the fire pleasant, safe and uneventful.
General Fire Pit Safety Tips
Only use your firepit outside in an open space with plenty of air flow. Never use your fire pit under trees, low-hanging plants, or on/near anything flammable. Do not allow your fire pit to become the cause of a wildfire.
Read the owner's manual thoroughly so you know how to use and take care of your fire pit properly.
Learn the rules and always exceed the recommended clearance distances to combustibles.
Never use accelerants such as gasoline, lighter fluid, alcohol, or other volatile liquids to start a fire. Accelerants are very dangerous and can damage your fire pit. Spewing mouths full of rum onto the fire is dangerous and not advised, even during festive celebrations.
Never, ever use plastic materials in or around your fire pit. Melted plastic is extremely difficult to remove and will ruin the fire pit's surface. Burning plastic also releases toxic fumes into the air.
Always keep water or a fire extinguisher close by in case of emergency.
Place a cover over your fire pit when it's not in use. Covers prevent water, dirt, and debris from collecting inside the burning area, and will prevent unnecessary rust, freeze/thaw, wear and tear from inclement weather conditions. Allow the fire pit to cool completely before covering it. If you live in a region with harsh winters, it's best to cover or store your fire pit in a dry, sheltered area to keep it in proper working order.
Never leave your fire pit burning while unattended. Always make sure children are supervised and kept a safe distance away from the fire at all times. Don't allow children to play in the flames
To clean your fire pit, follow the instructions in the owner's manual. Generally, you can use a soft cloth and mild soapy water to clean the surface and outside of the fire pit. Avoid harsh chemicals and cleaning agents, unless otherwise approved by the manufacturer.
Important Note
Fire pits are made for outdoors. Never, ever use them in enclosed spaces. Unventilated fire pits produce buildups of toxic smoke and harmful gases, like carbon monoxide that can quickly become deadly. Always use a fire pit in an open space with plenty of air flow.
Wood Burning Fire Pit Safety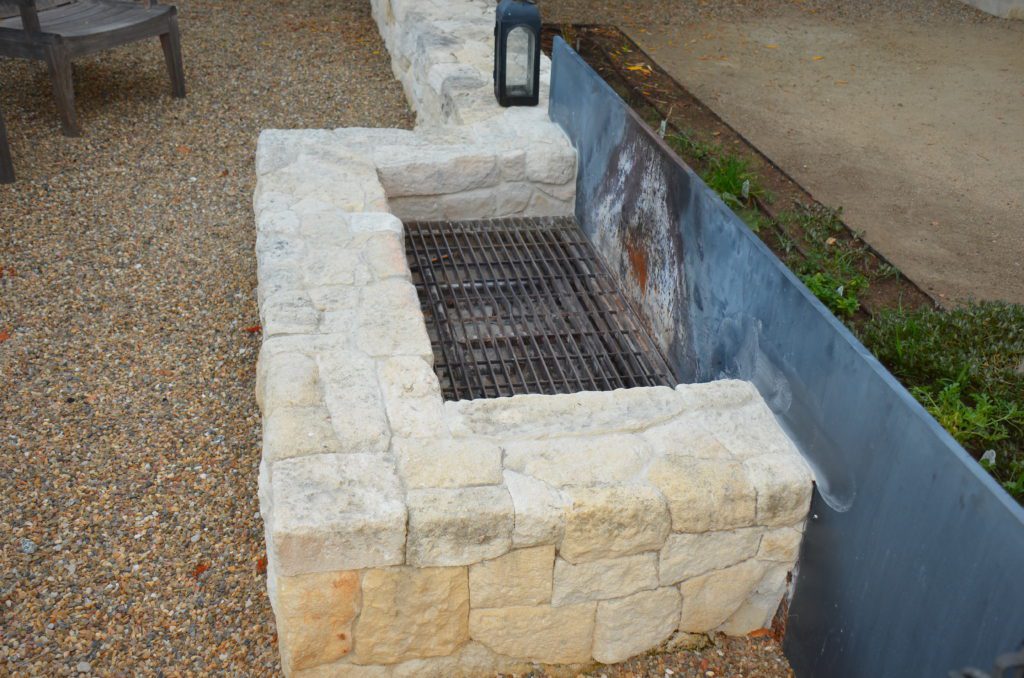 Only use properly seasoned, dry, split wood for fuel. Do not burn trash or pressure-treated wood. Burning pressure-treated wood releases toxins and chemicals into the air that are harmful to your health and the environment.
Learn how to properly start a wood fire using tiny pieces of kindling, then small twigs with larger pieces above them. Use clean dry material and it will work great. Don't use accelerants like gas or BBQ starter fluid. They are not safe and can even create a foul odor around your pit.
Plan for time to allow the pit to burn out. It is best to allow it to burn down and out naturally. Monitor the fire as it does but do not leave it unattended. Avoid quickly extinguishing a pit fire with water. The application of cold water can cause steam pressure and the changes in temperature can damage your fire pit. You can use sand to extinguish the flames. Sand will smother the fire without damage to your fire pit, but you will need to clean the sand out before using your fire pit again.
Allow ashes to cool overnight by spreading them out in a thin layer over the fire pit's surface. Remove the ashes the next day using a shovel and place them into a metal bucket with a lid. Ashes can stay hot for a while, so having a metal bucket with a secure lid will prevent them from scattering around and possibly igniting a fire.
If you're using a cooking grate to prepare food over your wood burning fire pit, always clean up properly to avoid a build-up of grease and other food residue on and around the fire pit and cooking grate. This is unsightly and will attract vermin.
Gas Burning Fire Pit Safety
Before each use, make sure there aren't any combustible materials and flammable liquids close by.
Before each use, inspect the burner and plumbing system to make sure they are in good shape and not leaking or in disrepair.
Keep the vent openings and surrounding areas free and clear of webs, dirt and debris at all times. Bugs, dirt, and buildup can block the flow of gas and cause a fire.
For safety purposes, have the fire pit, gas supply, plumbing and any remote or chimney system inspected once a year by a licensed professional. Any maintenance needed must be done by a qualified service technician.
Don't burn solid fuels, like leaves, sticks, wood, paper, plastic, trash, or food in a gas fueled fire pit. These items will damage the unit and the burnerand can lead to disaster.
Never cook food over a gas fire pit. Falling debris, grease and residue will permanently damage the media stones and burner, which can be difficult and expensive to replace.
Over time dirt and soot will accumulate on the burner and media. Check them regularly and follow the instructions for cleaning or housekeeping in your owner's manual to remove any buildup. It is a good idea to be sure the fire pit has cooled completely and the gas supply is turned off before starting any cleaning process.
If there is standing water in the fire pit or the media stone material is wet, drain the water out and let it dry completely. If water gets into the gas line or burner it can constrict the flow of gas, reduce the overall flame levels and corrode the system.
Summary
Armed with these fire pit safety tips and maintenance procedures, we hope you will spend some quality time relaxing around the old fire with your friends!