Outbuildings
Kids and outbuildings
If you have kids, you need some outbuildings. During the time I was growing up, any outbuilding was fair game for adventure. These were the only buildings where danger was high and the rules were ambiguous. Many exhilarating hours were spent exploring an outbuilding's dusty shelves, mysterious tools and catching lizards or spiders.
I remember one game in particular that we kids cooked up. It would have curled our parents hair if they had any inclination we might do such a thing. We would flip a coin to determine who was IT. Then the IT person would knock down a hornets nest. The bigger the nest, the better! An objective, if there was one, was to defend yourself from the hornets by knocking them out of the air with sticks as they came at us. It was illegal to run. When the hornets were cleared out the game was over. The team usually consisted of just three or four hard-core kids, armed with 3′ long, flat wooden survey stakes. It was exciting and I loved every minute of it, even when the occasional kamikaze wasp got to me.
We had a working farm so there were a number of good outbuildings on our property. The barn was the biggest by far, but we also had a couple of pump houses, a fuel shed, and a workshop/tractor garage. Basically, any service or storage building that is not connected to the main structure on a property is considered an outbuilding.
Sheds
If you need a secure, dry place to store things, a shed is a good bet. Storage sheds can be built inexpensively and usually fall under very lax building codes as to set backs and right of ways. Sheds should be planned so that there is a foundation, a good door for access, an elevated floor to keep things dry and it should be ventilated, screened and rodent tight. There are dozens of plans on-line if you feel handy, otherwise pre-fabricated or site-built models can be had from the likes of big box depot. I have a number of shed units in use for my business. They are not fancy but they work and the shet folks can build them faster and cheaper than I can.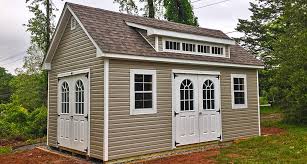 Pool-houses
Coming soon!
Carports
Coming soon!
Barns
See: Building a Quality Horse Barn
Cabana
A cabana is a great thing. It's great because it is essentially a pool-house that does not require a pool. I like that a lot. In fact it doesn't require any walls either. The requirements for a cabana are simple but strict. It must be in the back yard, have some sort of shade roof, and a bar, preferably a tiki bar. Large mounted sailfish get extra credit for your cabana.