Six Disaster Preventers Every Home Needs!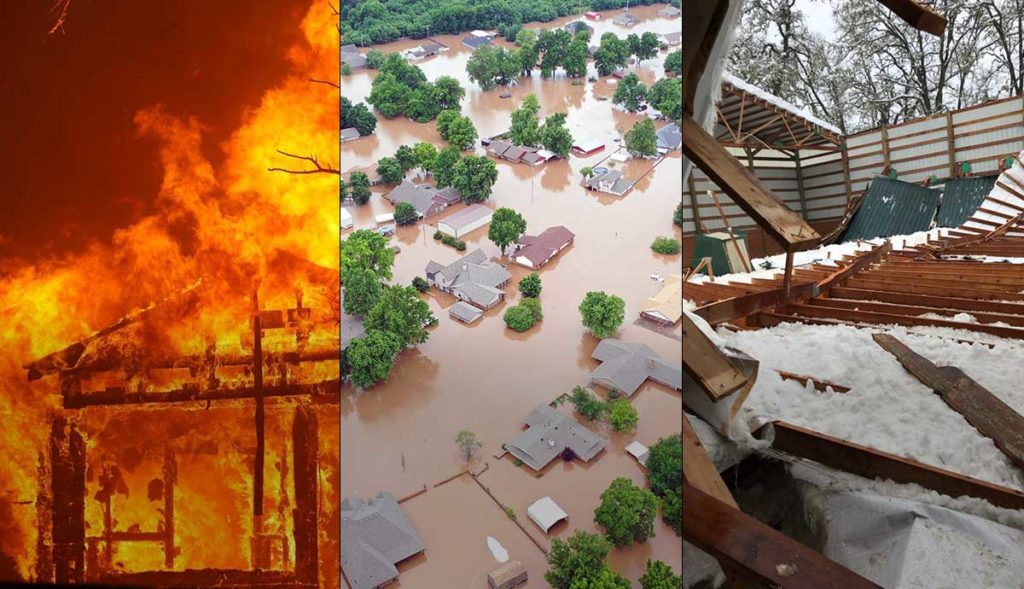 Current times have been tough for homeowners. Just when your home needs to serve as sanctuary for you and your family, it seems to be under attack from all directions. Disaster safety and prevention is more important now than ever.
This winter has shown that severe weather can happen anytime, anywhere and affect anyone. In addition, both natural and man-made disasters like fires, floods, power outages and earthquakes lurk around every corner.
When a disaster strikes and you really need help, it's too late! Stores are closed, materials are sold-out, contractors are suddenly unavailable, and first responders are overstressed, or defunded. Experience tells us that when a crisis happens, you need to be able to get through it on your own.
I've prepared a list of the most important things you need to help you get prepared.
The big six!
Here are the six most high-priority, disaster deterrents you must do right away.
Whole-house inspection
Regular maintenance and timely repairs
Back-up power system
Leak sensing main water valve operator
Seismic gas shut-off valve
Video doorbell
Whole-house safety inspection
Homeowners distracted by the unending demands of daily life don't have the time (or ability) to keep track of the condition of the home. Time speeds by and the condition of your home can slowly deteriorate… till it's too late. A regular whole-house inspection will keep you informed of your home's condition and bring attention to potential disasters in the making.
Maintenance and repairs
Once you have the inspection, you must act. Make the repairs that are needed and don't delay. Then commit to regular routine maintenance to help keep repairs at bay and make everything last longer. Check out the HPS Stewardship program.
Back-up power
A standby generator system has become the single most important disaster safety and prevention feature for any home built in the last 50 years. A backup energy system is not just a convenience, it is mandatory for the protection of all modern homes with features like electronic controls, finished basements, sump pumping stations for flood control, sewage ejector systems or uninsulated water lines.
Even small generators can help prevent the house from freezing, keep critical systems like pumps and ejectors working and avoid the flooding and other catastrophic damage. More sophisticated systems consisting of automatic switching, a battery bridge and a properly sized whole-house generator can seamlessly bridge any power outage so you don't even know it happened.
Leak sensing water shut-off device
These "smart" devices are able to determine when an abnormal water leak has occurred in the home and will automatically shut off the main water supply. These are fairly new (in the last 10 years) but have proven extremely effective at saving millions of dollars in floods from frozen pipes, loose refrigerator water lines or any other plumbing disaster involving failed and flowing water lines in the home.
HPS has installed many of these marvelous devices and have saved untold amounts of damage and distress. They require professional installation near an electrical outlet, a new valve on the main water line and the programming of the unit so that it becomes "aware" of your water use habits.
Seismic gas shut-off safety device
Here is another simple but effective device. A seismic valve eliminates the need to manually shut off your gas service during an earthquake. The device senses the movement of the earth and shuts off the gas. The gas flow can then be re-established by manually resetting the valve once you have determined it safe to do so.
These devices are installed between the gas meter and you home on the main line and require no power. We have installed dozens of these devices. They are simple, effective and foolproof.
Ring doorbell and video surveillance
Video surveillance of the entry of your home is now as easy as installing a new doorbell. The video camera is activated anytime the doorbell senses movement and records the time and date of each occurrence so you can retrieve and review at any time. The video is accessible wirelessly on your smart phone or computer. Additional cameras can be installed around the home to get complete coverage.
Do these six things now!
Don't become a victim. The Big Six are easy to deploy and will help you to avoid or get through even the most difficult scenarios. If you need help with disaster safety and prevention, HPS can provide more information or do all these things for you. Just contact us at www.homepreservation.com.
---