Building A Quality Horse Barn
For years, my wife Italy and I dreamed about building our own home. And since we have horses we also dreamed about building our own barn. A few years ago, circumstances finally allowed us to realize those dreams. This is a brief description of the barn portion of that project.
Some context might be helpful here. Italy has been riding and competing on horses since she was old enough to walk. Her horses are very gifted and high trained athlete partners and she takes good care of them.
Competing with the horses (mostly rodeo) requires a lot of travel, we have literally had our horses in hundreds of barns and other lodgings all across the US from Canada to Mexico. We have seen and experienced all types. In the process we learned first-hand quite a lot about what works, and what does not when it comes to high-functioning equestrian shelter. During our travels, we took plenty of notes, hoping someday we could put them all to use for our own barn.
When the opportunity to finally build our own arrived you can imagine we did so with a lot of energy and excitement. Here's how we did it.
Planning
To start with, there were certain general requirements that were absolutes for us. These were features that simply had to be met: accommodations for three horses minimum, a tack room, a bathroom, a feed room, an indoor wash room and an attached garage for a large RV.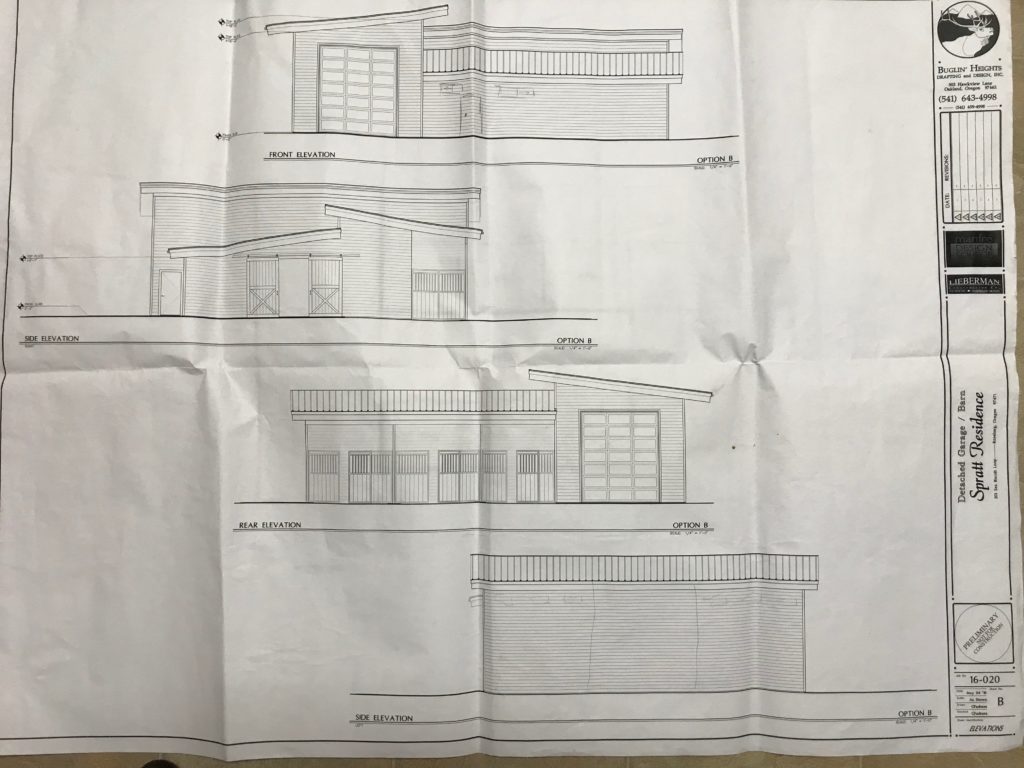 Per the CCR's of our community, the structure could NOT be a pole-barn design, nor could it exceed 2500 square feet. The pole barn regulation added some costs to the project but the improvements (like solid wall supports instead of posts) were well worth the added expense.
Most barns look like…barns. We wanted something different. It was very important to us that the barn match the architecture of the main home. It had to have the same roofing, siding, doors, windows and paint scheme as the house. We had seen too many otherwise gorgeous homes with barns that looked like they had been designed by Mr. Haney from Green Acres.
In short, we wanted a nice, high quality construction but with nothing too extravagant. The barn floor plan and other details were to be designed for maximum quality, functional efficiency, durability and low maintenance. That was it!
Multipurpose rooms
One way we opted to improve efficiency was to design rooms in the barn to serve multiple purposes. For instance, the RV garage is designed to store hand tools, hay and bedding as well as provide shelter and utilities for a large RV. The wash rack is also used to saddle and groom the horses and is connected by a door opening directly into the tack room. Our feed room also has a vet/med center, kitchen, laundry machines and dining area. Even the breezeway can be used for indoor horseshoeing and grooming as well as space for the transporting of feed and materials in and out. Trucks can drive through from end to end.
Driveways and parking
One consideration that is often overlooked when building a barn is the need for adequate space around the perimeter for hay trucks and horse trailers to maneuver. In our situation the slope of the site restricted how much total space was available.
Careful planning and testing was needed in order to position the barn so that it would fit well on the site while trucks and trailers could still get in and out. Big trucks with long trailers need wider roadways and quite a bit more space than normal driveways allow. Even with all this forethought, the final design of our driveway is still a bit tight for the bigger truck/trailers. The biggest trucks have to enter and exit from one direction because the original developer placed a big unmovable power transformer too close on one side of the driveway. This is what it's like parking our big trailer in the RV garage.
Big trucks and trailers are also heavier, so roadways and paving needs to be designed to handle the loads. The CCR's for our neighborhood require that the driveway be completely paved with concrete, asphalt or stone pavers. We opted for asphalt with a 12" thick compacted class-2 base and 3" of AC pavement. To harden the busy areas in front of the garage doors we installed 4" thick reinforced concrete approach aprons in those areas.
Infrastructure
The competitive horse community is a mobile bunch. Travelling long distances from one event to another is routine. It's also grueling. Everyone in the community supports each other with accommodations for both horse and tired rider if the need arises. Most of our friends have big, living-quarter horse trailers that are quite self-contained. We decided to install guest RV hook ups in two locations (one inside and one outside) at the new barn just in case a fellow rider might need a place to stay in the future. Hook-ups each include water, sewer and a 30amp electrical outlet with access to the bathroom, kitchen and laundry facility.
Construction
The barn itself has a reinforced concrete slab foundation with concrete floors in all locations except the stalls. Walls are 2×6 balloon framed insulated wood studs. An advantage of the slab foundation is the ability to tightly seal the perimeter to discourage rodents and exclude weather entry. Flooring for the wash room and breezeway of the barn is covered wall to wall with a layer of ½" rubber matt. All interior walls are insulated and covered with ½" plywood. The breezeway walls have an additional layer of 2×6 t&g horizontal siding for good looks. The plywood covering creates a formidably sturdy wall structure that accepts the mounting of all kinds of hardware. The strength of the barn was tested during "Snowmageddon". This was an abnormally heavy snowfall that struck the area in late February 2019. The storm dropped heavy snow that took out power for over a week, trapped many families in their homes and destroyed our homeowner associations covered arena. All horses were removed from what remained of the arena and placed in our barn that stood like a rock.
In order to keep the look consistent, we used the same fiberglass framed Pella windows as used in the home. We also installed the same dark grey standing seam metal roofing. This roofing is a good choice for the barn as it creates a radiant barrier to the suns heat which helps keep the barn interior cool in summer, even without roof insulation. Our barn design mimics the house. That allowed for a row of awning vents in the upper reaches of the main roof plane. This design creates a natural air circulation that helps with both ventilation and cooling.
Niceties
Plumbing options include a stacked washer/dryer, kitchen sink, bathroom, floor drains, freeze protected hose bibs and a tankless water heater that provides endless hot water to the kitchen, bathroom and the wash rack.
Wash rack walls are lined with waterproof, easy to clean, FRB panel materials. It also has an overhead infra-red heater and an industrial overhead hose-reel for the handheld shower sprayer. The floor is rubber coated concrete with large central drain fitted with a removable strainer. Our wash rack is equipped with many cross-tie locations so that it can be used in any direction and as a grooming and saddling area.
The tack room has high ceilings, good ventilation and lighting and is big enough for plenty of saddles, bridles, pads and blankets. The feed room has refer, washer/dryer, kitchen counter, sink, microwave, sound system, dining table and workbenches for mixing feed and storing vet supplies.
A central breezeway connects to the big RV garage and is big enough to allow a full-size pick-up to drive through. It has ultra-high ceilings and a big sliding barn door to the exterior the walls along the non-stall side are paneled with horizontal 2×6 t&g material.
Stalls
The three horse stalls are sized a comfortable, but non-extravagant 12'x14'. Each stall is equipped with lighting, a corner feeder, a double-font self-waterer, and an individual fan.
Each stall has a 34' outdoor run with 14' under roof. The stalls and runs are installed atop 4" grid material over 12" of drain rock and a perforated drain system to daylight. In addition, the runs have an 8" sand layer over the grid eliminating mud and standing water and making a soft, clean loafing area for the horses. They love laying on the sand in the sun.
Stall fronts, divider frames, run panels and gates are all custom made panels. The dividers were filled with 2"x6" t&g pine and installed by our carpenters. We covered every exposed wood edge and piece of trim with aluminum angle metal to eliminate chew damage. Unlike many barns, we designed our stalls so the horses can see each other. Horses are herd creatures and like to have a view of their barn-buddies. Two-sided waterers are mounted straddling the exterior wall of each run so one side is in the stall and the other side is in the run. That way we can lock the horse in the run while cleaning or working in their stall and they will still have access to water. All of the stall runs have gates leading directly to the pasture areas.
Barn inspiration from Mr. Ed
We can safely say without a doubt that our barn is better designed than Mr. Ed's. Poor Mr. Ed had to share his space with Wilbur and his architecture office.