Your shop needs a slow-speed bench grinder
Bench grinders are awesome tools to have for everyday use around the shop. There always seems to be some metal part that needs to be shortened, sharpened, trimmed or buffed and a good grinder is just the tool for the job.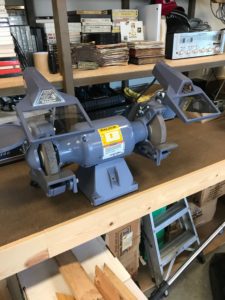 A warning and note of caution is required here. As useful as these tools are, great care is required when using them. Grinders are powerful motorized spinning tools and should only be used per the direction of the manufacturer and with proper safety gear including: hats, gloves, eye protection, hearing protection and spark resistant clothing.
On the Northern California ranch where I grew up we had a huge and ancient grinder that sat at one end of the shop. It was big, weighty and perched on its own massive stand. Mounted on walls around the tool were things you might need when grinding stuff. There was a "dresser," a strange looking tool used to help keep the grinding wheels clean and shaped properly. There were extra grinding wheels of various grits, safety glasses, leather gloves, a fire extinguisher, a bright light with a flexible spiral neck pointed at the work area, and always a bucket of water. If you are setting up a shop grinder you will need all these things too.
On the ranch we used that grinder almost everyday. Ours had a wire brush wheel on one side and a grinding wheel on the other. The wire brush wheel made cleaning parts and the threads of rusted bolts possible. That was necessary because my parents and grandparents survived the depression and WWII and as a result they saved and reused everything. Especially metals.
Sparks will fly!
The grinding process creates heat, a lot of it, so the water bucket served to cool off hot parts. You just dip them right in, and after a little sizzle they were cool enough to handle again. As a curious kid, I never missed a chance to watch a grinding job. I was warned not to stand too close as the operation would send startling amounts of bright sparks flying all over. Reflecting now, I suspect that the handy water bucket in our shop was also a back-up to the fire extinguisher. But no one ever said that, and I never had the potentially exciting opportunity to witness it either.
High and low speeds
There are two kinds of grinders: high speed and slow speed. High speed grinders operate at over 3000 RPM. These are machines with high inertia and are used to remove massive amounts of material quickly. In the process, they also generate lots of heat almost instantly when the fast grinding wheel touches the work. That heat can have a damaging affect on sensitive metal products like the edges of knives or cutting blades. When an edge overheats, it reduces hardness of the metal in the burned area thus allowing it to dull faster. This ruins the edge because these overheated areas cannot be repaired. You can tell when metal has been overheated because the affected area will immediately turn a blue or black color.
Slower is better
Slow speed grinders are kinder and more forgiving to the workpiece. Tools of this sort operate at speeds of 1800 RPM, or even slower. These relatively slow RPMs generate heat too, but it happens at a more controllable pace that is ideal for work on delicate metals. This is exactly what you need for sharpening work because the edges of cutting tools are very thin and can overheat easily. With a slow speed grinder and some practice you can learn to sharpen just about any cutting tool without ruining the hardness of the blades.
Slow speed grinders tend to cost a bit more because they need better motors. Slow motors need to have more power and torque to overcome lower inertia and possible stalling during the grinding process.
Back to the grind!
I can recommend any of the following slow-speed bench grinders for your shop. I personally own the Baldor grinder (pictured above) because it is made in America, has a great motor, is very versatile, and it is a heavy duty tool. The Jet is made in China but is an excellent but lighter-duty tool. The Cuttermasters is strictly an aficionado's sharpening tool with high-tech, state of the art grinding wheels : Baldor, Jet, Cuttermasters Tradesman