Money and Cigarettes by Eric Clapton(1983)
I love the entire album and especially the rockin' guitar interplays between Cooder and Clapton! In my opinion, The Shape You're In is one of the most under-appreciated song ever recorded.
Imagine a band with Eric Clapton, Ry Cooder, Duck Dunn, Jim Keltner, Albert Lee. How could anything bad musically come of that?
I took my baby to see a show. She was telling me she didn't want to go. I said, "Come on girl, what's the matter with you?" But I could tell by the smell that she'd had a few.
Money and Cigarettes was Clapton's eighth solo studio album and was only moderately successful commercially. It did reach top 20 chart positions in several countries though. Critics were lukewarm at the time which just goes to show, critics of art don't know crap. You like what you like.
This was the first album Clapton made after coming to terms with his terrible drinking problem and going dry. After rehab Clapton formed a new band including his old guitarist Albert Lee and session pros bassist Donald "Duck" Dunn and drummer Roger Hawkins, also bringing in another guitarist Ry Cooder.
Eric Clapton – electric guitar, slide guitar, lead vocals
Ry Cooder – electric guitar, slide guitar
Albert Lee – acoustic guitar, electric guitar, keyboards, backing vocals
Peter Solley – Hammond organ
Donald Dunn – bass guitar
Roger Hawkins – drums
Chuck Kirkpatrick – backing vocals
John Sambataro – backing vocals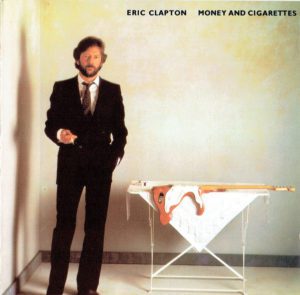 ---
---
[embedyt] https://www.youtube.com/watch?v=C7vkMxw8PSo[/embedyt] [embedyt] https://www.youtube.com/watch?v=yFVXxxvkFiU[/embedyt]