Landscape Lighting Blunders to Avoid
I love good landscape lighting, but doing it right requires some work. To save you from doing it more that once I've put together this list of common lighting blunders to avoid.
Proper illumination can transform a mediocre looking yard by day into something stunning and romantic at night. For the money, nothing beats the aesthetic returns from an investment in lighting. Take a look at Las Vegas for a great example. Those casinos know how to make everything look exciting at night. And with just a little advice and money the average homeowner can achieve this too.
Have a sexy yard of your own!
You can dramatically improve the beauty and safety of your landscape by executing a good but simple lighting plan. The key word for light planning is "good," and reading on will help you keep to that goal.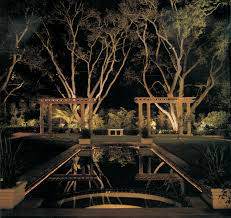 Over the years I've had the good fortune to work with some of the best landscape architects in the world. My experiences with these artists taught me how the application of lighting to a landscape is like the selection of texture and color to a painting.
Working with light
Artists and photographers know how to use the power of light to make a statement. And good landscapers can put these same tools to work. At night, light creates composition on the landscapers "palette," highlighting the most pleasing areas in their yard.
By the way, anyone interested in learning more about the subject of light and art would benefit greatly from reading The Art of Photography by Bruce Barnbaum.
Now that you are inspired to take action, please do one more thing before heading out to buy wires and fixtures. Read the following list of things you should know about first. In the end, avoiding these will not only save you lots of time and money, they will help produce a more stunning and gorgeous looking landscape lighting project.
Common lighting mistakes to avoid:
Not creating a plan – According to www.homepreservationmanual.com "always start with a plan." A plan drawn to scale showing your home, walkways, patios, planting areas, driveway, fences, trees and major plants or artwork. Use the plan to experiment laying out your lighting system and for estimating how much material (fixtures, wiring, transformers timers etc.) you are going to need. Mistakes made on paper are much easier to rectify than mistakes made in the field. This is the easiest lighting blunder to avoid.
Installing too many fixtures – Use light sparingly. A single well-placed fixture can have a huge effect. The objective is to illuminate a subject, not draw attention to the light source. Highlight special plants and trees; and of course, any steps or safety concerns, but flat paths, sidewalks and patios need very few fixtures. Also, avoid placing lights at perfect intervals and instead focus on changes in direction or alternating sides of long walkways. This lighting blunder will cost you money unnecessarily. Save the cash for buying better fixtures.
Installing lights in bad places – Lawn maintenance will prove difficult when landscape lighting fixtures are scattered throughout your grass. Fertilizer, lawn mowers, and weed whackers can all damage the fixtures. Install the landscape lights in planter beds and use in-ground well lights for the yard. Try to hide your fixtures. This is harder than you think. All lighting looks better when the source is unseen. Avoid aiming lights where people will be forced to stare at a blinding light.
Using wrong fixture types – There are two basic types of landscape light fixtures: path lights and accent lights. Path lights are downward facing fixtures used to illuminate pathways, patios and walks. Accent lights on the other hand are for lighting up special areas like trees, plants, rocks or whatever. Path lights focus their light on the flat surface below them while the accent lights typically are used to throw light on an elevated subject. Both accent lights and path lights can be purchased in configurations that will produce the exact amount of coverage or illumination that you desire.
Using poor quality fixtures – This lighting blunder will come back to haunt you. Purchase only heavy duty, moisture-sealed fixtures. Pick materials that will provide long-lasting light exposed to harsh outdoor elements. You only want to do this once so always install pro-quality fixtures to ensure a durable, quality result. LED fixtures are now considered the standard for landscape lighting. Most of the good makers have LED's that produce light at 2700 kelvin that emulate the warm light from earlier incandescent fixtures. The benefit to LED is long life and low power consumption. This translates into more fixtures per transformer and less maintenance.
Using low quality or underpowered transformers – Not all transformers are the same. Get a professional quality unit with multiple voltage taps to compensate for voltage drops over the length of the run. Use the chart below to calculate the power you need BEFORE you do the job.
Not using a voltmeter – Having this tool on hand is essential for systems of greater than 10 lights or for systems with wire runs longer than 100 ft. It is the only way to know for certain how many volts are arriving at your light fixture locations from your transformer. LED's especially are very sensitive to voltage drop and may not function properly with high, low or fluctuating voltage. A voltmeter is a must-have for troubleshooting a faulty system and to avoid having to troubleshoot a faulty system.
Not using waterproof splices – This is the lighting blunder that causes the most aggravation. Since landscape lighting cables are buried underground, it is important that wiring is robustly installed, and any splices or fixture connections be done properly. Special, high quality, direct burial connectors will prevent corroding, excessive electrical resistance, short circuits and line failure. Do not use cheap "stab" connectors (like those sold with many of the cheaper systems) as you will be sorry when the lights start to go out.
Excessive voltage drop – Don't try to place too many fixtures on your power source or stretch the length of runs too far. It is the nature of 12v low voltage systems that they lose voltage over long distance and/or when there many lights. A good rule of thumb is the 100/100 rule which says use a maximum length of 100′ of 12-gauge cable per 100 watts of light. Even better is to pre-calculate the voltage needed using the chart below from www.homepreservationmanual.com and, of course, use a voltmeter to check the actual voltage delivered to each fixture.
Not using break away fixture stands-Fact: your fixtures, especially the ground fixtures are going to get banged and bent. Whether from a car driving off the road or a careless gardener dragging a heavy hose around a corner. It will happen. Using fixture stands that "give" will make quick repairs easier when the inevitable happens.
For personal help in the SF Bay Area contact Steve at HPS Palo Alto.
For excellent quality and fixture selection go to:
LAMPS PLUS – Nation's Largest Lighting Retailer
Resources

What NOT to do with landscape lighting