manufacturedname
Fiber Cement Board Siding
FCB is a building siding material used in both commercial and residential applications. It is manufactured using cement reinforced with cellulose fibers to create a hard flat building panel.
History
Yikes! Yes it is true that early fiber cement panels used dreaded asbestos to add strength. Ludwig Hatschek patented asbestos-reinforced fiber cement in Austria in 1901 and named it "Eternit", based on the Latin term for everlasting. Actually, the most everlasting characteristic of the product has been the many lawsuits it inspired from people sickened by the material previous to 1980.
The Eternit
Cellulose products replaced asbestos in the 1980's. The world also abandoned the name Eternit . So please don't confuse Eternit the old siding material that would steal your health, with Internet, the invasive thing that comes into your life and steals your time.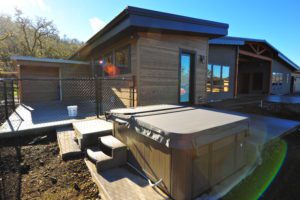 Why I like it
I love this new cellulose based material. The product line I installed on my house has a surface appearance and texture that looks exactly like wood siding. It perfectly emulates horizontal wood siding or board and batt panels, and the material can be used for eaves and roof rafter overhangs. Fiber Cement Board is hard and a bit brittle but is exceptionally durable once it is in place. Customers can purchase this material either pre-finished or unfinished.
In use fiber cement siding most often consists of overlapping horizontal boards, imitating wooden lap siding, clapboard and imitation shingles. My contractor Lieberman Construction utilized it as a substitute for wood fascias and barge rafters as a way to complete the envelope of my home in totally non-combustible materials.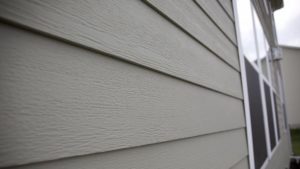 Installation
Fiber cement cladding is a very heavy product. It takes two people to carry the uncut sheets. It is also thin and fragile and is prone to chipping and breakage if abused. Installation also requires two people, one to hold the material and the other to fasten it in place.
FCB can cause silicosis so installers must wear protection and work in well ventilated areas.
Summary
This material is good stuff. It requires almost zero maintenance as you can see below. Fiber cement products have excellent impact resistance. Unlike wood it is not susceptible to termites or rot. It is also a non-combustible building material which is why I used it. Fire prone areas in Australia use this material because it is resistant to fire.
Maintenance

1x per year: Perform an annual inspection for breakage, cracks, joint separations or finish damage.