Love Is All Around– 1967
Although not a number one hit in the US, Love Is All Around was a massive smash in the UK and the rest of the world. Written by The Trogg's lead singer Reg Presley, it was then recorded by the group and released in the UK in late 1967. It peaked at number 5 and hung around the charts for 16 weeks in its original form.
I first heard the song at a school dance in seventh grade. I believe it was the first time I fell in love with a girl. Apparently I was not the only one to love the song. Many groups went on to cover the catchy tune including REM.
Love is all around, played through McIntosh, Klipsch Heresey's and Rega p9
Major Resurrection
Love is All Around was reworked into Christmas is All Around for the movie Love Actually(2003). You can see more about that version HERE.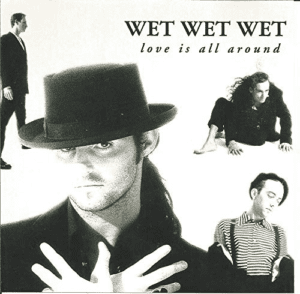 In 1994 Richard Curtis asked the group Wet, Wet, Wet to record a cover of Love Is All Around for the soundtrack of his film Four Weddings and a Funeral. The result was a fantastic version of the song that is true to the original, but has its own feel and spirit. The song was also used in a number of other film soundtracks including Love Actually. One of my favorites!
The Wet version was released in May 1994 and climbed to number 1 by the end of the month. It remained at number 1 for 15 weeks. It then went on to stay in the charts for another 20 weeks. The song just kind of gets under your skin. It obviously has staying power. It is said that it stayed in the play list so long that some radio stations banned it because listeners were complaining of hearing it all the time. As of this writing, this song is the best selling love ballad of all time in the UK.