How to Buy Outdoor Furniture
Outdoor living
Alfresco living is currently the hottest rage in architecture since the sunken living room. Selecting quality furnishings for these indoor/outdoor areas is a must.
Good outdoor furniture can amount to a sizeable investment. So now, when the summer has gone, and fall is fast slipping away, is actually the best time to buy new outdoor furnishings that you can enjoy next summer.
Late fall is time to buy
Just as January is the hot time to pick up summer shirts, late fall is when you'll find some of the best prices on outdoor furniture. Smart buys can be had throughout September, October and even November—but you have to do your homework. Study up on various manufacturers, materials and especially on the particular requirements of your climate so you can take advantage of awesome deals when they present themselves.
Here are some tips to get you ready to buy:
Understand what you really need: Do you entertain large groups or is your area for just a couple? Be sure to purchase enough seating. Will you be reading, napping, conversing or listening to music? Is there natural shade or if not, perhaps you'll need to look into patio umbrellas. Heaters too maybe?

Do you need a dining table, or just a coffee table? Couches, benches, chairs, loungers or all of the above. Will you need side tables to accommodate cups and glasses for wine or cocktails?

Take stock of your family's needs and habits, count up the kids, adults, and then create a list accordingly. Once you have a count it's time to move on to the next step.

Get your tape measure out: This is important. Before you start shopping, measure your space. You might think you've eyeballed your deck correctly, but there's no substitute for exact measurements. Furthermore, not only should you write down the dimensions, it's also a good idea to grab some easy-release painter's tape and mark-out shapes on the patio floor where you'd like to place tables, sofas etc. This way, you'll know if there's actually room for the doors to swing open, or if the dining table you thought would fit will have to be much smaller.

It's especially difficult to judge the furniture an enclosed area can handle. You must measure the space, the individual pieces and allow for natural walking paths.

Consider only top-quality materials: When creating a patio space that pops, don't get seduced by exciting colors and trendy design at the expense of durability. Pay attention to the quality, construction, and especially materials, or you might be throwing money down the drain.

Learn what materials will hold up under your conditions. What will take long bouts of moisture or resist fading in the sun? Do your research, and don't be afraid to ask the experts when you're shopping. Take some notes. Buying outdoor furniture can require some work, but you will only want to do it once.

For example, wicker is classic and definitely says "patio" on the showroom floor, but it's good to know that it comes in an easier-to-clean synthetic resin version. Wrought iron and coated aluminum will resist moisture, but not every type of metal is made to withstand weeks of outdoor exposure to salt air and sun. Think high-quality wicker or teak for longevity.

Think about your local climate: Before you buy outdoor furniture, consider your climate and find out how different materials will react to the elements. Rain, heat, dust, snow, ice, salt, wind and intense sun will all be harder on your furniture than your guests.

Living by the sea has issues for patio furniture because the salty air can do a number it, particularly certain types of metal since salt, rain and humidity will cause even treated metals to corrode and rust. Cold climates can pose problems, as can areas shaded by leaf-dropping or sap-dripping trees. Pine needles are very hard to remove from wicker furniture. Even animals can be trouble if you have hungry squirrels or pets that might like to lounge on your chaises.

Try the seating first: Try out any outdoor chairs you'll be ordering. These are supposed to be comfortable, for reading and lounging around on lazy afternoons. Take a seat before you buy. Comfortable patio furniture, just like interior furniture, will be used regularly as opposed to uninviting patio furniture, which might have good looks but not-so-good comfort.

Don't be tempted to jump too quickly on a bargain buy without really testing the feel of each piece first. Take some time here as this is important.

Look for reviews and if you can't personally try it out, perhaps have a friend do it for you.

Invest in proper protection and maintenance: Even at bargain off-season prices, good outdoor furniture isn't going to be cheap. You won't want to be shelling out for this year after year, so it's best to plan ahead for taking care of it. You need to understand ahead of time that you will need to spend some money both upfront to protect your investment; and again annually for maintenance and storage.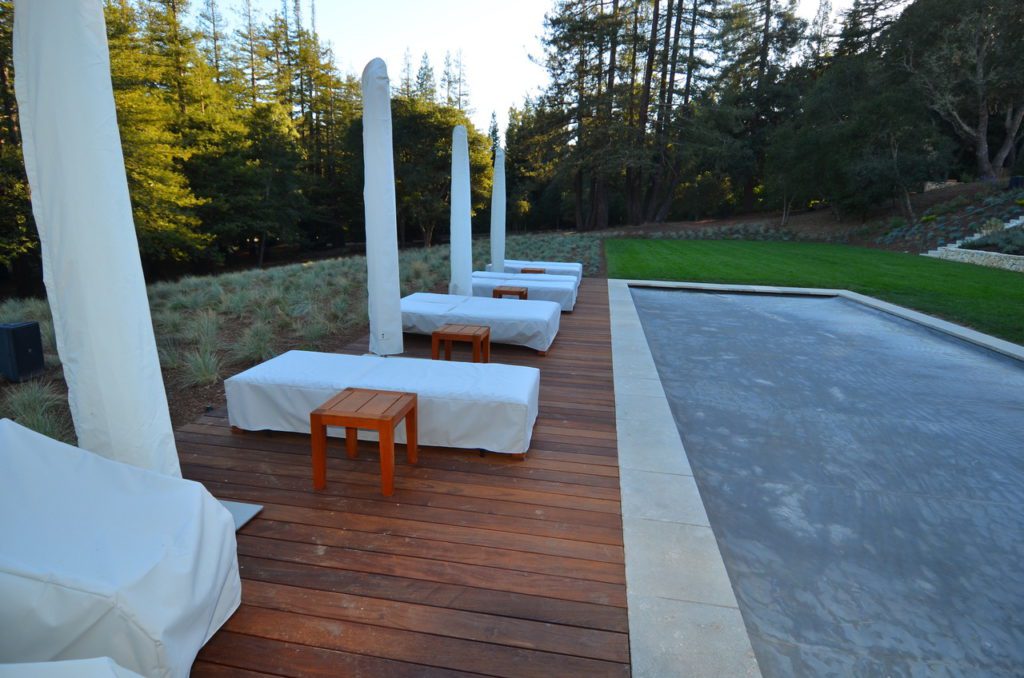 Cover your investment
You'll want covers to protect the furniture during the offseason. Covers are worth money for the protection they offer from rain, snow, spring pollen, dogs and errant muddy footballs. You can get covers from all ends of the cost spectrum. Here are some from Amazon to consider. To protect high quality outdoor furniture I like custom covers made to order by Couverture DeBoise.
Storage
Some dry storage space will likely be needed. You will want to store cushions during the off season and covers during the summer. Consider keeping these in a dry place so they don't get dirty or attacked by mildew when not in use. Since you will likely be buying your outdoor set at the end of the season, it will be important to store and safeguard your new investment, so you can enjoy it when the warm weather rolls around next year.
Care
Understand that some maintenance is required. Washing of cushions and covers, refinishing teak etc. Learn ahead of time what the costs for maintenance will be and plan to do it religiously. In fact, do not buy the furniture unless you can commit to doing proper maintenance. Most high-quality metal, teak, cedar, and all-weather wicker outdoor pieces can handle harsh conditions, but still require some maintenance. Furniture made using these forgiving materials and properly cared for will look wonderful for years.
Summary
Outdoor living is FUN and getting the right outdoor furniture will enhance the entire experience, now and for many years to come.
---