Extension cord safety tips for homeowners.
Extension cords are common household items that almost everyone takes for granted. So I was surprised recently to learn just how dangerous extension cords can be. Inspired, I went home to check mine out. As I suspected, my cords were all ancient and ratty. It was time to head to our local "big box" to get replacements.
Confusing marketing
I was confronted by a wall of products at the store. So many that it stopped me in my tracks. The options were staggering. Adding to my confusion was heaps of mysterious and sometimes misleading information spread all over the packaging. Accordingly a new cord can be purchased in several versions including with a UL listing, 3-wire design, Multi-outlet, indoor only, outdoor weather resistant, 13amp, 1625 watt, 16/3, 125V, designer, basic, NEMA, reinforced blades, oil resistant, vinyl jacket and tangle-free. The cords were available in 3',6',10', 12', 15', 25', 50', and 100' lengths, and I could have them in white, brown, green, black, yellow, blue, pink, orange or red. Even pink.
I got to thinking that if I am having this much trouble buying an extension cord, how in the world is the average joe ever going to able to do it? So, in this post, I am going to take you through my learning process and explain a few important and surprising things I discovered about extension cords. Hopefully it will help you.
Safety first
Construction sites are dangerous places, so the US government Occupational Safety and Health Administration (OSHA) has established regulations to help make them as safe as possible. One area of concern is working around electricity. After falls, electrical related injuries are the second leading cause of accidental death at work. For this reason, has developed electrical safety procedures that prevent electrocution on the jobsite.
Homeowners can also benefit from these safety regulations. Let's start with some simple OSHA best practices around extension cords. Since we all use extension cords at some time or another, these simple rules will help provide a much safer household for you and your family.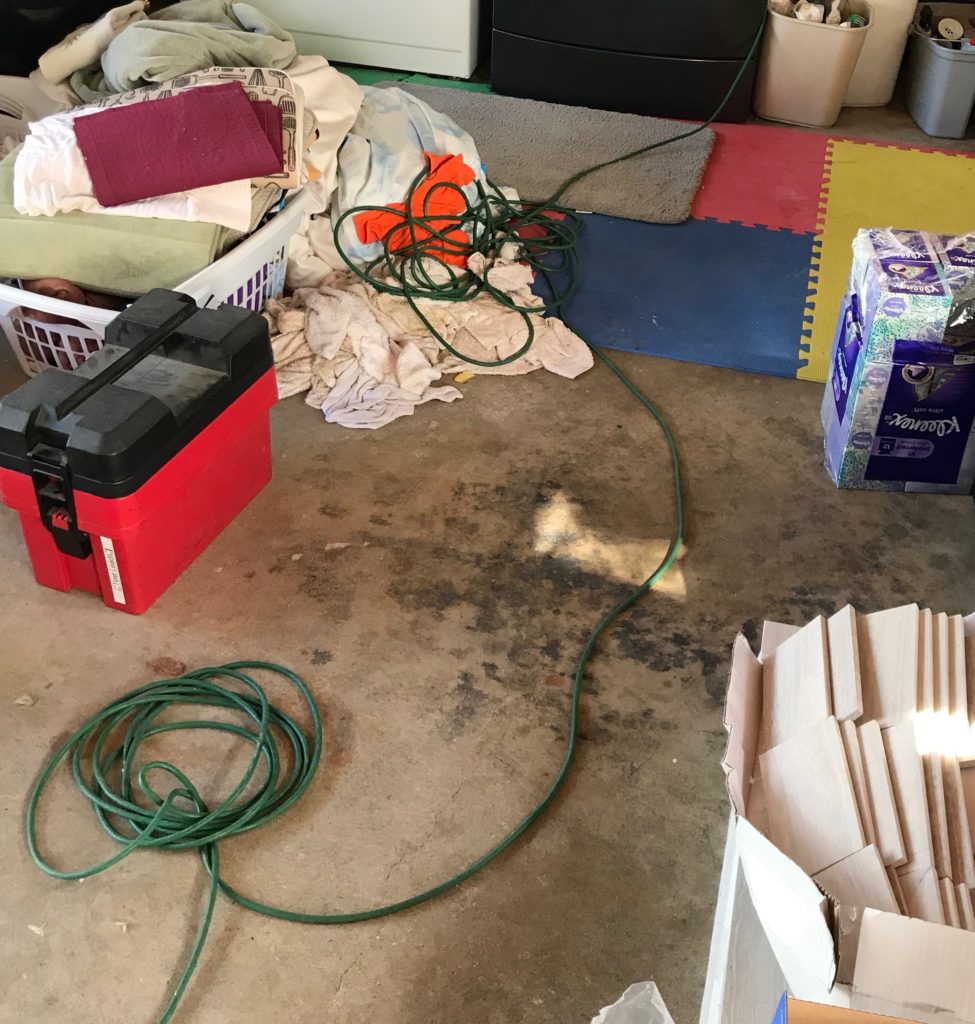 A lot of people consider extension cords as little more than objects of convenience. When we need one, most of us are in the habit of grabbing any cord available. Think back and you will probably remember times you used a cord with bent or broken prongs, exposed wires, missing ground plugs, or frayed jackets.
It is easy to overlook problems when in a hurry but we really need to think smarter about these products. Ignorance in this case can get you killed. Power cords are actually electrical tools. Tools that are used to provide a safe, flexible and extended high voltage electrical source for your power equipment. They need to be serviceable and in good condition.
Five OSHA Rules
Here are five really important OSHA extension cord rules you must learn and teach your family to follow:
Rule 1
Only use extension cords with GFCI protection. GFCI stands for Ground Fault Circuit Interrupter and it will disconnect power if a potentially dangerous situation occurs. A GFCI compares current flowing through the cord and disconnects the power of there is a "leak" or imbalance of 4-6mA. GFCI's are not expensive and can be real life-savers. I recommend using extension cords with built-in GFCI's. Otherwise you must have a GFCI outlet or circuit to plug into. Be certain since not every outlet or circuit in your home is protected this way. If you are on a job site or some other area where certainty about GFCI protection is in doubt, you can simply use a cord like this with a "built-in" GFCI device.
Rule 2
Use only one cord per tool up to 100 feet in length. Do not exceed 100' feet. If a project requires more than 100 feet in distance, a temporary power distribution box will need to be installed. Never plug one extension cord into another. This mistake can lead to fires, equipment failures and electrocution. A cords' power ratings vary by wire size and length. Plugging two cords together reduces their current capacity in half which will result in voltage drop and overheating. Purchase heavy duty cords with 10-12 gauge wire. This avoids worrying about voltage drop problems. This gauge wire will handle any of your power tools without problems even at 100' lengths. Forget about buying or using cheaper cords made with smaller gauge wire.
Rule 3
Do not use a damaged cord. A damaged and repaired cord is easy to spot as it will likely have tape on it. The cord may still work, but it is a violation of the OSHA regulations. Do not patch damaged extension cords. The only acceptable repair to a damaged cord is to cut off the damaged area and install a new male or female end. This may shorten the cord, but is safe and acceptable. Take care to protect you cords. It is easy to damage them by dropping tools or materials on them, by driving over them or pinching or kinking them.
Rule 4
Do not secure extension cords to walls or ceilings using metal nails or staples. Metal fasteners can easily damage the relatively soft flexible jacket of the cord. Slight impacts, pinching or bending can damage the cord. Even pulling on the cable can wear through the jacket accidentally.
Rule 5
Do not run cords through doorways or under rugs. This rule helps avoid two causes of problems: trips/falls and traffic damage to the cord. Lay the cords around the edges. Avoid laying cord across the room. Use cord protectors if they are exposed to any kind of traffic or abuse.
Extension Cord Safety Summary
Every extension cord needs a GFCI
Never plug one extension cord into another
Do not repair damaged extension cords between the ends
Do not hold extension cords in place by metal nails or staples
Avoid running extension cords through doorways
Learn how to properly coil and store your cord
Here are some references to extension cord safety put out by OSHA:
https://www.osha.gov/oshstats/commonstats.html
Recommendations:
For work get a 50' or 100' 12-gauge cord with a built in GFCI. An illuminated end feature can save a 200' walk to and from the receptacle to check for power. Get a cord with high quality terminations (ends) and a heavy-duty protective jacket. Keep your cords safe. Don't allow heavy objects to run over them and store them properly when not in use. Forget clever and expensive coiling and storing products. Learn from Dirt Farmer Jay how the pro's coil and store extension cords… https://youtu.be/eTpbh2zJGhA
Cords are rated for hard or extra-hard usage per the National Electrical Code. The ratings must be indelibly marked along every foot of the cord. Examples of these codes are: S, ST, SO, and STO for hard service, and SJ, SJO, SJT, and SJTO for junior hard service.
Get a professional 50' or 100' 12-gauge cord with a built in GFCI.
Get a cord with an illuminated end. These reveal instantly that power is flowing and will save a 200' walk to the receptacle.
Protect your cords. Don't allow them to become trip hazards or allow heavy objects to run over them.
Store your cords properly.