Selecting a Generator For Your Home
Selecting a good generator for your home can be a lifesaver! If you've ever experienced a prolonged power outage, especially during extreme weather then you understand how dependent modern life has become on the electrical grid. When the power is gone, many things you took for granted are no longer there. And this usually happens during the harshest weather conditions. Darkness and extreme temperatures can make every minute without power uncomfortable and can actually endanger children and the elderly. Add in shock, spoiled food and lost communication, and an inconvenience can suddenly spiral into a disaster.
You may not be able to prevent the natural disasters that can take down the power grid, but help is available. It's called an emergency generator. These are proven and practical appliances that produce back-up electricity, making your home livable until your power grid can be restored. The process of selecting and installing a generator can take time so you need to get started now.
If you think you can just go into your local hardware store when your area is already in the grips of a major power outage, you are already in trouble. You may not be able to get to an open hardware store and if you did you would find the generator isle well picked-over by the time you got there
The time to act is now, Don't Wait Until It's Too Late! Emergency generators are for disasters, so plan to get one before the next power outage happens. Here's how:
Determine your needs
Make a list of what appliances you cannot live without during a power outage. Which appliances and devices you'll want to use is entirely up to you. Your list might include medical devices, refrigerators, certain lights, a source of heat, etc. Most homeowners will certainly prioritize their refrigerator to avoid food spoilage. If you are tough and resilient, you might only need a few hundred more watts to power some lights and chargers for electronics.
If you have a larger budget, there are generator systems that can keep your whole home running without skipping a beat.
See my post on why you need a generator for a good list of items you might need.
Once you have your list completed, you will need to determine your wattage requirements. Electrical loads are measured in watts. Each appliance uses a certain wattage, so as you compile your list of essential appliances, you'll need to note the wattage of each. Some appliances will list a normal use and surge use wattage. Use the surge numbers to avoid overloading your generator. Owner's manuals are great sources for this information. If you don't have the manuals, you can make an estimate, by using the Department of Energy's appliance energy calculator.
If you want a more accurate count, hire an electrician to conduct load measurements of every appliance on your list. You will certainly want to do this if you are considering a whole-house, back-up generator system. For smaller generators this is unnecessary since we will add in a fudge factor at the end to make sure your needs are fully met. You do not want to run short of power during a disaster.
Generator types:
When selecting a generator, they can be categorized in two basic types, Portable and Stand-by.
Portable generators:
The first and most common type is the portable generator. Portable generators tend to be smaller, lighter and more easily portable so that they can be delivered and operated wherever needed. Since they are portable, they must be manually connected to your electrical system when there is a power outage. You may need to have heavy-duty extension cords ready as portable generators must remain at least twenty feet away from your structure. A special connection or transfer switch may also need to be installed by an electrician in order for you to quickly connect the generator to any built-in appliances during. Portable generators normally run on gasoline or diesel so you will need to safely store enough fresh fuel (and some oil just in case) on hand to get you through the emergency.
Portable inverters:
There is a second choice available in portable generators called inverters. Inverters are much lighter and quieter than portable generators and they use the same fuel sources. Inverters are quite popular as portable power units and are often used for camping or RVing as well as for emergencies. The most powerful inverter generators only produce around 6,000 watts which is much less than the largest portable generators although they can be daisy chained together to satisfy higher wattage if needed. If you like a quieter and more versatile power unit an inverter may be worth the slightly higher cost. I personally have two Honda 2200 units for our RV that I have used several times for emergency.
Stand by: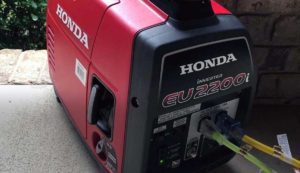 Standby generators are the big boys. These are large heavy-duty systems that are permanently wired to your electrical panel. During a power outage these units automatically kick in and begin providing electricity. They can be designed large enough to handle an entire structure or just a few important circuits. The key function of the standby system is it is automatic. Therefore, a standby system will need to be professionally designed and installed. In addition, a fuel source must be considered that can be relied upon during the forecasted length of an emergency. Natural gas and propane are the most common fuel sources chosen for standby generators because these fuels have longer shelf lives compared to gasoline or diesel.
Extension cord safety
If you opt to use extension cords, it is important that you read information about proper cord safety. Also read the generator manual carefully to determine the exact length, gauge and plug type you'll need for each cord. Because your generator must be at least 20 feet from your home, these cords will be very long. Major appliances like refrigerators will require special cables. There are functional and safety considerations to take into account when using extension cords. It's a good idea to include their costs before making a final purchase decision.
Once you have set up your perfect emergency generator, you should practice using it and make a detailed plan of action for an actual emergency. This way you will know exactly what to do when an emergency arises. Remember, during a disaster you may be in shock or perhaps distracted or otherwise not thinking at your best. A good place to start is by following the advice in your owner's manual.
Other important considerations
Some other important considerations to make when selecting a generator include the place you will store the equipment, and where to set up the portable generator for operation. Also, how and where to ground the generator, how you'll protect the generator from the elements and where you can safely store your fuel reserves.
Most importantly, generators will require periodic maintenance. The most sophisticated standby generators make this easy by conducting automatic test runs. These tests perform diagnostics and will even send you text messages when service is required. Portable generator systems require you remember and perform a maintenance schedule. Whatever maintenance is called for, DO IT! There is nothing more useless than an emergency piece of equipment that does not work during the emergency. See safe generator operating rules.
See Part 1 in this series: 10 Reasons Every Home Needs a Back-up Generator
---