The "Duke of Earl" was a Billboard US number-one hit song for three weeks in January and February of 1962. It was most popular of Chandler's songs. So popular was the song that Chandler thereafter titled himself "The Duke of Earl". The song was written by Chandler, Bernice Williams, and Earl Edwards. It was inducted into the Grammy Hall of Fame in 2002 and it was named by The Rock and Roll Hall of Fame as one of the 500 Songs that Shaped Rock and Roll.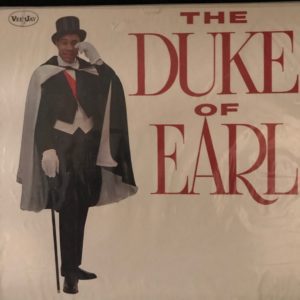 The story
The story behind the song is quite interesting…Earl Edwards and Gene Chandler (his original name was Eugene Dixon) were part of a vocal entertainment group called the Dukays. During warm-ups, the Dukays would get going by singing "Do do do do…" in different keys. During one warm-up, Dixon was goofing off and changed the syllables he was singing to include Earl's first name. It stuck and eventually morphed into the chant "Du..du..du..Duke of Earl". It sounded good so they played making a song of it with writer coach and mentor Bernice Williams. They eventually recorded it with the other members of the Dukays.
Release on Vee Jay Records
The Dukay's record company passed on the song leaving Dixon with an opportunity to release it as a solo artist. He did just that. First for some unknown reason, Dixon changed his name to Gene Chandler (taken from the actor Jeff Chandler), and the rest is history. The song was released at the end of 1961 and the goofy song blasted to number one on both the pop and R&B charts. It sold over a million records the first month. "Duke of Earl" debuted on the Billboard Hot 100 chart on January 13, 1962, and held the number-one spot for three weeks. It was on the Hot 100 for a total of 15 weeks.
Musicians on the record included Floyd Morris on piano, Lefty Bates, Phil Upchurch and Kermit Chandler on guitar, Al Duncan on drums, and Cliff Davis and John Board on sax.
Covers
The Pearlettes released a version of the song (as "Duchess of Earl") in 1962, reaching #96 on the charts.Bobbie Smith and the Dream Girls also released an "answer song" titled "Duchess of Earl" in early 1962; however, the two songs are different in music and lyrics. Wayne Fontana released a cover version in 1964.
She Na Na, performed "Duke of Earl" live at Woodstock in 1969 and is probably my favorite version of all. Daddy Cool also covered the song as a single released in 1973.
My collection
The photo is of my personal, first-issue record. It is unopened and still in its sealed wrapping. See a music video here.