Custom Screen Doors That Rock!
Product review: Montana Screen Doors
Question: How does a screen door elevate the status of your home to a higher level?
Answer: When it's good enough to stand in front of your entry door.
Screen doors are almost aways an afterthought. During the many years I've been building homes, I can't remember getting a set of plans from an architect that included a screen door designed in. Instead, you usually decide to get one once you realize that your house is too hot with the doors closed, but too many pests come in with the doors open.
When faced with this reality, most folks head for the big box store to buy a cheap ugly aluminum screen door that doesn't quite fit and requires all day to install. This might work fine if you want a screen on the back door of your barn, but what if the screen needs to go on the entry of your home? What if aesthetics actually matter to you?
Confronted with these same issues when building his own home in 1996, the founder of Montana Screen Door did what any good American would do. He started a company to make one.
My screen door
Ambitious and bold as that move was, I am very happy that he did because when my wife and I were looking to solve this problem for our Oregon home in 2002, Montana Screen Door and Screendoors.com had a custom screen doors solution, ready to order online!
We ordered our door unfinished and it arrived in about a week. The company even provided instructions on how to properly prepare and coat the door. I remember when the door arrived that my first impression was that it was really heavy. This was a solid door. Here it is 17 years later and it still looks great. It really is in terrific shape, even after one of my Weimaraner pups chewed on it trying to get back in the house. I just sanded off the chewed areas and repainted.
How they're made
From their shop in Whitefish, Montana, Montana Screen Door produces screen doors of the highest quality. The prices are fair and the products will last for years. The doors are made of choice natural woods with wide stiles and rails. They are well crafted, strong, and available in traditional and creative designs.
These custom screen doors can be ordered in a Standard or Premium version. I like the Premium Series doors best. They are made with 4 ½" wide stiles and use traditional mortise and tenon joints. This type joinery has been used for hundreds of years by woodworkers around the globe. This process involves shaping tenons out of the rails and mortising a matching hole into the stile. What is important is this method results in a joint that can withstand the enormous amounts of pressure that a slamming screen door must endure. To further ensure the joint holds up they drill and pin the joint with a hardwood dowel so it will never come apart, even years after the glue dries. Premium Series doors come in your choice of Poplar, Oak, or Sapele Mahogany.
The Standard Series doors are no slouches either. They are made with a strong and reliable floating tenon joint using high quality hardwood dominos. The Standard Series uses slightly thinner 3-1/4" wide stiles and come in Fir or Cedar. Not knowing any better, I ordered the Standard Series for our door and it has held up fine for 17 years.
Custom sizes AND designs
What sold me for our home was that Montana Screen Door offers all of their doors in custom sizes. Ours was 8-0h x 3-6w. For most of their doors, customers can choose any size up to 44" wide, and 96" tall. This allows room to deal with a door frame that may be out of square, or for an untraditional size.
These doors have a built-in trimming tolerance that retains structural integrity of the door. See the chart below for trimming tolerances:
Knowing this margin of error gives customers more peace and comfort in buying a custom door online.
Summary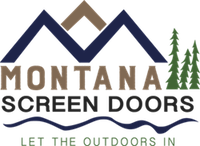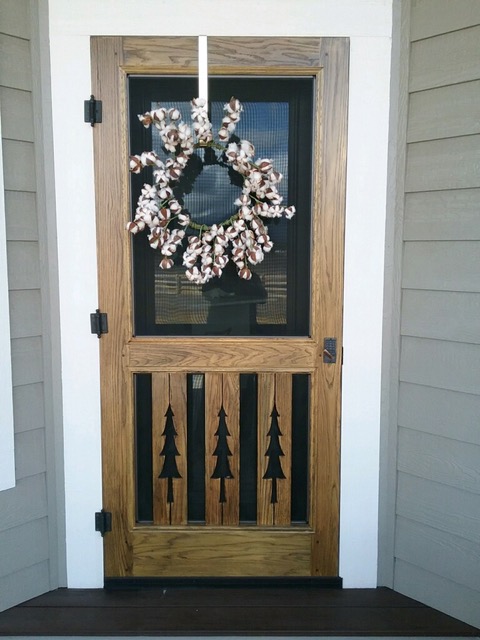 If custom screen door sizes are not enough, you can submit your ideas for custom designs too! I understand that a customer in Cape Cod helped them to create a Crab and Starfish cutout for two screen doors on his beach house. They also regularly work with contractors, builders, and designers all over the US to produce custom screen doors for their client's.
One of the great things about this company is they have been doing business over the internet for a LONG time. Screendoors.com Their website allows you to build a custom door and order all at once. You'll know exactly what your door is going to cost when done. All you have to do is sit back and wait for it to arrive.
If you do have a question, there is always a company person answering the phones or available to live chat on our website. Not some overseas customer service sweat shop. What a nice surprise, a real person will help you find what you are looking for!
Good quality materials help make your home last longer. Montana Screen Door produces the quality that you need if you are going to have a home that endures. Get them here.