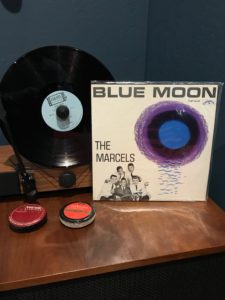 This week we present Blue Moon by the Marcels. Blue Moon was the American and British number one hit for a week in April 1961. It became one of the most memorable of the Do-Wop hits of that era.
Blue moon was originally written by Rogers and Hart for a musical production in 1934. The song was a hit and even appeared in several motion pictures before finally being recorded by Elvis Presley in 1954.
After that, the song sat dormant for seven years till the Marcels needed a fill-in song to complete an album they were recording. Given only one hour to learn the song, the group never quite got the middle section of the melody right. But they went ahead and recorded it anyway. With just 8 minutes of studio time left, the Marcels recorded two takes of Blue Moon, and the rest as they say is history.
It's doubtful that Roger and Hart could have ever imagined "dang a dang dang" or "ding a dong ding" being added to any song they ever wrote.
In 1980 Loe Landis included the Marcells version in the closing sequence of his movie American Werewolf in London.
Enjoy!
---